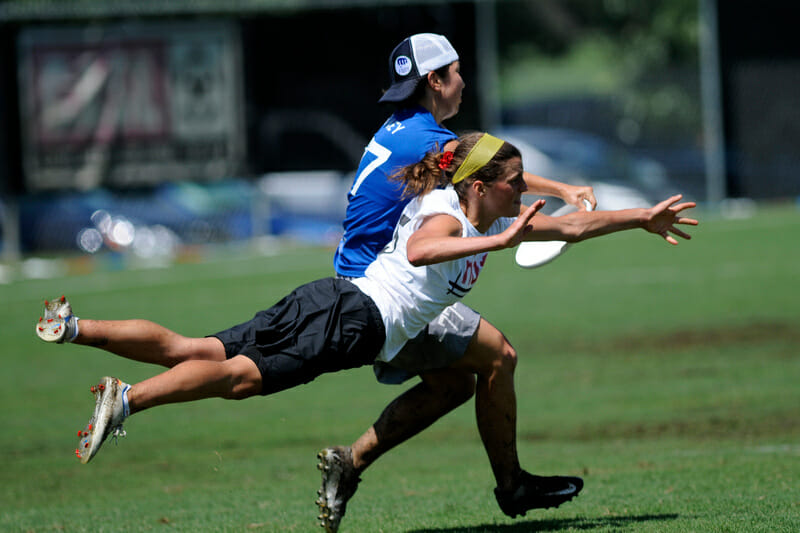 The final round of the day offered one of the tournament's marquee matchups: San Francisco's Fury versus Seattle's Riot. The story of that game and more in our round three recap.
***
Fury Avenges Loss to Riot With Crucial Pool Win
The game everyone wanted to see – San Francisco's Fury against Seattle's Riot – did not disappoint. A hard fought game was not without mistakes or miscues, but two of the most talented teams in the game went head to head and gave us plenty to watch.
A common theme on the day, early points saw the types of turnovers and issues expected of early season tournaments. The two teams were able to use their athleticism and skill to make up for some of that – early on, Fury's Claire Desmond had a huge layout grab, helping Fury take the early 2-1 lead. Seattle's offense responded, but not as well as Fury's defensive line's offense.
The Bay area women were able to rattle off breaks due to a viciously efficient transition offense. Alex Snyder and Lakshmi Narayan were big parts of advancing the disc down the field any time Riot would give them the chance. The Fury offense was notably less flowing when not transitioning from a defensive possession.
"I would say we aren't aggressive enough," commented Fury Coach Matt Tsang after the game. He went on to say that style of play has been growing over a few seasons for Fury, pilfered from the playbooks of the Japanese teams. Fury would ride this strategy to an 8-4 half time lead.
At the half, Riot talked about making a play defensively, and being willing to take a risk to inject energy into the team. In the other huddle, Fury discussed being "present in the moment," perhaps not wanting to look back at their poor performance in the teams' prior meeting or towards future games.
Riot would open with a nice point, getting a break to make it 8-5, but closing the gap would prove challenging. They would get some big plays for Katie "Butters" Craley, who came down with three end zone Ds for Riot against Fury deep shots. Sarah "Surge" Griffith was a constant threat, catching unders, resetting stall counts, and keeping the disc in motion.
The lead, however, just wouldn't shrink. Fury would respond to each Riot one. They used some junk sets, trying some force middle looks and clogging up the lanes – Tsang praised this defensive strategy in particular – and let Desmond, Kristin Bowen, and Lisa Pitcaithley make plays for them on offense. A late Riot run would keep the game interesting, but Fury would close the door 15-12 and tie up their season series at one win a piece.
Afterwards, Tsang said the team played much better than their unsatisfactory effort at Solstice. He pointed to keying in on their admittedly impressive cutting group and making things more difficult to them as one of the key factors in the win. Riot Captain Rohre Titcomb, however, was also pleased at seeing her team battle back. She cited the opportunity to play some of their new groupings together in such a close game as benefit of their effort.
Phoenix Scores Tourney's First Upset With Win Over Tired MUD
Coming off of a couple of tough losses, Phoenix was looking to salvage the day in their third and final game versus MUD who had already beaten both Scandal and Revolution.
Phoenix played a flat wall style zone throughout the game that earned them a break to take half 8-7.  The containment zone proved challenging to the Japanese, despite it being similar to their own poachy sets. With a roster down to 14, playing on unfamiliar turf in sticky Carolina summer, MUD looked a bit out of sorts and fatigued.
Out of half both teams traded points until Phoenix broke MUD's smooth offense again to go up 14-12.
"I feel like our whole team worked really well together on offense to score," said Phoenix's Heather Zimmerman, "not just one particular person."
MUD stayed calm, continuing to hit handlers and underneath cuts, and was able to break back tying the game at 14-14.  Both team's offenses took over, trading points to 16-16.  Phoenix would eventually win the game with a huge sky by Shannon Matzinger on a huck by Jessi Jones, 17-16, resulting in the only upset on the women's side of the bracket.
"It was pretty much back and forth," said Phoenix's Kate Morrison, "They were throwing deep on us early so we adjusted to stop that."
Phoenix will be looking to make use of the victory to build confidence heading into day two with matchups against regional rival Scandal, as well Revolution and Nova. Their game versus Scandal will be critical to their chances of making the four team bracket.  MUD will need to bounce back quickly with their first game against a very strong looking Riot squad, followed by a game versus the number one seed, Fury.
Scandal Defense Hits Stride Against Nova To Get Them First Win
Playing two of the three teams seeded above them on day one proved taxing for DC Scandal, who went into the third round winless. They'd take on Nova, also looking to get on the board.
The District team was in control of this one from the beginning. One Scandal played referred to it as "out-athleticizing." Their defensive group – which Coach Mike LoPresti admitted, somewhat tongue in cheek, was pretty fresh after their game against Fury – came out firing on all cylinders. The list of players with lay out Ds for Scandal was extensive, but notables included Amy Hudson, Opi Payne, Lauren Sadler, and Jessie O'Connor.
Scandal would take an 8-1 lead and never look back. While Nova would notch a few more scores in the second, the game would conclude 15-5.
Second Half Comeback Allows Showdown to Survive Colombian Scare
Texas Showdown, coming off stifling a late comeback from Nova, found themselves locked in a back and forth battle with Colombia Revolution in the third and final round of Thursday.
Colombia was able to take the early edge, going up 3-2 on the Texans. Revolution Captain Alejandra Torres – the team's only rostered player age 25 or over – anchored the offense from her center handler position all day. The team thrived off her energy, not surprising considering their youth and her vast experience, including a stint with Riot.
Showdown was able to punch in back to back scores to finally take the lead just before the half, 7-6. Cara Crouch and Katey Forth were, per usual, solid pieces for Showdown to work around. However, they could not help hold down a 3-1 response run by Revolution.
It was only at this point was Showdown was finally able to take control of the game. The back end of the second half would belong to the #5 seed, who would go on a 7-2 run to win 15-11. Showdown faces the tournament's top four seeds in their next four games.