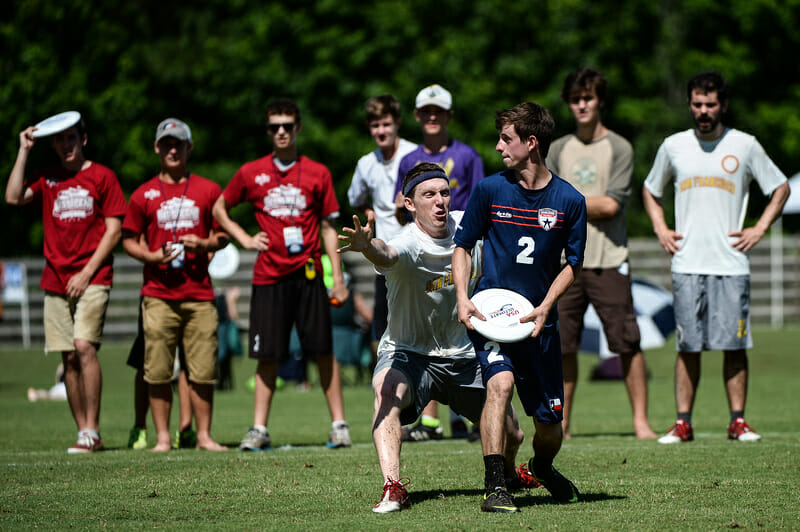 "This tournament for us, frankly, is not about winning, it's about developing young talent." said Revolver coach Mike Payne. Despite this developmental focus, Revolver has cruised through the tournament with the type of poise, chemistry, and polish that we've come to expect from, well, last year's Revolver side.
"They've had one bad point this week. And that was against Chicago Club," said statistics contributor Victor Smith, who has been tracking Revolver all tournament.1 They've had hiccups, certainly, execution errors on their throws, and perhaps a few too many contested deep shots, but for the most part, this already looks like a team in pursuit of a fifth straight finals appearance. A universe point loss to Ironside in pool play was well-played and one they felt they should have won.
Revolver has been great downfield.  The cutters work hard to clear space for each other to operate, and they give their throwers force and breakside options on every cut.  More surprisingly, at such an early juncture of the season, the team has demonstrated an uncanny ability to adapt on the fly and respond to the diverse looks they've seen so far in the tournament. "We have a team of young guys who are used to being coached, so we can make in game adjustments." said Coach Payne.
Doublewide has taken a curious approach to defending its title.  Many of the key contributors from last year's championship team have moved on, and the offense has been handed over to its two new Pitt players: Tyler Degirolamo and Alex Thorne.  The pairing has brought much of what was successful at Pitt (pull plays looking to huck to isolated receivers) to Doublewide, taking advantage of the speed of Kiran Thomas and the height of Ethan Pollack. But they'll need to show a more a varied offensive repertoire to have success against Revolver, which has already demonstrated its ability to snuff out string plays and match Doublewide's athleticism downfield.
Doublewide Statistics:
Thorne and Degirolamo continued their offensive dominance. They were the top two players in offensive yards gained. Each of them have tallied over 1500 yards, which is over 300 more than their closest teammate, Kiran Thomas. They are also scoring the most points. Thorne and Degirolamo have either scored the goal or thrown the assist on about 40% of the points that they have played.
Defensively, both players have also made significant contributions. Degirolamo is leading the team in blocks, and Thorne, despite being known for his prowess with the disc, has rated out as the fourth best defender in our combined defensive metric.

Revolver Statistics:
In contrast to Doublewide's reliance on a few star players, there is a lot more parity on Revolver in regards to who is touching the disc.  That being said, you can expect a lot of involvement from team USA handler Mac Taylor, as well as Revolver's trio of downfield threats Ashlin Joye, Beau Kittredge, and Josh Wiseman, all of whom have had rated highly in yards gained, goals, and assists.

Predictions:
Victor Smith (Revolver Statistical Tracker): Revolver 15 – 10 Doublewide
Dima Kalika (Doublewide Statistical Tracker): Revolver 15 – 11 Doublewide
Sean Childers (Ultiworld Statistics Editor): Revolver 15 – 13 Doublewide
Charlie Eisenhood (Editor-in-Chief): Revolver 15 – 12 Doublewide
---
And it was a D-Point! ↩