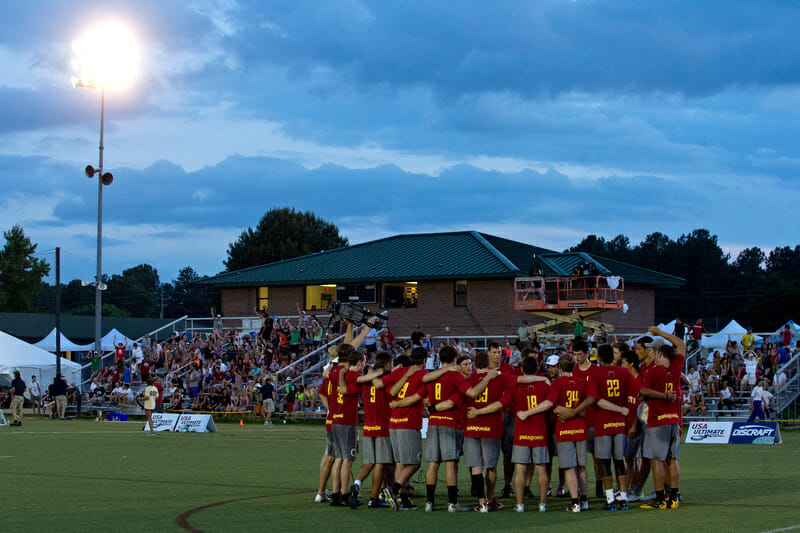 In the second semifinal game of the evening at the U.S. Open, Austin's Doublewide faced San Francisco's Revolver in a rematch of last year's National Championship. Signs pointed to an excellent game. Instead, the crowd experienced a relative snoozer filled with missed cues and throwaways. The game was a blowout; Revolver took half 8-4, before extending the lead to win 14-7. Revolver dominated from the beginning, rolling off three breaks in a row before Doublewide could get on the board.
Revolver's D line displayed solid offense, able to work the disc up the open side, often making hard strike cuts for easy goals. Doublewide did shine in the deep game with outstanding throws. Their handlers were able to anticipate deep break side cuts, and effectively throw huge hucks to score. A few great deep looks, however, couldn't beat Revolver's practiced, patient offense. Standout players included Cassidy Rasmussen, Beau Kittredge, and Mac Taylor, who were dominating with smart throws and excellent movement in the redzone.
Doublewide arrived at the U.S. Open with two high profile pick-ups, Tyler Degirolamo and Alex Thorne, fresh from winning their second consecutive College National Championship in May with Pittsburgh. Despite being excellent throughout the weekend, neither played great in the game against Revolver, as the thin Doublewide roster caught up to them in the game.
It became clear early in the game that Doublewide was not playing as a cohesive unit. Whether it was their missing players, or the newness of recent recruits, their game was weak. Mid-field cutting was cluttered, discs were swung to a dump that had cut upfield, and easy open side goal throws were missing by yards. Doublewide often turned the disc over in Revolver's red zone, giving their D line easy breaks and good momentum.
Exploiting Doublewide's obvious fatigue, Revolver scored over and over again by simply crashing up the line on the open side. Doublewide deep defense had some good moments, but the lack of endurance after a long weekend in hot, humid weather prevented these excellent looks from actually shutting down persistent Revolver offensive play.
This game clearly shows that Doublewide needs more time. They need time to gel as a team, and build their endurance so running an abbreviated roster doesn't translate to allowing open side, up-line scores. Revolver, despite turning over some significant championship talent this year, showed that they've still got that touch. Their game was crisp, patient, and quickly adjusted to eliminate Doublewide's bid into the finals this weekend as they avenged their 2012 Club Championships loss.