The semifinals are set.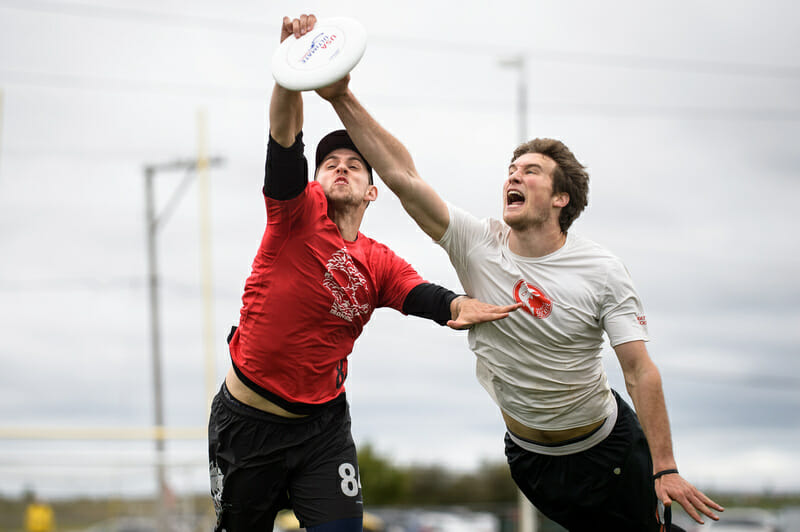 Ultiworld's coverage of the 2016 Club Championships is presented by Spin Ultimate; all opinions are those of the authors. Please support the brands that make Ultiworld possible and shop at Spin Ultimate!
Ring Continues Stunning Run Into Semis
Ring of Fire head coach Mike Denardis described their most recent matchup with Truck Stop at the Chesepeake Open as a "game of runs." Today's iteration was no different, but this time Ring of Fire stole most of the runs. In a windy, messy, but dominant performance, Ring of Fire took down the regular season powerhouse 13-8.
Truck Stop came into their quarterfinal as a clear favorite, but from the very beginning this game was a catastrophe for DC. On offense, Truck Stop started with a first throw drop near midfield after a short pull. Ring of Fire found Noah Saul, who put an impressive flick huck through a strong wind for the opening goal. Saul's perfect execution into the wind set the tone for the Raleigh offense.
After trading offensive holds, the chaotic weather took its toll. With Ring up 2-1, both teams turned the disc multiple times in what turned into a field position battle. Ring of Fire relied heavily on Saul and Jon Nethercutt, much as they have all weekend. High pressure defense from Raleigh forced late-stall reset throws, preventing them from flowing downfield. Alan Kolick and Markham Shofner had a hard time opening up deep space, leaving Nicky Spiva to try and work his way in the backfield. But the Raleigh philosophy of forcing as many offensive throws as possible was working early. Nethercutt found Hunter Taylor for a Ring of Fire break, and then Saul landed another upwind huck to make it 4-1.
Truck Stop had been rocked early, with every little mistake punished by Raleigh. Energy flooded out of the DC sideline, while the villain attitude of Ring flourished.
"We relied a lot on challenging them underneath and seeing what happened," Ring of Fire captain Jon Nethercutt said after the game. Throughout the majority of the game, Ring of Fire owned the deep space. Saul and Nethercutt had throwing into the wind down, and outperformed their counterparts on Truck Stop.
"We let them get behind us on deep shots too frequently," said Truck Stop's Nicky Spiva after the game. "They converted really well deep into the wind."
With Raleigh up 5-2, Truck Stop had multiple chances to get the easy hold. But Sean Keegan's two turnovers and a dropped disc buried DC. Ring took a 6-2 lead and the impossible upset was looking more like a sure thing.
Truck Stop responded with a run of their own. After a quick DC break, Delrico Johnson ignited his team with a layout block that gave Truck a short field. Dump, swing, score, and they were back within one. Ring of Fire hucked long moving downwind, and DC had a chance to tie the game. In a strange twist of fate, the swirling gusts immediately subsided as Peter Prial picked up the disc. He recognized the lack of wind and immediately hucked. Matthew McDonnell finished the point with a huck of his own, tying the game at six all.
Raleigh countered with unwavering sideline energy. Ring of Fire was never supposed to make it this far into the tournament, and they were playing like a team with nothing to lose. But don't try convincing them they're not the best team in the country. They stole back the momentum, holding their offensive possession, and then capitalizing on a brutal Markham Shofner drop to take half 8-6.
"We're a team that has fun, we don't take ourselves too seriously," Nethercutt said after the game. "When you find something that works, like the booing, you stick with it."
After relaxing through halftime, Raleigh maintained their momentum. Truck Stop missed an upwind break chance with another drop, this time from Daniel Kantor. On their second opportunity, Johnson failed to come down with a huck that is normally a sure thing. Kolick came down hard on his arm after trying to catch the tipped disc, sidelining him for the rest of the game. Ring's Justin Allen hucked the length of the field to Terrence Mitchell to eventually hold on offense.
Ring's defense kept their foot on the gas in the second half, starting things off with an Allen layout block on Prial that led to a break. Even when Truck Stop had break chances, they were quickly wasted. Down 10-7, another first-throw turn plagued the offense and gave Ring a short field. On the ensuing point, Allen nailed yet another huck. This time, he found Tim McAllister for the 12-8 lead.
On game point, Nethercutt found Sol Yanuck with a hammer to take down DC Truck Stop. Truck had fallen victim to one of the more startling upsets of the tournament.
The final goal for Yanuck was fitting for a game that was so heavily impacted by Ring of Fire's young stars. Terrence Mitchell (21 years old), JD Hastings (22), Henry Fisher (20), Sol Yanuck (20), and Jacob Fairfax (20) (who flew in late last night) all made significant contributions towards Ring's win. Most notable was Yanuck, who took over an offense for an injured Matt Gouchoe-Hanas. The impressive youngster finished with one goal, three assists, and one block. Maybe even more impressive, he finished with just a single turn, which in an extremely windy game is an important factor for a young player under pressure.
"They've been phenomenal," Nethercutt said about his young players. "Not to mention, Jack Williams is still 22, and Tim McAllister is still 22. They're really exciting prospects going forward."
As for Truck Stop, Nicky Spiva recognized all of the struggles within the game. "Possessing the disc in adverse conditions…we took shots we didn't need to take," Spiva said. "Sometimes we'd think 'it's pretty windy, we have to make something happen' but we were working it just fine." Truck Stop didn't look much better on the stat sheet, with four of their starters throwing four turnovers each. Despite the amount of touches, Spiva was kept out of the end zone for both goals and assists. Only Matthew "Rowan" McDonnell and Sean Keegan managed to have impressive days, with one goal and two assists each.
Ring of Fire will try to continue their string of upsets against Revolver in the first men's semifinal on Saturday.
-Preston Thompson
Revolver Reaches Sixth Semifinal In Seven Years, Future For Furious Bright
San Francisco Revolver continued their undefeated run through the tournament with a decisive 15-9 win over surprise quarterfinalists Vancouver Furious George this afternoon. While Furious offered a variety of excellent deep shots and composed defensive looks, they were almost entirely overwhelmed by the speed and pressure generated by Revolver's nearly full lines. Russell Wynne spent the game in sneakers. Beau Kittredge played mostly in the first half and put on a hoody midway through the second half.
The game was close in its opening points. Revolver answered Rumi Tejpar's first goal with two of their own, setting themselves up with a lead that they would never relinquish. Jordan Marcy snagged the advantage after his D-line pressured a turnover from Kevin Underhill by shifting the force around depending on the lateral position of the disc.
For much of the first half, Revolver marks tried to limit Furious hucks by staying straight up on throwers in the middle of the field, and rotating towards the sidelines to try and take advantage of the crosswind.
The teams traded to 5-4. A multi-turnover point saw Seth Reinhardt take an injury substitution. Kittredge subbed in for the defensive effort, making his impact felt just by being close enough to passes to make plays. His presence nearly caused to Furious players to collide on a would-be goal, instead dropping the disc. And later, after Revolver had given the disc back in the same point, he played a long huck to Gagan Chatha way earlier, forcing the younger Furious cutter into the air at a bad time so that he missed the disc. Eventually, Nathan White put in the break score to Sam Kanner and extended the Revolver lead to 6-4, with half arrving four trades later at 8-6.
In the second half, both teams shifted their defensive strategies. Furious had attempted to slow down Revolver with a junk look that they transitioned out of at half field numerous times no to avail. In the second half, they rolled out a four person zone look to change the pace and create some frustration. Neither look made much of difference – of the five Revolver turnovers in the second half, none of the came from the offense.
San Francisco showed a force middle and a zone look in the second half and improved on their efficiency. Marcelo Sanchez and Greg Cohen came up with back to back breaks that took the lead from 10-7 to 12-7, and suddenly the game felt over. Lucas Dallmann locked on to Malcolm Bryson late in the game, a promising young Furious player who was a force all over the field, getting open for two big goals and an assist. With Dallmann's added pressure, San Francisco shut the door quickly.
The quarters appearance was rote for Revolver, a necessary step on the way to the semifinals and a possible repeat championship. For Furious, the division's bottom seed, a loss in quarters felt strong after two upset victories in pool play and prequarters took them well beyond their expected finish.
Morgan Hibbert, a longtime Vancouver veteran, gushed about the youth and promise from his team after the game.
"Ah man, I'm over the moon," he said, smiling ear to ear. "We're so young. As an older guy on the team, it's so invigorating to be around all these young kids who've just got so much energy and passion. This kids just…they wanna ball…and they're not afraid."
After missing an appearance on the national stage last year, the return this year meant a lot to him. "I'm the only player on this team who's been in quarters, was 2006, a decade ago. I was just in my second year on the team. So it's awesome. It's really nice, it's really positive," he said.
Furious' run isn't over, as they headed to break seed deeper in consolation play. While Revolver preps for semifinals, the future is bright for the longstanding club from Vancouver, who know they are building towards something bigger.
-Simon Pollock
Ironside Grinds Past Sockeye In Ugly Match
And this year makes nine for Ironside, as they handily defeated Seattle Sockeye 13-8 to advance to their ninth straight semifinal. After suffering elimination at Seattle's hands in 2013 and 2015, Boston got some revenge over an old rival and took the next step on their journey towards that elusive first national championship.
The top seed entering the tournament, Ironside looked fine in pool play, but their domination of Sockeye was a declaration of intent. From the first point to the last, Ironside was a class above their counterparts, putting on one of the most dominant single game performances of the tournament.
While Ironside were able to rest Friday morning following their bye, Sockeye arrived at the field under entirely different circumstances. They had just completed a thrilling but draining comeback over Boston Dig in prequarters. Having to play immediately after such an intense game can be tricky. Balancing the adrenaline from the previous game and the focus required to start a new one is difficult.
"Every game is different," said Sockeye captain Danny Karlinsky. "We knew we had to come in and prepare to play a totally different opponent, but we needed to focus on playing our game."
Whether it was because of the game against Dig or some other internal reason, Sockeye didn't start off on the right foot. After trading offensive holds, and trading several fouls with actual holds, Ironside was able to create the first break of the game on a strike cut from John Stubbs to the front cone for a 3-1 lead. Coming from the top of the vert stack, Stubbs froze his defender in space and burned him upline for the score.
Those strike cuts would become a familiar sight, as Sockeye struggled all game to defend the handler cuts in Ironside's vertical system.
Ironside's vert stack can only be described with mechanical imagery. It was precise, uncaring, and almost mundane in a way that only staggeringly competent things can be. With Josh Markette, Kurt Gibson, Tom Annen, and the rest of Boston's stable of handlers able to move the mark at will and get open inside of a phone booth, Seattle just couldn't stop them from getting unlimited resets and working the disc up the field with brutal efficiency.
The first half was long and filled with stoppages, as foul and pick calls piled up. It led to a low energy vibe that made it hard for Sockeye to get into a rhythm and played right into Ironside's grinding style.
"In the past, long stoppages and delays would be challenging," said Boston's Markette. "When movement and momentum bogged down, people would get antsy and start taking shots that weren't there. But we're better with our resets and dumps than we have been in the past and that really helps us work through those long points."
On the point, following Boston's first break, David Ferraro got a run through block on a throw that hung up and Kurt Gibson made Sockeye pay, darting out from a mid-stack position and finding paydirt at the front cone.
Gibson was all over the field for Ironside, playing every offensive point and many defensive ones as well. His acquisition has been key to Ironside's success this season, not because he brings a completely new element to the team, but because he can do what they already do so well. His ability to grind off the front of a vert stack and in the handler set, getting breaks at will and always getting open for resets, takes the thing that make Ironside good and makes it great.
Contrast this to Seattle, who also made some highly touted offseason moves. But while there is no doubting the talent of Nick Stuart, Simon Montague, and Trent Dillon, they were not incorporated into Sockeye's existing structure and tactics the way Kurt was with Ironside.
With Sockeye unable to touch Ironside's offense, their own O-line needed to be perfect and it wasn't. There seemed to be a disconnect between the elements on the team looking to push the pace with small ball, and those trying to survey the field and hit on tough breaks and huck. One such huck to Nick Stuart was broken up, and Ironside capitalized to break for half and take an 8-5 lead.
Boston picked up right where they left off in the second half, getting another break on the back of Rusty Ingold Smith, who lead the D-line down the field and notched an assist that gave his team a 9-5 lead. Smith had a fantastic game, racking up three assists and a goal while only playing defense.
Ironside's defense was incredibly efficient, taking advantage of virtually every chance Seattle's offense gave them. The same could not be said of Seattle. On the rare instances that Ironside did turn, usually on a downwind huck that went too far, Seattle's defense was unable to convert. The lone exception occurred early in the second half, when a drop from Tyler Chan gave Seattle the disc a few yards out, and Sam Harkness made a circus catch after a bobbled swing to give Sockeye their first and only break of the second half.
With the score 9-7 at that point, Ironside's offense regrouped and were able to string together holds for the rest of the game, often through the same grinding approach that had led to their success in the first place. Seattle just didn't have it in them to match Ironside blow for blow. The combination of Boston's tenacious playstyle, the exhausting comeback in prequarters, and whatever funk the team had descended into left Sockeye bereft of ideas, emotion, and energy.
Leading 11-8, Ironside broke twice to win, with both goals caught by wide open cutters. Seattle's transition defense was almost embarrassingly flat footed on both occasions, which served to highlight the general malaise that had set over the team. Meanwhile, Boston's attitude had been consistent from the first point; they had work to do.
"We had a challenge today," said Ironside coach Josh McCarthy. "But we stayed in the moment, a lot of our preparation is done before the tournament. We've been in games like this before and we're going to be comfortable in that setting."
The matchup between Sockeye and Ironside was tantalizing because of the history between the teams and the prestige of two elite programs. But today, the reality was that only one of these teams was performing at a truly elite level, and that team is headed to the semis.
-Patrick Stegemoeller
Bravo Again Displays Dominance Over Doublewide
Johnny Bravo returns to the semifinals for the first time since their championship run in 2014, as Denver put away Doublewide in quarterfinals 15-12.
As the field narrows with each round of bracket play, the teams that are still standing are here because they're playing good ultimate. Doublewide is no exception. Austin nearly blew out Madison Club a round earlier and rolled that moment into the start of quarterfinals, jumping out to a 3-1 lead.
"It's the pinnacle of the season," Bravo captain Henry Konker said following the win. "There's a lot of parity. We've seen Doublewide before and we knew what we were getting into."
Konker and his teammates knew better than to take their opponents lightly. In their previous meeting at Pro Flight Finale, Bravo squeaked out a tight game, breaking to win 14-12.
Denver's defense and vertical stack attack didn't waste much time pulling Doublewide back down to earth. Bravo got back on serve at 5-4 when Will Lohre caught a goal from Jimmy Mickle – one of the 2014 Callahan winner's five assists.
Denny Bechis came up with a clutch hustle play when he followed and laid out to snag a huck intended for a teammate – giving Bravo a break to take half 8-6.
There would be no more lead changes.
With Bravo's deep roster and pedigree, Doublewide was going to need to play perfect (and maybe get a little lucky) to pull off this upset.
In the second half Chase Cunningham [2 goals, 3 assists] and Ryan Purcell [1 goal, 2 assists] engineered some critical holds, but three drops and a late Denver break would prevent Austin from ever really getting within striking distance.
There are some takeaways from this game that bode well for Bravo as they chase their second title in three years. This isn't a team of all stars who are ad-libbing. They run a vertical stack offense and all their players are on the same page. With a number of University of Colorado players like Mark Rauls and Josh Crane, this is familiar framework.
"That was part of our vision this year with bringing [former Mamabird coach] Jim Schoettler in and instituting his system," Konker said about integrating newer players into the offense. "A lot of young guys have experience with that. So that's the direction we're going and it's working pretty well so far."
Like a strong running game in football, a good vertical stack travels well and more resistant to the elements. Denver's stack is well practiced and disciplined, keeping defenders honest and creating tons of space to continue flow.
"I think it's their ability to hit the break side immediately," Doublewide coach Terry Jungman said, reflecting on the challenges Bravo presents. "It really opens up their offense when they can hit Mickle on the break side and then he's got a bunch of space to look deep on."
And there's the second point: Jimmy Mickle might be the best player at the tournament.
Mickle is 25 and in his absolute prime. His size, speed, and skill make him a huge matchup porblem – even for the final four teams in the tournament. Mickle's 20 assists – including the 10 he threw against Machine in pool play – are good for third overall at the tournament…but that's only in four games. HIP's Matt Bennett (29) and Ring of Fire's Jonathan Nethercutt (21) are ahead of him but they have both played more games.
On the final point of the quarterfinals, Mickle sent a massive upwind flick perfectly out in front of Stanley Peterson then burst up field 65 yards to catch the game-winning goal.
For Johnny Bravo, it's on to semifinals to face Ironside, and their biggest challenge of the tournament.
-Tad Wissel