New York's PoNY, coming off of a last place finish at the 2012 Club Championships, had a spectacular weekend at Terminus, finishing with a 13-12 victory over Atlanta's Chain Lightning in the finals to take the 2013 Pro-Elite Challenge title.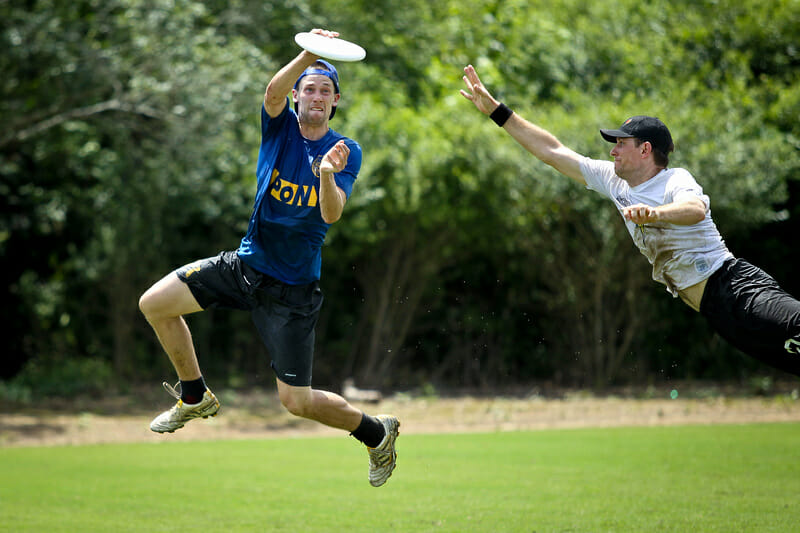 ATLANTA — What a difference a year makes.
New York's PoNY, coming off of a last place finish at the 2012 Club Championships, had a spectacular weekend at Terminus, finishing with a 13-12 victory over Atlanta's Chain Lightning in the finals to take the 2013 Pro-Elite Challenge title.
PoNY started the weekend with three straight wins, including a big 13-8 upset over Seattle Sockeye, before falling to Washington, D.C.'s Truck Stop by two on Sunday morning. They bounced back, however, with a victory over Madison Club to lock up their spot in the finals.
Chain Lightning, who came into the finals undefeated on the weekend, was the clear favorite to defend their long-time Terminus crown.
PoNY, however, looked like the more polished team in the first half. Captain Jack Marsh got New York on the board on the opening offensive possession and the defensive line generated turnovers on the first two Chain offensive points.
Jay Clark, who just returned from a month playing on the NexGen Tour, helped Chain hold on their first O point with a huge layout block, but after both offenses traded points to 4-3, he couldn't reel in a huck that was too far out in front of him in the endzone.
PoNY's defensive line worked the disc to midfield before a big huck went up to a streaking Rob Baker, who laid out in front of three trailing defenders for the first break of the game.
The defense added another break on the following point to take a three point lead after an enormous layout grab from Luke Wolckenhauer on a hammer from Chris Neitzey that was actually intended for Izzy Bryant in the back of the endzone.
"I'm feeling great about the D," said Marsh after the game.
Chain Lightning would close the gap to one after a risky throw to Marsh was easily blocked in double coverage. Joel Wooten churned downfield until he found separation for Chain's first break to make it 6-5.
The PoNY offense would send them into the half up a break after a big backhand huck from Kevin Riley to Robbie Gillies, who quickly dished to Marsh for the score.
The second half was a much greater challenge for PoNY. Chain came out of the break with back-to-back scores, one from a perfect hammer from Dylan Tunnell, the next after a long point with multiple turnovers by each team. Both teams were overly aggressive on their deep looks at times during the game.
With the score tied at 7-7, PoNY's offense again turned the disc over more than once, but this time was able to hold off the Chain D line.
Chain Lightning's inability to convert their opportunities on defense was ultimately their downfall in the finals. Despite putting significant pressure on the PoNY offense in the second half, leading to turnovers on many of their possessions, Chain could not punch the disc into the endzone. They finished the game with just three breaks in 13 opportunities.
"I think it's gonna take a little bit more practice," said Chain captain Mark Poole. "We haven't come together fully on the D line."
The offenses, however, traded back and forth until PoNY switched to a force middle defense that threw Chain's offense out of rhythm. Jolian Dahl found himself in a high stall situation and threw the disc directly into a dump defender. PoNY picked up in transition and moved quickly, finding second year player Albert Alarcon for the score and the 11-9 lead.
Chain kept their biggest weapons on the field throughout the game, and on the ensuing possession, the team's World Games representatives –Tunnell and Nicky Spiva — connected on a picture-perfect flick huck to get Atlanta back within one.
A great pull would pin PoNY near their endzone on the next point, and Chris Mazur turned the disc over on a short backhand before meekly calling a foul well after the play was over. After the call was overruled by the observers, the Chain defensive line handlers worked patiently before Jonathan Monforti found Russell Snow in the endzone for the break, tying the game at 11-11.
Both offenses looked excellent on the following points, and the game would live up to its billing as it headed to double game point.
PoNY received on the final point, working it smoothly to midfield to Mazur, who put up a perfect backhand into space for Gillies, who outran his defender to send PoNY to the 13-12 win and the Terminus title.
This immediately ranks among PoNY's best tournament performances in their team history; it's a long way from their 1-5 showing at the Emerald City Classic to kick off their season last year.
"We spent a long weekend focusing on not thinking about any sort of positioning and trying to stay in the moment as much as possible," said Marsh, emphasizing that they weren't considering that they were the bottom seed at the tournament.
Despite losing their Terminus title to New York, Chain Lightning was happy with their weekend on the whole.
"I actually think we played a lot better than we have in the past in late July," Poole told Ultiworld.
He said PoNY's fitness — potentially arising from their time playing in the pro leagues — was noticeable and that they made some strategic choices that challenged Chain's offense.
"They came [force middle], which we hadn't seen yet and they did a lot of switching which we didn't respond to as well as we could have," said Poole.
Many of the teams may have also suffered in the hot Atlanta weather, but PoNY was actually getting relief from an intense heat wave sweeping the Northeast all of last week.
Despite that, and their sizable 25 man roster in Atlanta, PoNY was an unlikely tournament winner. How did they go from being shutout at the Club Championships to taking down three 2012 quarterfinalists on their way to an elite tournament title?
"Damned if I know," said Marsh. "I think we've had a lot of good focus at our early season practices, being in the now and working super hard on every moment that we're out there."
GAME NOTES
…PoNY also won the tournament spirit award…PoNY played a fairly open rotation even late into the game…Chain Lightning never led during the game…Dylan Tunnell was working all day Saturday and did not join Chain until Sunday…The weather was hot and sunny. Wind was not a factor…PoNY won $750 in prize money from USA Ultimate for winning the Pro-Elite Challenge…Thank you to Tom Deaver and the volunteers for all of their help on the weekend…