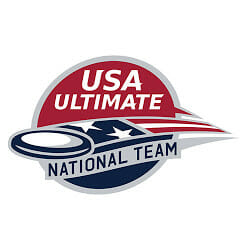 After a boisterous opening ceremony and showcase game on Sunday night, the WFDF U23 World Championships began in earnest yesterday with dozens of pool play games taking place across all three divisions.
The American teams got off to a 6-0 start on Monday, showing dominance with an average winning margin of 11.5 points.
With four more days of pool play still to come, nothing is certain. But it was a great start for the United States teams. Here's a look at each division.
OPEN
The USA Men's team opened their tournament at 9 AM yesterday against Germany. It was something of a wake up call for the team, said head coach Bob Krier, after they struggled in the first half and found themselves trailing 9-8.
The Germans came out showing various zone looks, from a traditional three-man cup to a junk, and it caused some trouble for the US.
"It rattled us a little bit in that now it was no longer a free-flowing offense," said Krier. "We had a few miscommunications and we had a few rushed throws…We pushed ourselves at a speed that was a little too frantic."
The adrenaline of the first day of competition was certainly a factor, but the team found their poise in the second half to go on a 6-1 run to close out the win.
"We spent a lot of time building," said Krier. "It was good to be challenged and get players into the mode that this is going to be hard work."
The US team only spent a total of three hours working on zone at their week-long training camp, which may have contributed to their struggles early against Germany. Krier and the coaching staff decided not to work on developing a zone defense because they had such little time together and many bigger priorities.
The Americans had a stronger second game against Australia, pulling ahead early and extending the lead en route to a 17-6 win.
"Our handler defense looked really good," said Krier. "That and our marking was really strong. We were able to contain any pull plays and we didn't give up any easy goals."
Krier was generally happy with the defense. Each of the players he singled out as having a strong day — Brian Hart, Justin Allen, and Byron Liu — he mentioned for their big plays on defense. Hart had a spectacular layout block in the endzone against Germany to stop a goal.
"There were times when we were taking it away when teams took their shots downfield," said Krier.
The focus for the team, explained Krier, is to improve each day. They worked on their junk defense and their transition during the Australia game. Today, they plan to work on smoothing out their split stack offense and setting up plays after turnovers or stoppages. They have just one game this afternoon, against Italy.
So far, the coaching staff has only done limited scouting on the teams they expect to challenge the US for Gold — Japan, Canada, and the UK. They watched the Canada v. Great Britain showcase game on Sunday night and will watch the Canada v. Japan game today. They are focusing on identifying key players.
"If we can find the guy that they need to touch the disc to score, and we can put fresh body after fresh body on them to keep them from touching the disc, we can be successful," said Krier.
WOMEN'S
The women's team had an outstanding first day, opening pool play with a 17-0 shutout of Austria. The game started nearly as well as they could draw it up, beginning with a four-throw offensive possession followed by a Shira Stern Callahan for the early break.
They never stepped off the gas.
Head coach Mike Whitaker had good things to say about the Austrian team, which simply didn't have the depth and experience of the Americans.
"The best way to respect an opponent like that is to play hard and as strong as you can," he said.
They ended their day with a dominant 11-point win against the overall one seed Colombia, but the coaching staff was quick to point out that the game was closer than the final score.
"That 17-6 score is not indicative of the gap between the teams," said head coach Mike Whitaker, explaining that his team simply executed better and managed to force turnovers with oppressive handler defense.
Whitaker said they still have a lot of growing to do. The team, filled with adrenaline and first day nerves, played a touch too fast on offense.
"We never quite flipped the mental switch into being offensive players after the turn…," he said. "We gave Colombia more opportunities than the coaching staff would have liked."
But he was happy with the defensive effort and intensity, as well as the contributions from everyone on the roster.
"I loved our depth," he said. "As we continued to win long points, we were able to throw more fresh players out onto the line."
Whitaker said that everyone played well, but that Magon Liu, Abby VanMuijen, and Lauren Sadler had outstanding games against Colombia.
"It was a really positive game for the team, one where they were able to feel the passion of Worlds," said Whitaker.
MIXED
The USA U23 Mixed team had perhaps the best performance of the three teams, taking down Colombia 17-2 and Venezuela 17-8. Lisa Pitcaithley was a force on the field as the team made huge plays on both sides of the disc to run away with their first two games.
The only USA squad to come in as the overall one seed, the Mixed team will face Australia, the two seed, in what should be one of their toughest matchups during pool play today.
We have not yet had a chance to speak with coach Martin Aguilera about the team.