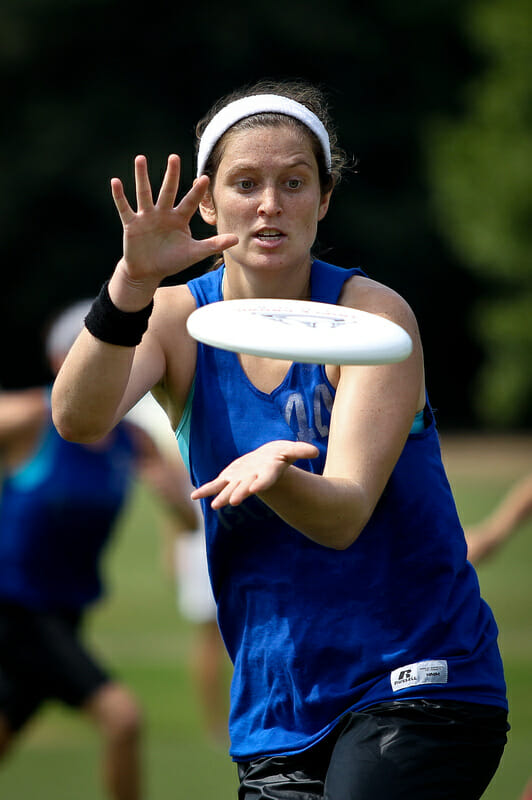 In a lightning-shortened final in Aurora, CO, Boston Brute Squad outpaced Denver Molly Brown 12-7 to win their first tournament this season. Molly Brown, one of the the Elite-Select Challenge event's host teams, bounced back from a weak start to their season to advance to their second straight Colorado Cup final (last year's was also canceled due to inclement weather, making Molly a Co-Champion). It was Brute Squad's second tournament final in three tournaments.
"The last few weeks in practice we worked really hard to address these things. It was great to see our hard work pay off at Colorado Cup," said new Brute Squad captain Courtney Kiesow.
The Triple Crown Tour event had an unpleasant format in the Women's Division, with only 14 teams attending rather than the preferred 16. This lead to two pools of 7, with same-seeded crossovers serving as the only "bracket" play. It limited the access the top seeded teams got to one another, and left one-loss teams like Madison Heist and Austin Showdown without a shot at the tournament title.
It was a successful 7-0 showing for the Bostonians, who had a buzzy offseason and are seeing increased expectations as the season continues. Along with beating Molly Brown, they added close wins over Raleigh Phoenix and Heist.
"Colorado Cup gave us a much-needed boost of confidence," said Kiesow. "We did have some very close games, specifically with Heist and Phoenix. We learned a lot from these games."
Brute Squad benefited greatly from the returns of Leila Tunnell, Claudia Tajima, and Julie Eagle, who all missed out on their Terminus weekend. Tunnell and Tajima were key components of the Boston offense, able to use their huge throws to open up the field, while Eagle, in her first high level tournament with Brute, was one of the tournament's strongest defensive performers.
"In [our] tougher games we relied on our defense, our sideline presence and our desire to win," Kiesow said, and she went on to praise the team's ability to incorporate their new additions, both in the form of personnel and strategies.
"The leadership has tried its best to adapt our strategy to the strengths of our personnel," she said. "We've thrown a lot of new things at the team this year. Brute's ability to adapt to change and roll with the punches has been pretty outstanding."
In particular, that adaptability and strong defense helped earn them the victory over a Molly Brown team that was playing much better than they had in the two teams' last matchup. That was a 13-6 win for Boston at Terminus.
"We knew that Molly Brown would come out firing on all cylinders," said Kiesow. "Our goal was to come out strong right away and get our defense on the field. We made a lot of adjustments since Terminus which were mostly geared towards solidifying our offense and adding a few new defensive looks."
With a more complete roster that is building chemistry and, as Kiesow put it, solidifying strategic adjustments, Brute Squad will be looking to take their reinforced confidence to Virginia Fusion, and, ultimately, into the Series.
NOTES
Molly Brown's lone pool play loss was to Select team New York Bent…Speaking of Bent, despite a loss to Minneapolis Pop, they finished the highest of any Select Flight participant, in 7th…Phoenix was just 1-3 against Pro & Elite Flight teams, but every one of those games was decided by just two points…