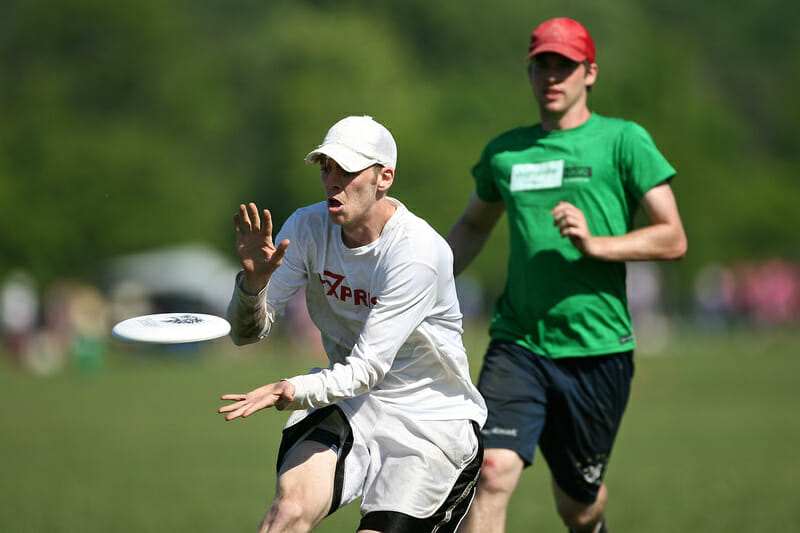 This article is part of our new, expanded New York City coverage. For more, follow @UltiworldNYC on Twitter and stay tuned for a dedicated New York-focused blog.
As the regular season winds down for many club teams, New York's elite mixed squad is only beginning to explore their full potential.
With six key players playing professionally for the AUDL's New York Empire, 7 Express is only now putting together a full roster.
"We went into this season with the understanding that a number of our top males would be competing in the professional leagues," said captain Shaun Krieger. "We are excited to have them back into the mix to bolster our rotations."
Fellow captain and starting offensive handler for the Empire Joe Santosus mirrored this sentiment: "We are going to have a much stronger and deeper roster than we did in June. Our team is better prepared to play late into games and tournaments."
Bringing sufficient numbers to tournaments has been an issue for the team so far this summer. Playing with a limited roster, 7X edged out a number of close wins at Mixed Easterns but finished 1-6 at Boston Invite.
"We took Boston Invite's results with a grain of salt considering we were missing 50 to 60 percent of our roster, but we definitely took note of strong performances from a number of our regional opponents, including the Lions and Odyssée," Krieger said.
The Northeast region has become a hotbed for mixed ultimate with four bids to Nationals last season and a strong showing again in 2013. "Obviously we are aware that we are competing in a very strong region this year, but we feel like we have added some great young talent on both the male and female sides that we believe will help us contend with any regional team this season," added Krieger.
On the men's side of the disc, 7X notably bolstered their defensive line, adding Ben Ivers, Ryan Drost, and 2013 AUDL leader in blocks Mike Drost.
Upgrades on the women's side have been important as well. "We are excited about some fresh female faces including Colorado transplant Laura Markham and former University of Delaware captain Samantha Pelletier," said captain Ashley Snyder. "Our ladies are relatively young this year, with an average age of about 24 and a half years old. I am really excited to see how we match up at Chesapeake Invite this weekend as we will have our full roster of ladies for the first time this season."
After taking July off due to various scheduling complications, the team restarts tournament play at the Chesapeake Invite in Leesburg, Virginia. At Chesapeake, they'll have the opportunity to play teams from four different regions, which will certainly have an impact on strength bid allocations to Nationals.
Last season, the team had disappointing Regionals showing, seeded 5th but finishing 7th. "The goal is obviously to make Nationals," said Santosus. "We have the talent to get there so we shouldn't settle for anything less."
The 7X offense is led by fiery lefty handler Matt Auletta and Dennis Murphy along with strong backfield play from Naomi Brender and Snyder. Dynamic cutters Ali Main and Joe Babbino work to move the disc downfield and stretch opposing defenses.
With a full roster and two tournaments still ahead of them, only time will tell whether New York has enough to compete in one of the country's strongest regions and earn a bid to Frisco this fall.