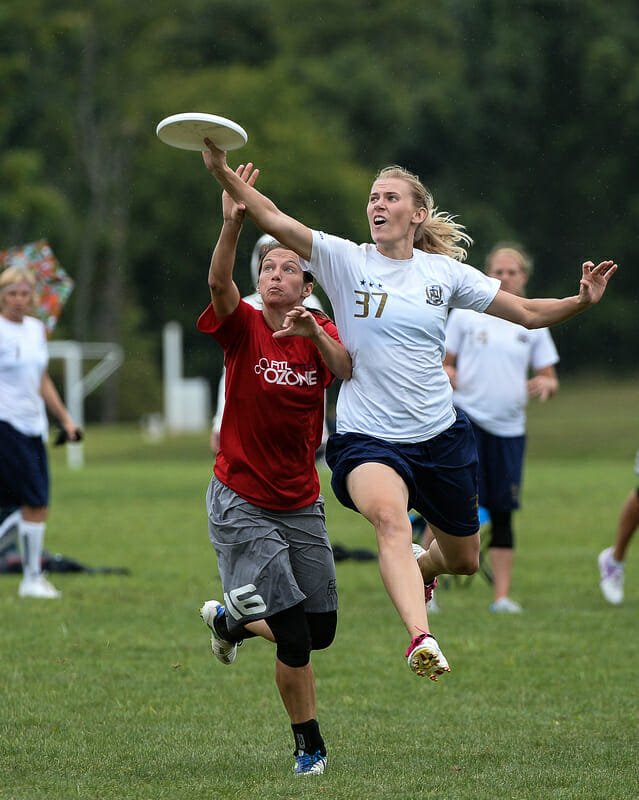 Washington DC Scandal continues to bolster their strong 2013 resume with a win in the finals of the Chesapeake Invite, 15-11, over Atlanta Ozone.
The two teams faced off for the third time this season, with Ozone pulling the tournament's only upset, in pool play, by beating Scandal on double game point. But DC would rise to the occasion and win Chesapeake for the second year in a row. It's Scandal's second tournament victory this year, both times in the final against Ozone. It is also their second time avenging a notable pool play loss with a big Sunday win, having done so against Seattle Riot at the US Open.
"It's very difficult to beat a team twice in a tournament — just ask Revolver from last year," said Scandal coach Alex "Dutchy" Ghesquiere. "The second time you play a team, the advantage is always going to be on the team that lost the first matchup, because they have things they know to adjust."
However, Ghesquiere chalked the results up to execution. Both Ozone and Scandal operate with some similar offensive tactics in how they utilize space and the deep game. Ghesquiere and his team place a premium on disc movement. In their Saturday matchup, Atlanta was able to use their flowing offense and smart deep cutting to open up space for hucks, many of which found cutter Emily Lloyd. Scandal also failed to capitalize on the mistakes Ozone made.
"[The] biggest difference [between the two games] was our offense was able to play our game, which is also to take advantage of some of the deep space," said Ghesquiere.
The performance of Scandal continues to show they're a top contender to try their hand at knocking off San Francisco Fury, the reigning 7-time National champions.
Ozone is demonstrating they have to be considered in that class as well. It was far from a perfect weekend for the Atlanta women, who narrowly edged out New York Bent the round prior to their Scandal upset. They were missing a few players and struggled with a a couple of injuries, but Chesapeake Invite was a strong follow-up to Terminus for them. The top teams have shown time and again they can get big performances from any number of their players, a pattern Ozone has emulated this year.
Both teams will be in action in two weeks at the Pro Flight Finale in California. It very well could be a preview of the elimination rounds of the Club Championships and it seems likely the four semifinalists will emerge from this group of teams. Scandal and Ozone both will be in the mix. Everyone has their eyes on October and Frisco, Texas, as Ghesquiere explained after Chesapeake.
"We are focused on the end goal, and that's Nationals," he said. "I think the key for us is the same as the key for any team: to be constantly improving for that goal."