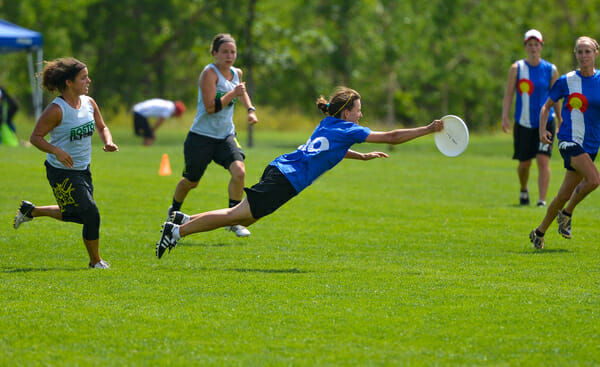 Molly Brown's season last year was a smashing success. Perhaps overshadowed by fellow South Central region squad Austin Showdown making it to the semis from their low seed at the Club Championships, Molly made their own run from the 3rd seed in their pool to a 5th place finish. It was the team's highest finish since they transitioned from Rare Air, who went to the semifinals last in 2006.
There's a changing of the guard afoot in Colorado.
"A lot of the turnover from the last year came from our more seasoned ladies who decided that ultimate needed to take a lesser role in their lives," said captains Lindsey Cross and Lauren Boyle, "and we took advantage of this turnover to start investing in younger players."
Gone are established names in Colorado ultimate like Anna Pogoriler, Anna Schott, Leah Brooks, Chelsea Boyle, and Jana Krutsinger. Along with them, experienced and influential leader Kath Ratcliff, along with Leslie Schein, Mary Huisenga, and Jessi Witt depart.
Double digit turnover is not entirely unique in the women's division, but with so many veterans exiting, Molly Brown's roster faces a youth movement. "This class is younger," said the captains.
One of the fastest ways to lower your team's average age is to add teenagers to your roster. That probably wasn't the motivating factor for Molly Brown, as youngsters like Nhi Nguyen and Kaci Cessna bring high skills and even higher ceilings to the program. Cessna's ability in the air helped her rack up 17 blocks at this year's YCC tournament, while Nguyen's speed and experience showed in her 15G, 13A, 6D, 7T stat line.
The next step up is to nab some college studs. Cue Paige Applegate (Colorado State), a South Central 1st Team All-Region selection this past year and versatile threat. Dori Franklin and Anna Updyke (Colorado) also infuse more youth into the Denver roster.
To temper the change, they've also brought in some more experience. Four former Molly Brown players return after time away: Tina Snodgrass, a devastating deep target; Dena Slattery; veteran thrower Leah Borsheim; and star Sophie Herscu. They'll also benefit from the addition of Claire Henly (Brute Squad).
"With all the youngins coming in to blow up the ultimate scene, it was nice to pick up a few veterans…to help us out in the experience area," said Cross and Boyle. "They have been a blessing to have over the year, and will definitely show their experience on the field."
Of course, there have been growing pains. Their debut at the Pro-Elite Flight Challenge at Terminus in Atlanta saw them struggle to a 3-3 record. The result was a 7th place finish, when they entered the weekend as the tournament's #1 seed. The team had a few players missing that weekend (like many of their opponents), but it was the first high level club tournament a number of players on the team had ever participated in.
"We were very impressed with the potential we saw with all of the newbies," said Cross. "Terminus was definitely not a results driven tournament for us. It was about learning to play our game with each other, and working to constantly improve over the weekend. And I definitely think we accomplished that."
That improvement was on display when the Denver team played at Colorado Cup, the Triple Crown Tour's Elite-Select Challenge. They'd win all but two games, making the final and finishing in 2nd place. The key victory, however, may have been over in-region opponent Showdown, 13-11.
"We are very impressed with our defensive fire and offensive poise we showed at the end of the game to pull out the win. We will definitely be seeing Showdown a few more times this season, and each time will be so much harder than the previous one!" said the captains.
The pieces are there for this team to have another strong run. U-23 Women's Champions Amanda Good and Megan Cousins return, along with strong throwers like Carolyn Matthews and Tina McDowell. Molly is stocked with strong defenders, like Cross, Maggie Chen, Applegate, Boyle, and Snodgrass. The captains told me the team prides themselves their defensive abilities, able to use their legs and high altitude training and grind down the opposition.
It looks like the Colorado-based squad is primed for another trip to the Club Championships, though they'll be eying a repeat as the regional Champion. As their team progresses, integrating their varying pieces and developing their youth, we will see where they sit come the Pro Flight Finale on Labor Day weekend.
"Every year we strive to be better than the year before," said Boyle and Cross. "The general theme for the year has been that we need to work harder in every aspect of the game to reach the next level."
Improving on a quarters appearance — which they've managed each of the past two years — means breaking through the wall to the semifinals. The returning talent combined with the potential of the incoming class has the captains excited to show people what they can do.
 "I can't wait to see what they bring to the table come Nationals time," said Cross. "I can anticipate there will be some folks later on asking 'Who is that girl? Where did she come from?'"
The captains, along with coach Catt Wilson and new assistant coach Jeff Berget, will have to mold the group into a semifinals quality team. They have their eyes on the prize. Cross and Boyle feel confident they know the path there and have a group that can successful traverse it.
"At Colorado Cup, we saw glimpses of the team we can be," they said. "Moving forward, it will be taking those glimpses and making it the norm for every point, every half, and every game."