So much joy at the Masters Championships.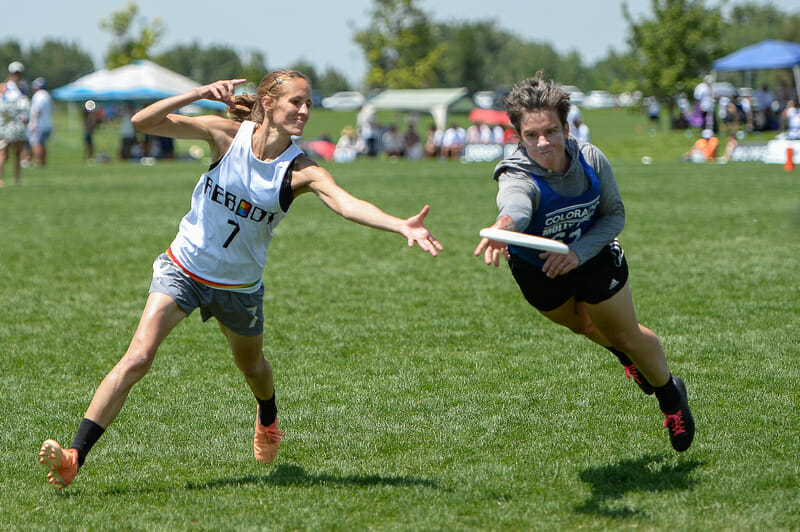 During the 2021 summer and fall season, we will publish a bite-sized weekly recap of the action across the Club Division. This will serve as a supplement to our standard tournament reporting and will offer a high-level look at the latest happenings and the biggest stories of the week. We go through the annals of score reporter so you don't have to!
Want your tournament listed here? Submit a recap of what happened right here. 
—
As club ultimate still slowly gets up to speed, only a few tournaments happened around the country this past weekend, giving the Masters Championships center stage. It was the largest ever version of the event for USA Ultimate, with nearly 100 teams across six Masters divisions fighting not just for national championships, but also bids to next summer's WMUCC.
Elsewhere, the women's club division saw their first sanctioned play of the summer at the Boston Invite, where top 10 teams in each of the three gender divisions kicked off their competitive seasons. Rosters continue to trickle out and we're keeping you up to date on the major departures and additions for major club programs around the country. Also, in case you missed them over the past few weeks, be sure to check out our division primers — Men's, Mixed, Women's.
Let's run through all the action, starting with a special section for the divisions that don't often get press on this site.
Master's Division
Even more so than in other years, Masters Nationals in Colorado felt like a joyous reunion for thousands of ultimate lifers. Spirits were high as 98 teams across six divisions competed for titles while also reveling in just reconnecting with old friends from around the country. The Aurora Sports Complex was lousy with legends of the game, both past and current.
Ultiworld was on hand to film the tournament for the first time; three division finals will be posted to USAU's Youtube page and eight other games will be available in the Ultiworld video store in the coming weeks!
Women's Division
Brute Minus Veterans Cruise to Boston Invite Victory
Even with just a half-sized roster, #1 Boston Brute Squad cleaned up in Devens. In a one-day round-robin, the reigning national champs bested challengers #12 New York BENT 11-6 and #11 Boston Siege 13-5 thanks in large part to the performance of some shiny new pickups including Amy Zhou and Sophie Knowles. With every team short-staffed and no Canadians anywhere to be seen, perhaps we shouldn't read too much into the results from Boston Invite, but at least for now there can be little doubt who the favorite in the Northeast is, at least until we see if the Canadians can make it back down this fall. Check out our tournament recap for more.
In the tournament's lower-tier, YCC squad Maine Rip Tide turned plenty of heads with their performance. Star-in-the-making Emily Pozzy led the way for a youth program that would have no trouble fitting in at Club Regionals.
Men's Division
DiG Still Top Dogs in Massachusetts, Though Sprout also Looks Good in Season Kickoff
#8 Boston DiG may have a lot of new faces on their roster for 2021,1 but those additions made good on their first competitive playing opportunity, snagging their share of the plaudits while powering the team to a tournament victory at Boston Invite. After beating up on a crowd of local Classic Flight teams, the reigning regional champs asserted early season big brother status over #16 Amherst Sprout with a 12-9 victory over the Western Massachusetts upstarts in the final. Despite coming up short in the final test, Sprout certainly showed enough to confirm its bonafide as Nationals contenders this year, thanks to a cadre of their own new young guns, along with the ever-impressive play of Ben Sadok. Read more about the final in our tournament recap.
Boston Big Wrench finished third in Devens, coming out on top of the pile of hungry chase teams trying to scratch their way into contention ahead of Regionals in the fall. Among the teams in the tournament's lower division — many of whom would be happy just to qualify for Regionals — Connecticut Colt Lite topped Portland Red Tide and Burlington Log Jam.
Quick Hits:
Des Moines DeMo put together an undefeated weekend in a 10-team field at The Royal Experience 2021 in Kansas City, knocking off Omaha Scythe in the final 13-10. Hometown Kansas City Smokestack took third over St. Louis' top men's team, CaSTLe.
Mixed Division
AMP Take Down Every Northeast Challenger Thrown Their Way in Boston
#1 Philadelphia AMP may have expected to get everyone's best shot in Devens, especially while missing some key pieces to Masters, but if so, they passed the test with flying colors to justify their preseason ranking. With every meaningful Northeast Nationals hopeful in attendance, Philadelphia mowed them all down, needing double game point to survive #10 Boston Sprocket in the semifinals, but handily defeating an also-shorthanded #9 Boston Slow in the final. Sprocket certainly looked solid in their competitive debut, but ended their weekend at .500 after dropping the semi to AMP along with a pair of 11-9 losses to Slow and #18 New York XIST. They did manage a tight victory over division stalwarts Boston Wild Card, portending yet another crowded field of contenders come regionals. Read more about the Northeast morass in our tournament recap.
Quick Hits:
Witchita Impact had little trouble mowing down the competition at The Royal Experience 2021 in Kansas City, posting an easy 5-0 record on the weekend. Kansas City 7 Sins was the only team to reach double digits against the tournament champs, putting up 10 in pool play before losing 13-7 in a rematch in the final.
Looking Ahead
The TCT is back this weekend via the Select Flight Invite East, which brings Nationals aspirants in both Men's and Mixed to Columbus, OH. The mixed division appears to have the stronger field, with hometown #15 Columbus Cocktails the top-seeded headliner, though #17 Ann Arbor Hybrid and #24 Nashville 'Shine are lurking alongside several other dangerous squads looking to upset both the Great Lakes regional pecking order and Ultiworld's national Power Rankings. On the men's side, Madison Mad Men earn the no.1 seed, but will have plenty of tough competition to end the weekend in that spot, with many hungry challengers eager to earn some national recognition. Once again, the women's division unfortunately failed to attract enough interest to hold a tournament.
Elsewhere:
Scheduled to host all three gender divisions, it is unclear who might be in the final field for the Lake Michigan Classic in Holland, MI, though it appears it may be down to just a seven-team mixed tournament.
Details are similarly scarce for Bourbon Bash in Lexington, KY, which is still listed on the USAU site as a go for the men's and mixed divisions, though it's unclear if the event will still take place.
---
Which team doesn't this year? ↩