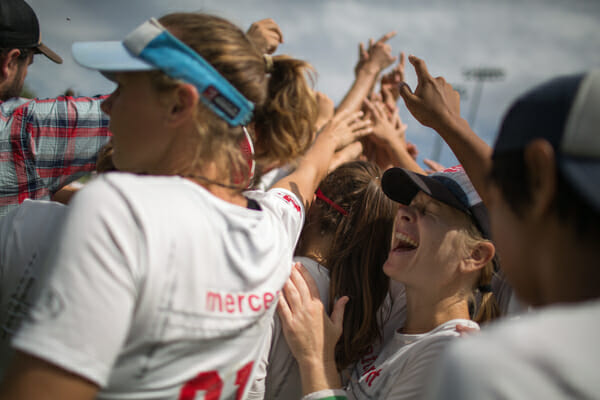 Welcome to the new Women's Division of club Ultimate. I'm sure you'll recognize some familiar faces – that's the Bay Area girls over there, their northern neighbors from Washington just yonder – but take some time to get to know our newest additions. Things will get started in just a moment.
In this new world, the bottom teams can shock the top teams, like Austin Showdown did to Seattle Riot. Emerging teams are throwing their hats in to the ring with gusto, like Chicago Nemesis's impressive run to the semifinals. Young up-and-coming names can stride down on the pull with longtime stars, only to match up on a group with similar accolades and talent. The game isn't the same as it was a few years ago.
However, you might want to bite your tongue before you proclaim a new era. In the end, it was Riot who would emerge the prizewinner. The end result is not nearly as unexpected as the journey that preceded it.
Nemesis Shows How To Win A Weekend Without Winning The Tournament
One of the buzziest teams from this offseason was Chicago Nemesis by racking up a recruiting class that looked brilliant on paper. They look even better in cleats. With huge contributions from their newest members, Nemesis pushed the buzz to a roar with a remarkable 4-2 weekend ending with a semifinals loss, but featuring come-from-behind wins over San Francisco Fury and Showdown, both of which were built on an impressive string of breaks.
Chicago was not afraid to turn to their top end and let them propel the team forward. Kelly Johnson and Lien Hoffmann were seeing vast swathes of playing time, Hoffmann often isolated downfield in initiating sets. Paula Seville, Marissa Mead, Christine Dube, Kami Groom, and Lindsey Hack also stacked up points played. Along with Hoffmann, Seville and Groom both stood out with consistently strong play.
While Nemesis's undefeated run through the regular season was halted, they were happy to trade it for a win over Fury, making them to first US team to beat Fury in eight years other than Riot.
"Obviously it was an amazing feeling," said Nemesis veteran Margalit Gould, before noting her favorite element of the upset. "[We] didn't even treat it like it was that crazy. We really believed that was a winnable game and that we could beat them. We have the personnel and we took care of business."
They earned a lot of strong "parallel experiences" as coach Ron Kubalanza called it, in their comeback victories; the players will be able to tap into the knowledge that they have the grit and mental strength to dig out of holes against even the best opponents. Gould also spoke to the value of that confidence.
"I feel like it really validates [the work we've done this season] and makes all that effort worth it," she said. "Going into nationals knowing we can win these big games against top teams is essential."
Fury's Failure To Execute Undoes Them
The most dominant program in Ultimate is populated with real live human beings, and they are the kind that make mistakes. Fury registered just two losses against four wins – the same as Nemesis – but their weekend is more disappointing than the trumpeting of parity. Struggling with the challenges created by unforced errors, the top ranked team opened the weekend as a victim of an upset and fell in the semifinals to rival Riot, 15-11. In both games, they couldn't hang on to the lead after taking an 8-7 half.
Typically, Fury operates efficiently, but relies on excellent defense to minimize breaks. Their offense is aggressive after the turn and the opposition has trouble keeping up with such a small margin for error. However, Davis hosted a Fury team making an uncharacteristic number of errors – overthrows, throws to poaches, and other turns – and giving up short fields where they were unable to mitigate the damage. In their loss to Nemesis, they had six turnovers on the first throw after the pull.
It would be foolish to deny who Fury is. A bad weekend for them is still a 3rd place finish, including destroying Atlanta Ozone and Toronto Capitals. They look likely to still get one of the top two seeds at the Club Championships and may still be the favorite to win yet another title. Seven straight earns any and all benefit of the doubt.
Doubt doesn't really enter the conversation for Fury.
"I don't think [the Nemesis] loss is going to affect us as much as a loss normally would, just because of the way this tournament is and the stuff we were working on," said a relaxed Kaela Jorgenson after Saturday's 2-1 showing. She explained how focused the team is on working on their points of emphasis.
"The goal this weekend is not to win the tournament," said Jorgenson on Saturday. "If we complete our goal of working on what we need to work on and do that well, we would maybe win the tournament. The goal is to win the tournament the way we want to."
"The goal is to win a national championship," she added later. That's a goal they know very well.
Riot Wins The Tournament And Likely Championships' #1 Seed
Seattle Riot put together a strong weekend, rebounding from an opening round loss, continuing to play better throughout the weekend, finishing with a 13-10 win over Washington DC Scandal.
After a sloppy beginning led them to a first round upset loss to Showdown, Riot barely squeaked by Capitals before finding a rhythm late on Saturday. They'd have a strong second half against Scandal, capitalizing on DC turnovers to outscore them, 14-12.
Sunday was a stronger showing for the Seattle women, building from the lessons of Saturday. Molly Brown provided little resistance before Riot tangled with Fury. An impressive second round performance followed the established pattern of improvement, with the team playing their best Ultimate yet against their toughest foe. Their comeback and clean victory were a testament to that.
Riot jumped out to a 3-0 – and eventually 5-1 – lead in Scandal rematch in the final. Again, Seattle was able to capitalize on mistakes and pressure Scandal with their tall four man cup, assisted by the afternoon breeze. Scandal would claw their way back into the game, they would never overcome the deficit, with Sarah Griffith finding Shannon O'Malley to sew up the championship.
The display of leadership from Riot has been impressive, with the team remaining focused and disciplined even in difficult circumstances. Strong showings from Callie Mah and Angelica Boyden throughout the tournament were buoyed by the play of Katy Craley and Rachel Bradshaw. Dom Fontenette and Gwen Ambler also came up with some big plays for Riot.
Scandal Avoids The Surprises, Remains A Contender
If you're looking for order in the chaos, look no further than DC. Scandal beat the teams ranked below them and fell in their games against higher ranked teams; twice they went up against Riot and twice they fell, 14-12 and 13-10. Their most impressive victory came over the division's hottest team, Nemesis, 15-11.
Going into that semifinal game against Chicago, coach Alex Ghesquiere told them he would be happy if his team "did a single thing right." While he said it with a smile, it was obvious the standard and expectations on Scandal are high, which is the attitude he brings to the team and that they'll need if they want to be the last team standing come Frisco in October.
Adding Anne Mercier into their personnel mix will help them reach that goal. Mercier is, without a doubt, a cream of the crop handler, equipped with shredding break throws, expansive huck range, and opportunistic dump cutting. She may have lead their offensive line in touches. Her presence also allows Allison Maddux to return to the defensive line, giving that group a much better ability to use the width of the field after the turn.
There were some miscues for Scandal, handlers new to working with Mercier experiencing some backfield turnovers on miscommunications, her sometimes struggling to get the cuts for looks she wanted, and the team still looking to avoid lulls in energy and execution. However, they have displayed talent rivaling the best teams in the division and the rest of the pieces are coming together.
They'll get one tuneup at Virginia Fusion before the Series begins.
Everyone's Got Something to Show
The possibility of parity was within reach coming into the weekend and the eight teams that made their way to Davis grabbed it. Showdown beat Riot, Capitals beat Showdown, Ozone beat Capitals, and Molly Brown beat Ozone. Only a few games lead to blowouts and we saw a number of games with comeback wins.
Look at the close wins that very well could have created more chaos had a few things gone the other way: Riot barely beat Capitals, Nemesis needed a gritty comeback to best Showdown, and Scandal narrowly avoided their second loss of the season to Ozone. All of this chaos, and that's without linking in Brute Squad and Traffic.
The results can likely be attributed to a number of factors, not the least of which is the increased baseline of talent across the Women's division.
"It is indicative of the direction that the women's game is going. Seeing the evolution of the women's game – how players are getting better younger – is awesome," said Gould, whose been playing at the elite level for a number of years. "You see this generational shift happening and I think it is really exciting for women's ultimate."
The concentration of talent in a short schedule tempted teams to run out their top end often, but there were no lulls or games off. Saturday included some mid-90s heat and both days saw periods of gustiness.
Another factor is the late season chess match. Teams were pocketing some elements of their playbook, not wanting to overplay their hand before possibly pivotal Club Championships battle. There's value in reserving the element of surprise, especially with the increasing amount of footage being recorded.
All signs point to an exciting Club Championships, where teams will go full blast and hold nothing back. Things will get started in a moment.
Notes
…Best wishes go to Riot's Hannah Kreilkamp, who suffered a severe wrist injury on Saturday against Scandal and will be done for this season…Elsewhere in California, Portland Schwa beat Bay Area Nightlock 12-11 to win the Labor Day Championships, and keeping their hands on strength bids for their regions…Players from multiple teams reported frustration with the lack of cold water at the field site…