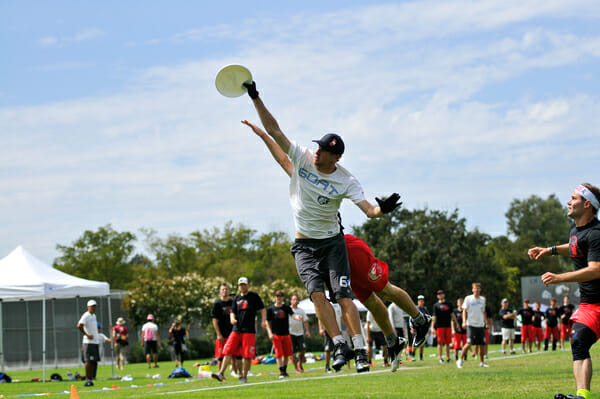 Ultiworld is excited to announce our exclusive live video coverage of all early rounds of the Club Championships in Frisco, Texas, presented by Spin Ultimate.
There's no better time to watch the world's best teams go head-to-head when it counts the most. With this year's new format, surprises and upsets seem all but assured.
You will have access to nine games of livestreaming coverage, along with two semifinals (tape delayed due to ESPN restrictions) and, potentially, the third place games to determine the bids to 2014 World Club Championships (if necessary).
In the premium package, you can also get access to exclusive live podcasts with Ultiworld editors and reporters in Frisco on Thursday and Friday evenings, as well as a discount on the subscriber-only statistical package to be announced later this week.
Our HD video coverage will include expert commentary from experienced Ultiworld reporters.
Here is Ultiworld's streaming schedule (all times Central):
Thursday, Oct. 17
9:00 AM: Women's Division, Round 1: Nemesis (4) vs. Showdown (9)
11:15 AM: Mixed Division, Round 2: The Do'h! Abides (7) vs. Cahoots (11)
1:30 PM: Men's Division, Round 3: Johnny Bravo (4) vs. Chain Lightning (9) — Presented FREE by Spin Ultimate
3:45 PM: Women's Division, Round 4: Scandal (3) vs. Brute Squad (6)
6:00 PM: Men's Division, Round 5: GOAT (2) vs. Sockeye (7)
Friday, Oct. 18
9:30 AM: Women's Division, Round of 16 Game: Toronto Capitals v. Vancouver Traffic
11:45 AM: Men's Division, Round of 16 Game: Chicago Machine v. New York PoNY
2:00 PM: Men's Division Quarterfinal Game (Teams TBD)
6:30 PM: Women's Division Pro Flight Qualifier (Teams TBD)
Saturday, Oct. 19
*Women's Division Semifinal (Teams TBD) – tape delayed
*Mixed Division Semifinal (Teams TBD) – tape delayed
Sunday, Oct. 20
*Women's Division 3rd Place Game (if necessary, Teams TBD) – tape delayed
*Mixed Division 3rd Place Game (if necessary, Teams TBD) – tape delayed
*Men's Division 3rd Place Game (if necessary, Teams TBD) – tape delayed
You can get access to the video for the following prices:
$12 — includes livestreaming access only
$15 — includes livestreaming and archived video
$18 — includes livestreaming, archived video, and exclusive Thurs/Fri editors podcast (times TBA)
Enter your payment information securely below: