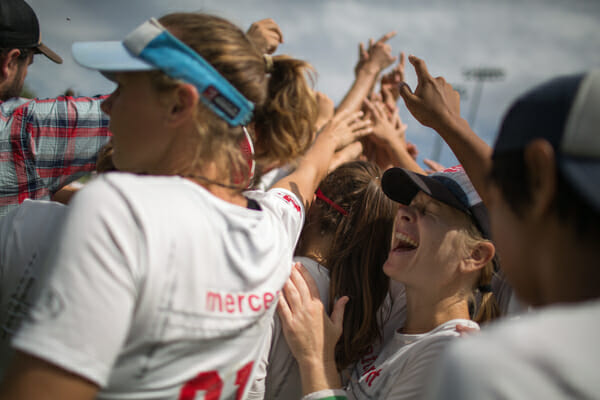 With Riot at the head, Pool B doesn't look ripe for the overall two seed to get knocked off in pool play. However, after that, some talented teams could make things very interesting. Heist hasn't play a ton of elite competition, but has been productive this year. Phoenix has a ton of momentum coming out of Regionals. Nightlock is a dangerous pool four seed.
All three of those teams should benefit from the change of format at Nationals this year, while Riot probably is hurt by it. It may not spell an upset, but someone's Thursday could help propel them into quarters.
Riot (2) Primed for a Big Showing
For Seattle Riot, being at the top of a pool and eying a Championship is standard fare. Last year, they decimated their competition on Thursday. In fact, Seattle Riot has never lost on the first day of Club Championships. The signs don't indicate a change in that trend.
That's not to say it is an impossibility. Riot has dropped six games this year: three losses to Fury, and one loss each to Scandal, Traffic, and Showdown. They've played sloppy Ultimate at times: overshooting hucks, throwing behind cutters, and looking out of sync. Injuries have taken a toll on the roster, diminishing the effect of their elite talent and removing some players from the field altogether.
Despite those things, Seattle has proven they know how to get better, both on a macro and micro scale. This season, all but one of their losses came on the first day of their respective tournaments. The Pro Flight Finale encapsulated the theme of improvement, as they opened the weekend with a loss to Showdown and nearly suffered a second upset against Capitals. Riot rallied back behind their team ideals and relying on emotional and mental buy-in, and eventually won the tournament.
It is strange to say about a team with one of — if not the — best women's player in the division on their roster, but Riot's strength is their depth and versatility. Sarah "Surge" Griffith is a handful to deal with, especially when she takes the line with another speedster like Calise Cardenas. Katy Craley has emerged as a playmaker downfield. Gwen Ambler and Drew Johnson provide calm and responsible handler play while young guns Hana Kawai and Callie Mah do a little bit of everything. Angelica Boyden has been fantastic on defense and handling after the turn. The list goes on.
Riot's reliance on no one means they won't get the same advantage from the format change as some of the other teams, but their talent and depth will still be something they lean on when the going gets tough. They have the strategic malleability and personnel to adapt well to most any situation. Expect to see it often as they march through the weekend.
Heist's (7) Shot at Pro Flight Status Starts Thursday
There may be no team that wants to get into the Pro Flight more than Heist. In their first season last year, they played a great weekend at the Club Championshps. This year, they have a better idea of what they need to accomplish.
This season was limited for Heist by their Elite status. They've only played in four tournaments this season: Club Terminus, Colorado Cup, Heavyweights, and North Central Regionals. Only the Pro-Elite Challenge at Terminus provided them with much top competition, and that event was marred by early season representations of teams missing a lot of key pieces, plus a lightning shortened round.
As such, Heist doesn't have a ton of results to show off. Colorado Cup went well, with Madison losing only one game (10-12 to Brute Squad), but adding victories over Phoenix, Schwa, and Showdown. Since then, the only other team in the field they've battled is Nemesis, and they lost both of those games somewhat handily.
The question for Heist will be how their top players, outside of the Bosscher-Wiseman duo, handle their match ups. Players like Becky LeDonne, Arthi Padmanabhan, Sara Scott, Biz Cook, and Rebecca Enders will need to deliver. The new format will allow the team to really put a lot on Georgia Bosscher and Robyn Wiseman's powerful shoulders, but if they want to get to quarterfinals, it'll take make than a pair of aces to win the pot.
Fortunately, they are 2-0 against their pool and come into the weekend confident. Winning second in this pool could be a big difference between playing a contender and a potentially weaker opponent.
Rising Phoenix (11) Ready to Prove Regionals Wasn't a Fluke
It only took a weekend for Phoenix to change how their season was viewed. Really, it only took two games. Those two games were decided by just three points. That pair of victories, secured in just a weekend, rewrote the narrative of the stumbling season of a rebuilding program. And that narrative was greatly informed by a string of losses at Colorado Cup, all of which were two point losses.
It is strange how things work sometimes.
Phoenix came into the year having lost a great deal of talent and leadership. They looked like a team in the midst of transition. Founders, Callahan winners, and coaches were all on their way out. It all showed right away.
As the Raleigh team fought to discover their identity, they found themselves taking it on the chin weekend after weekend. After their first foray at Winston Cup Challenge, Phoenix went 3-10 at the next two tournaments; 7 of those losses were blowouts. At Colorado Cup, they'd improve to 4-3, though only one win was over a Championships qualifier (Schwa). Even Virginia Fusion saw their struggle continue, going 2-4, only beating regional competitor Tabby Rosa, and even having difficult with them in one game.
In danger of being written off, Phoenix capitalized with their final opportunity to make noise. At Southeast Regionals, they went undefeated, including beating regional rival Ozone both in pool play and in the final. Measured offense lead the way, and their ability to take advantage of Ozone's mistakes sealed the deal.
The roster has stepped up to the challenge this year. While it begins with 2013 Callahan winner Claire Chastain and her U-23 teammates Jessi Jones, Shellie Cohen, and Lisa Couper, it doesn't end there. Heather Zimmerman has provided them with maturity and versatility all season. Sharon Tucker has done a great job handling and Rachel Johnson spends almost the entirety of every point sprinting full speed and causing chaos for opponents.
While these players are spread out into two groups, the shallow format may allow Coach Bryan Dobyns to put out more top heavy lines.
Everyone wants to see which Phoenix team shows up in Frisco.
Nightlock (14) Capable of Competing
The second Bay Area team, Nightlock is making a second straight trip to the Championships, impressive in just their second season. They added some very nice veteran pieces coming into the season, looking poised to push even further than they did last year.
Former UCSB star Andrea Romano leads those additions, along with one time Stanford stud Jenny Founds. With Abby VanMuijen, Marie Laurenza, and Bree Cahn in the fold, Nightlock found themselves with a powerful array of armaments. Support from Marissa Rafter, Lily Lin, Katie Barry, and Stephanie Lim give this team the look of dangerous club squad.
The results haven't reflected their talent. They'll enter the Club Championships with just three wins over the field — a pair over fellow pool four seeds and another over Phoenix — and as one of the few teams who has lost to a non-qualifier. As an Elite Flight team, they haven't had a lot of opportunity to see nationals level competition, so like Heist, making it to the Pro Flight would be a huge move forward for them.
Thursday will be an intriguing day for the Bay Area women. They've beaten Phoenix this year at Colorado Cup, but fell to Heist at Club Terminus. They may have some health concerns going into the weekend. Perhaps being able to turn to their top end talent will allow them to make Pool B very exciting.
Pool Predictions
Riot's streak of undefeated day one's at the Club Championships is likely to continue. However, their struggles early in tournaments have shown they are not without weaknesses.
Behind Riot, there's a lot of variability in how the teams have played this season. Heist has been the most consistent, which makes them likely to take the pool's second spot.
The question of Phoenix versus Nightlock is a difficult one to answer. Nightlock won their first match up, but Phoenix is playing much better than earlier in the year. This could be one of Thursday's most even games, but Raleigh's improvement should be enough to keep their head above water.