October 14, 2013 by in News with

5

comments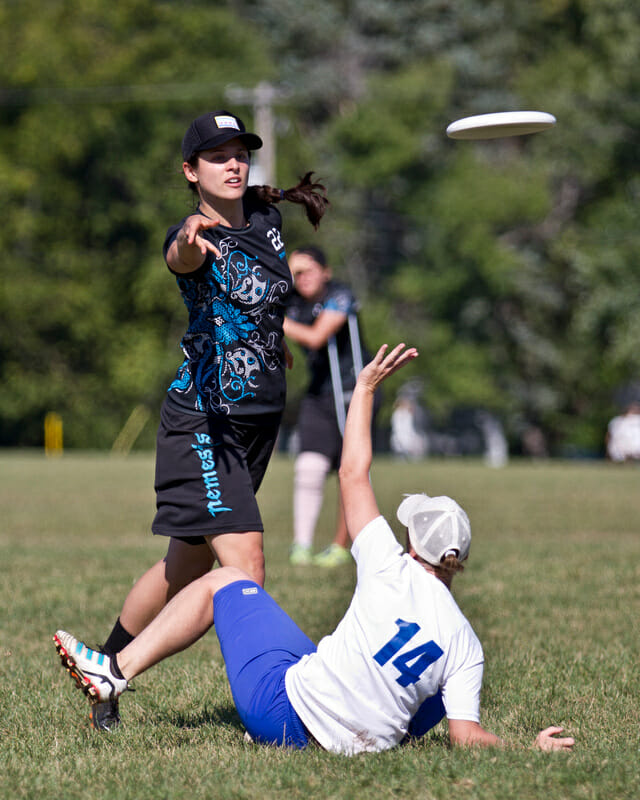 At this point, I don't have to tell you what the D in "Pool D" usually means. When you put the 4, 5, and 9 seeded teams into one pool, it imbues that pool with upset potential and make the day a grind. It is no different with this year's Pool D.
Here we see Chicago Nemesis, Vancouver Traffic, and Austin Showdown as scary teams with wins and talent of note. Quebéc Nova faces an uphill battle, as the lone new team in this year's field, but has nothing to lose.
Nemesis (4) Has to Win the Mind Games to Win the Real Games
When you're the top seed in the pool and overall four seed, games can be a test of mental fortitude. Can you stay focused on this point and this game, and not think ahead to possible semifinal opponents? Can you close opponents out in an orderly fashion to keep legs fresh and doubts at bay? Can you avoid the types of morning lulls that lead to upsets? There are a lot of questions for top dogs to answer.
Chicago has had the breadth of the season to figure that out. Now there are heavy expectations on them to perform to the level they are capable of.
Those expectations are informed by a very impressive regular season. Chicago was undefeated going into the Pro Flight Finale, having won Club Terminus and Heavyweights. They made it all the way to the semifinals in Davis before falling to Scandal. Along the way, they'd slay the beast that is the overall one seed and undisputed reigning champion, Fury.
"Going into Nationals knowing we can win these big games against top teams is essential," said Margalit Gould, a Nemesis veteran, after the Fury win.
Their march to the Pro Flight Finale semifinal was almost halted early, when they ran into Showdown that morning. It took a late rally, anchored by the team's top talent, to pull out a win.
"They don't ever give up. They are very tough, this season," Coach Ron Kubalanza said of his team after the comeback.
Nemesis runs a spacing heavy offense, relying on athletic cutters and patient handlers. Paula Seville has been instrumental in pacing their offense, along with Marisa Mead. Lien Hoffmann, often the team's first look off the pull, is as difficult to guard in space as anyone in the division. Katie Dolara and Christine Dube both provide experienced options for the offense to utilize.
Defensively, the Chicago women tend to apply pressure with man defense. Kami Groom has emerged as a star, playing the game at a breakneck pace and constantly making plays and forcing turns. Kelly Johnson is a known quantity as a dangerous upline cutting handler after the turn. Lindsey Hack and Lizzy Shiel provide veteran handling abilities to support Johnson. When in need, the defensive unit will add Hoffmann and Dube to the mix.
The other mental game will be how Kubalanza manages his personnel. Johnson, Hoffmann, Groom, and to some extent, Seville, Mead, and Dube, are players the team relies on when they need to score. Despite constant references that Johnson resembles a machine on the field, she is only human. Will they be held back some to keep them fresh for Friday and beyond? Can the younger players down the roster hold up their end to allow their stud teammates to rest?
Vancouver Traffic (5) Providing the Pool's Wild Card
There are few teams with less connectivity in the field than the overall five seed, Traffic. Their only play outside of the Northwest was at Club Terminus, where a skeleton squad competed with other early season models of teams, lowering the amount of relevant information we can glean from even those results. Make what you will of wins over Brute Squad, Molly Brown, and Heist earned in Atlanta.
What we do know is that, on paper, this Traffic roster is strong and they have turned in some compelling results. At Emerald City Classic, they played solidly against Riot and Fury. At Northwest Regionals, they topped Riot 15-14 on Saturday, when they also thumped overall fifteen seed Schwa. Unfortunately for them, they'd suffer a crushing (albeit weather assisted) defeat at the hands of Riot in the Regional final.
Kira Frew, Catherine Hui, and Candice Chan headline a Vancouver team with plenty of firepower. Carolyn Churchland has been showing off her athleticism as a downfield weapon. Eva Cham, Rena Kawabata, Jen Kwok, and Mira Donaldson are all threats when they step on the field. But Hui has been the spark, providing big play after play, especially as a deep threat with her blazing speed.
The lack of knowledge about Traffic is a double edged sword. Nobody in their pool has seen them and they haven't seen their opponents. However, with the proliferation of Ultimate footage, Vancouver Coach Jeff Cruikshank won't have lacked for opportunity to check out Nemesis and Showdown. Advantage Traffic.
A Weekend of Familiarity for "Hometown" Showdown (9)
Let me get this out of the way: I know Showdown isn't based in Dallas, but don't tell me the Lonestar ladies won't enjoy some benefits of playing close to home.
Showdown better recognize, mostly because this should all ring a bell for them. They played an excellent game against Nemesis at the Pro Flight Finale, nearly upsetting them before a string of late game mistakes helped Nemesis escape. Austin got an early look at newly formed Nova at the US Open, where they defeated the Canadians 15-10.
The Pool D three seed should also strike a chord. Their season ended in the semifinals of last year's Club Championships, but began as the third seeded team in Pool D. Along the way, they ended Chicago's run, knocking them off with a 15-7 quarterfinals blowout. This isn't a team that'll be unnerved by being cast as the underdog.
It also helps that the change in format will benefit them. A few big names do a lot of the heavy lifting for Austin. Cara Crouch is arguably the best offensive weapon in the division right now, and Showdown deploys her often. Katey and Bex Forth, Sarah "Slider" Blyth, Enessa Janes, and defensive stopper Diana Charrier support Crouch. Being able to run these players out often will give the Texas team a better chance of scoring an upset.
Nationals Debut for Nova (16)
Québec Nova is the only first year team in the field this year. Last year, two first year teams finished 10th and 11th, so there's precedent for surprising success from these types of squads.
For Nova, there's two ways to view their performance thus far. On the one hand, they have only a single win over the field (15-13 over Bent), and that was in June, before teams had even finalized rosters. That said, they also only played in the US for that tournament, the US Open, and the Series. At the Series, they failed to compete with that Bent team, who is a mere pool four seed at the Club Championships.
In fact, one of the only reasons they may be at the Club Championships is their participation at the US Open. They lost every game there, but put up some decent results, and that buoyed their ranking and helped earn the Northeast Region the fourth bid that Nova rode to a qualification.
The other side of the coin is that the Quebéc ladies showed the ability to compete at the US Open. There was reason to think they were capable of taking down strong teams. Jessie Grignon-Thomas and Audrey St-Arnaud give them some threatening match ups and the team seems to have bought in to their system. Nova never looked overwhelmed against some of the division's best teams at the Open.
In this pool, however, it should be tough to gain a ton of traction, though the inconsistent play of the teams above them — plus a familiarity with Traffic — could help Nova.
Pool Predictions
Nemesis has their sights set on the grand prize, but nothing about them strikes me as overlooking a challenging pool. With a high talent level, strong execution, and strategy that maximizes their strengths, they'll be tough to topple.
Both Traffic and Showdown have shown the ability to perform well against elite competition but they've been inconsistent. Showdown is going to beat someone, whether on Thursday or Friday. I think Austin can pull off the pool upset over Traffic.
All three of the top teams could win their prequarters games and make the top eight.