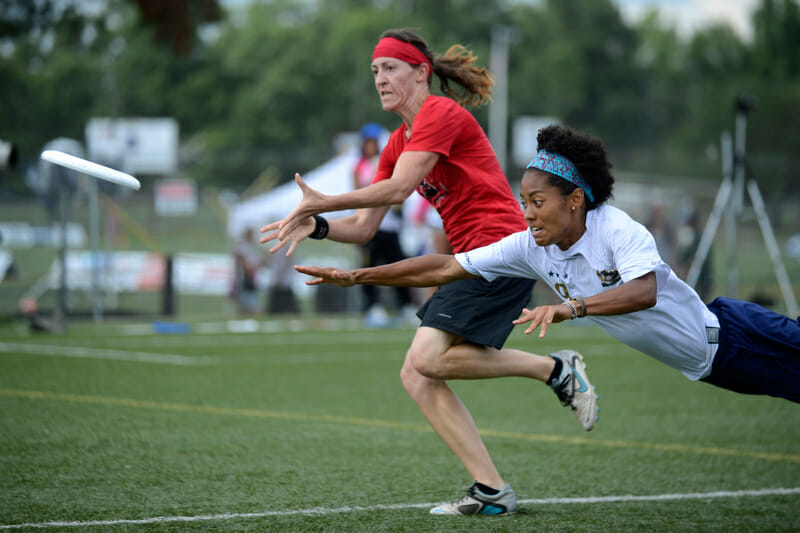 The chalk isn't so bad when it leads to this enticing a matchup. All season long, Seattle and DC have butted heads, taking the field against one another four times. This is the first tournament this season they've attended together where they won't play multiple head-to-head games. Seattle has won three of their first four games, and also triumphed over Scandal in a great semifinal battle at last year's Club Championships, 15-13.
Seattle Riot comes into the semifinal playing arguably the best Ultimate in the women's division. They have manhandled every matchup they've been tasked with, with the exception of Nemesis in their semifinal, though that game wasn't particularly difficult either. Once Riot had their early lead, they never let Chicago back into it. Sarah "Surge" Griffith has been the division's most statistically productive player by miles. Gwen Ambler and Hana Kawai are both excelling. Their defense has been fearsome, led by Callie Mah and Katy Craley.
Scandal, despite being fed up with the label, remains prone to lapses of focus. While it hasn't lost them any games, it has came close enough to make a fan nervous. A tournament opening upset seemed to be brewing when Molly Brown held a late lead over the overall three seed, with Scandal not seizing the lead until 13-12. In their Friday quarterfinal, Scandal gave up a 4-1 lead to go down 9-10 to Capitals before Opi Payne, Sandy Jorgenson, and Allison Maddux shifted into high gear to run away with it. Those are holes Riot is a lot less likely to let them out of.
That said, a focused Scandal defense may be the scariest in the field. Their defensive line packs more offensive firepower and athleticism that any team remaining in the field, with a high concentration of it in Payne, Jorgenson, and Alicia "A+" White. Payne, in particular, has twice completely taken over games, ascending to a higher plane of Ultimate that leaves her opponents feeling helpless. Her teammates have learned to feed off of those moments, giving Scandal a unique ability to turn games around and recapture momentum.
"You can't teach that," said Scandal coach Alex Ghesqueire. "The relationship is one where the whole team will follow it. Once a leader like that sets a tone, everybody else comes out of their shell and rises to the next level."
Riot knows all too well about the many faces of their east coast rival. At the US Open, the Seattle team was able to score eight straight points against Scandal, leading to a 15-8 result. However, late at that same tournament, they saw the focused defensive unit Scandal can produce, with DC winning 13-7.
Riot has faced little resistance throughout the tournament, something they've admitted could present a challenging adjustment. A semifinal against Scandal is a drastically different situation than anything they've been faced with leading up to it. Their quarterfinal may have been against Nemesis, a team with comparable talent to the other semifinals teams, but Chicago gave up an early lead and never closed the gap. Their experience in big games and against Scandal should buoy their focus, but it won't be easy.
Meanwhile, Scandal has already beaten dangerous situations. They are battle tested and already know they can comeback. The character of their team when their backs are against the wall is established.
When asked what he tells his team when they need a comeback, Ghesquiere had this to say: "We're saying 'This is it, this is why we came. This is the fun stuff. This is why we're here. This is why you train and why you run, so you can get an opportunity like this. These are the most fun and awesomest (sic) games to win.' We go in there excited that its 10-9, them. That's the best way to change momentum."
The matchup will be more about tempo than any game we've seen so far. Momentum will be at a premium, as both of these teams are tight knit, highly motivated, and very team oriented. Riot's team mentality and approach is almost impossibly supportive, allowing them to stay focused in virtually any game context. While Scandal is more up and down, they can put together terrifying runs. If their timing is right, that run could be directly to the Championship game.