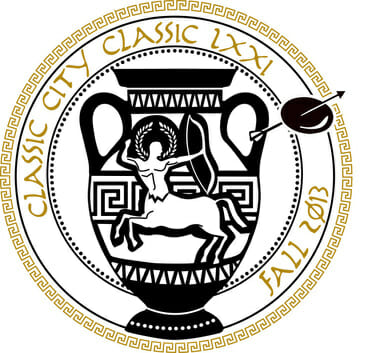 The event of the fall season descends upon Conyers, GA, on November 16-17th. Classic City Classic, the premier East Coast tournament of the preseason, brings together the strongest field of the young season, with five 2013 College Championships qualifiers in attendance and a host of contenders for this year's nationals all in the fold. While Ohio State enters as the favorite, the field — including the winner & runner-up of last season's CCC, Georgia and Texas — is teeming with squads aiming to take home the fall crown.
Pool A: Ohio State, UNC-Wilmington, Florida, Georgia State, Clemson
Ohio State sits as the top overall seed, and seem to be handling the adjustment of being without Paige Soper quite well. Cassie Swafford is still one of the stars of the division, but it is the play of veterans like Caitlin Harley, Katie Backus, and Cate Ramsey that make this team so strong. They'll really be counting on those vets to step up, as Nina Finley will not be making the trip to Georgia. Odds are in their favor for the weekend, with a crop of quality returners and a polished system in place, but the road wont be easy.
Wilmington and Florida are both notable threats. Like Fever, both are also dealing with the graduation of stars, and this weekend will prove a preview into how they are progressing. Both teams have pieced together some solid fall results and are in the process of roster management; Florida will be sending their first true A team to a tournament this fall.
Georgia State and Clemson will be looking to improve over the course of the weekend. GSU has been getting in a lot of fall reps and breaking in new contributors. Meanwhile, the Tiger Lillies are seeing some of their first serious fall competition. Last year, Clemson topped GSU in pool play decisively, so the rematch could get interesting.
Pool B: Virginia, Michigan, Florida State, Georgia Tech, Alabama
Virginia enters Saturday as the favorite in Pool B, but they'll likely be thinking of last year. In Athens, they fell to Texas by just a point in the quarterfinals. This is a strong roster returning some major contributors from their distinctly defensive 2013 squad that finished tied for 5th at the Championships. Alika Johnston and company have high expectations and the ability to meet them.
Michigan and Florida State are both looking to make the championship bracket, something they did at last year's CCC. Florida State upset Michigan 12-8 in the bracket; Michigan would also eventually lose to Virginia in the 5th place bracket. Michigan's journey south usually reveals their high talent level tempered with plenty of rust, while Florida State will be taking on their first full-roster tough competition.
The back end of this pool is not much weaker. Georgia Tech is a talented and balanced team with growing numbers and depth. They are still adding the polish, but have the athletes to push teams. Alabama is another growing program, but they have a trio of players capable to leading Ramma Jamma to an upset or two.
Pool C: Texas, Georgia, James Madison, South Carolina
Pool C features last year's finalists at the top in Texas and host team Georgia. With the Women's division not being held in Athens, this isn't quite a hometown weekend for Dawgma, but they should still be expected to be out in force. They'll be showing off their newest additions and coaching staff, and in such a big transition season, their progress could be one of the tournament's most intriguing storylines.
Texas Melee reportedly returns a a significant portion of their senior class from the roster that won the South Central Region around seven months ago. Despite missing out on the Preseason Power Rankings (perhaps unjustly so), Texas has the opportunity to make a big statement; from a talent standpoint, they're a deserving candidate and team to watch this season.
James Madison is coming off a season where they finished 3rd in the Atlantic Coast Region. As far as lesser known programs with a chance to break through this year, James Madison should be on the list. How they perform in Conyers will demonstrate, on some level, whether or not they can remain competitive in the AC.
Fellow AC squad South Carolina finished in the top 12 at AC Regionals — they'll have their work cut out for them in this tough pool.
Pool D: Central Florida, UNC, Emory, Vanderbilt
Central Florida is coming off their first appearance at the College Championships, and begin the season as the favorite in the Southeast. Last time they were a regional favorite, things didn't turn out so well. They'll need to be on top of their game all season to hold off the rest of the region, and CCC is an important landmark in the Southeast tournament landscape. Mariel Hammond may be injured, but Sunny Harris and the Central Florida zone will put teams against the wall early and often in Conyers.
North Carolina faces the opposite situation: last season's Pleiades squad missed the cut for nationals and is looking to fight back this year. With some of top returning talent in the Atlantic Coast, there are lots of reasons to believe they won't repeat that ominous feat. Was it foreboding that they didn't make the quarterfinals of last year's CCC? That matchup between UNC and UCF should produce some fireworks with some players that are huge in the air.
Emory and Vanderbilt both have some positive results from early fall. Emory has finished 2nd and 3rd at the two tournaments they've attended, while Vanderbilt went 3-2 at MLC and did well at Itchfest. The fight between the two teams will set the tone for their seasons in the Southeast.
Games to Watch
The sum of the talent meeting up on the proving grounds of CCC means Saturday will present some potentially dramatic pairings.
Round 1 (9 AM): Michigan vs. Georgia Tech, Texas vs. James Madison
Upstart Georgia Tech has had plenty of outdoor competition, while Michigan will be looking to get their feet under them in their first game. Meanwhile, Texas will aim to show their strength early while JMU attempts to show they can compete with elite teams.
Round 2 (10:45 AM): Virginia vs. Florida State, Georgia vs. James Madison
Virginia and Florida State match up well against one another, with a lot of athletes per side. It could be a dogfight, and with only the top two in the pool advancing to the Championship bracket, neither can really afford to slip up.
Round 3 (12:30 PM): Texas vs. Georgia, Central Florida vs. North Carolina
A rematch of last year's double game point finale all but ensures neither Melee nor Dawgma will hold back. Central Florida's Sunny Harris and North Carolina's Shellie Cohen will duke it out with big hucks and skies in what could be pool play's best battle.
Round 4 (2:15 PM): UNC-Wilmington vs. Florida, Michigan vs. Florida State
UNC-Wilmington's top end talent will need to outperform the depth of a Florida team looking for revenge after losing to Seaweed 15-4 in the quarterfinals of last season's CCC. The drama in Pool B continues, with Florida State eyeing an upset and Michigan aiming to protect their seed and spot in the A bracket. FSU went 2-0 against Flywheel last season.
Round 5 (4:15 PM): Virginia vs. Michigan, 1/2 Crossovers for Pools C & D
The Hydra vs. Flywheel game will likely either decide the pool champion, eliminate someone from Championship contention, or both. Meanwhile, Pools C & D will be coming off byes to play crossover games of C1 vs. D2 and D1 vs. C2, in order to decide bracket seeding (and give each team an extra game). The potential for a Central Florida vs. Georgia game – last year's Southeast nationals representatives – is alive and worthy of note.