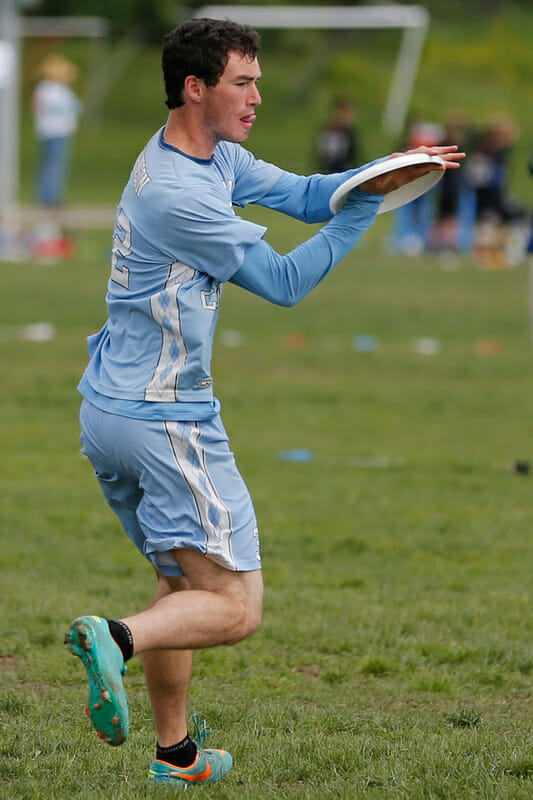 ATLANTA – #2 North Carolina completed an undefeated fall season this weekend at the Classic City Classic with a thrilling 17-15 comeback victory over #20 Florida State in the finals on Sunday.
Christian Johnson led UNC to the win with powerful downfield cutting and good defense as he crossed over onto the defensive line down the stretch.
Florida State captured the momentum with the first break of the game late in the first half to take a two point lead at 7-5. They would take half up 8-6 before tacking on another break to begin the second half after great pressure D stifled the UNC pull play and gummed up their attack.
But UNC would finally get a break on the board to pull within one at 10-9 before tying the game at 13-13 and breaking again on the following point to make it a 3-0 run. That gave them their first lead of the game at 14-13. At that point, Florida State's offense had clearly tightened up as their handlers threw away three short swing passes late in the second half.
"I think we started playing tight because we got scared because it was coming down to the wire," said FSU captain Chris LaRocque.
Both teams made some highlight reel plays in the final four points of the game and had opportunities to score. It was UNC, though, that would carry their momentum into a 17-15 victory.
UNC coach Mike Denardis was encouraged by the team's resilience when facing their first major deficit of the 2013-2014 season.
"Last year, I think we give that game up," he said, noting that their offense would frequently suffer in tough matchups. "This year, I think the resolve of the team really shined through."
Jon Nethercutt, a primary offensive handler this season, was a big playmaker for the team and, like Johnson, crossed over onto defense on nearly all the important points in the second half. He and handler Ben Snell, who made some important contributions late in the game, were critical for UNC's four D line conversions, all of which came in the second half.
The young Florida State team — they have 13 rookies this season — was also subbing aggressively, playing a veteran-packed offense and a defensive line with a mix of veterans and rookies. LaRocque made some big plays and played good defense on Johnson, but it was Connor Holcome who really shined in the finals, getting separation deep enough times that UNC was forced to entirely shift their defense to stop the huck.
"All weekend we struggled with the deep game," said DeNardis.
Rookie Liam Rawson was a standout defensive asset, frequently getting the Nethercutt assignment and applying good pressure.
Like most teams, FSU had difficulty slowing UNC's offense, which largely operated with great spacing and smooth flow. FSU had just two breaks in the game. Georgia, in the semifinals, did not break UNC.
But it was FSU's offense that cracked after beating UNC's looks most of the game.
"I think what we need to learn is to play up in those big games," said LaRocque.
DeNardis spoke highly of Florida State after the game and said that it was great for the team to be challenged at this point in the season. "It's nice to learn you're not king of the world," he said.
UNC had difficulty getting breaks against the toughest competition they faced. Against Georgia, they earned turns but not breaks. Against FSU, they couldn't seem to find either. UNC started the game with a junky zone look, but FSU had no difficulty finding the holes and patiently scoring. Then, when UNC switched to man, FSU went over the top to their quick receivers. When UNC adjusted to stop the deeps, FSU worked up the open sideline.
It wasn't until UNC started applying more pressure to the swing reset that they found success. Since Nethercutt was crossing over at that point, they had the handler firepower they needed to score. Without him, the team found it more difficult to score, often putting up big hucks to smaller targets.
UNC was playing without their best deep defender Charlie Schaffner (injury), the 2013 blocks leader at the College Championships with 15. He is also a threat on the offensive side of the disc. His absence, along with some other players like sophomore offensive line cutter Aaron Warshauer, meant there were more opportunities for rookies to step into larger roles.
With the win and Central Florida's three losses, UNC is set to overtake UCF in the Top 25 and enter the spring as the preseason #1 team. DeNardis downplayed any significance.
"You're not #1 until you win the tournament at the end of the year," he said.