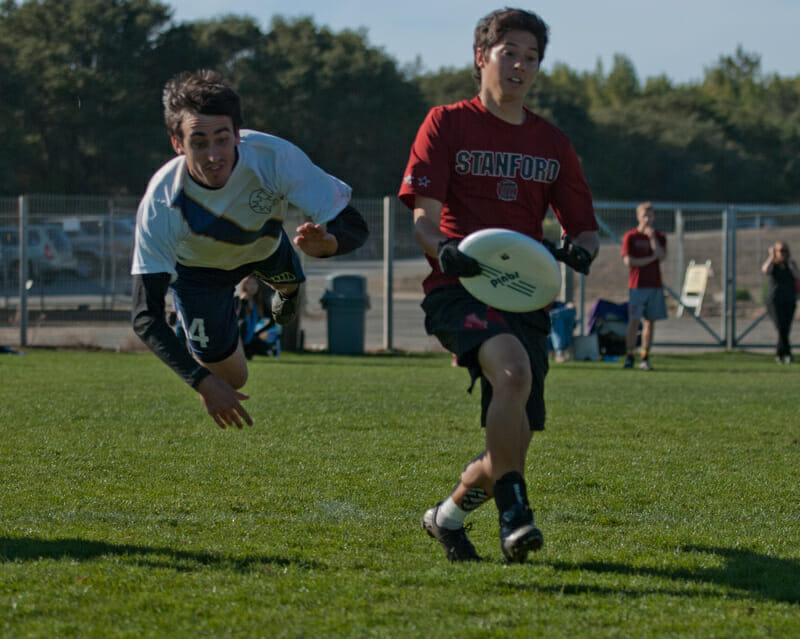 The Sean Ryan Memorial Tournament marks the first test of the season for many teams in the Southwest. Most of the teams use the tournament as a final tryout before finalizing their rosters, but, for some teams, it is the first look at their newly-formed A team squads.
Sean Ryan also provides the first real look at how the Southwest will shake out during the season. For example, Las Positas College won this tournament last year before putting together a strong regular season and making a run for a bid to Nationals.
Air Squids Put Together An Impressive Performance
The University of California-San Diego (UCSD) Air Squids put the rest of the Southwest on notice this year at Sean Ryan, after defeating Stanford Bloodthirsty in the Finals on Sunday. The Air Squids return a core of veterans and a group of young playmakers, including players with experience at both the college and club level. Many of their guys played meaningful points for San Diego Streetgang this club season; expect to see that high level experience pay off during the course of the year.
San Diego came into the tournament ranked second in their pool behind Stanford. The two teams played on Saturday, a game that Stanford won 12-9. But UCSD was able to come away with the victory over Bloodthirsty when it counted and proved they're able to play with the best teams in the region. When San Diego's horizontal stack is working well, they are going to be very difficult to stop, with depth and experience at every position on the field.
Pre-Tournament Favorites Still Coming Together
Stanford was no slouch at this tournament, either. The loss of Ben Funk is a noticeable hit for this year's Stanford team, but Cody Mills and Kellen Asercion are both returning to lead this year's squad. Bloodthirsty looked strong in pool play, finishing 3-0 over UCLA, UCSD, and Cal Poly SLO, and carried that over into the bracket play on Sunday. Their vertical stack offense looked to keep the disc moving and attack opposing defenses deep, before slowing down a bit in the finals.
As back-to-back Nationals qualifiers, the University of California-Davis Dogs entered the weekend as the clear favorites to win the tournament. But the Dogs faltered immediately in pool play to University of California Santa Barbara Black Tide. Black Tide would go on to take first in that pool by tie breaker, after losing to a Chico team that Davis beat in the final pool play round.
Davis failed to make the finals on Sunday, after going down to Stanford on double game point in the quarterfinals. I doubt the Dogs were concerned about how they finished this weekend and one wouldn't want to read too much into the result this early in the season. Barring any injuries or setbacks, Davis should be the favorites to claim a bid to Nationals out of the Southwest. 2013 NexGen player Elijah Kerns will be getting some serious Callahan consideration this season.
Tournament Showed Depth in the Southwest
Las Positas and Santa Cruz both won their pools as well but were unable to mount deeper runs on Sunday. Las Positas faltered in their first game on Saturday, falling to Sonoma State, but were still able to win the pool by defeating University of California Berkeley. On Sunday, Las Positas advanced to the semifinals after defeating SDSU, but were also defeated by Stanford 12-7.
In terms of top end talent, Las Positas can play with any team in the region, as they proved last year. However, the real problem for this squad is depth. They will either need to develop more of their roster or they'll still be relying on Simon Higgins and their other top players to carry them.
Santa Cruz is also led by a very talented group of players. Last season, All-region player Greg Cohen was one of the most explosive playmakers in the Southwest.
Much of the same should be expected this season, as the Slugs look to prove they belong with the heavy hitters in the region.