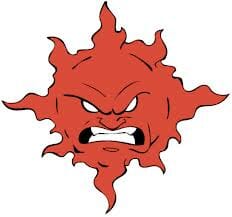 In recent history, Southwest Open Regionals has been a bloodbath. The region's brutal depth leaves no one easy Saturday or Sunday paths to Nationals: In the past two years, 13 out of 18 matchups reported in the backdoor bracket have been separated by two or fewer points.
No team is safe and no bids are automatic. Since the regional restructuring the Southwest has earned two bids to Nationals each year. Those six bids have been claimed by five different teams; only UC Davis has repeated. After making Nationals via a double game point win over Stanford in the game-to-go last season, Arizona Sunburn will be trying to become the second team to do that in 2014.
In addition to the depth, Arizona's top-end regional competition is also elite. The UC Davis Dogs are expected to make a run again this season, and top programs like Stanford are always in the mix. Even in-state rival Arizona State Prime showed signs of improvement in 2013, taking Sunburn to double game point at the Santa Barbara Invite and beating them at Conferences.
Arizona State Prime won SoCal Warmup last weekend, while Sunburn lost to San Diego State in the semifinals. ASU also beat Arizona in a scrimmage in November. Fall results should be taken with an enormous grain of salt, but the fact remains that just about everyone in the Southwest is gunning for the top – and rightfully so, considering past results.
However, despite perennially having a multitude of powerful teams, the Southwest has not produced a semifinalist at the College Championships since 2008. Sunburn Captain Ben Lacy points out that his team has tried to "peak at Regionals just to get a shot at Nationals," although he admits that that should not be an excuse. Excuse or not, it is an interesting point; merely qualifying out of the Southwest is a huge task in itself.
For Arizona, this means that they are taking nothing for granted. Sunburn 2013 was able to make Nationals for only the 2nd time in their program's history (the first coming in 2008, when the team was led by Callahan winner Joe Kershner). In Wisconsin, however, Sunburn was unable to make an impact, ultimately finishing tied for 13th at the College Championships.
For a team that started the regular season with 15 straight wins, two tournament victories, and a #3 ranking in the first iteration of the USAU Rankings, the Nationals finish was a relative disappointment. However, coming into 2014, the team is optimistic that it can use its experience to continue its upswing.
Sunburn 2014: Roster Moves Since Last Season
The 2014 edition of Sunburn loses six starters. Most missed are top receiving target Alex Smith (16 goals at Nationals) and former captain Sean Ham. But the Sunburn roster has not peaked by any means.
A fair amount of the 2013 core remains intact. Two junior captains in Lacy and Reilly Cleal hint at a program that will build off of its 2nd nationals appearance, rather than dropping off as stars graduate.
Callahan nominee Brice Dixon and Jacob Lien return as super-seniors to anchor the handler set. Dixon's flashy Callahan video turned heads, but the lesser-known Lien may be just as important. Lacy expects Lien to be "a dominant force, everywhere on the field."
[youtube 3BgS7sG2amc 600 337]
Seniors Sam Ouimet and Nolan Schmalenberger hope to slide into bigger roles in 2014. Ouimet was described as "an insantely crafty handler who has been putting in the work on his game to become a complete player."
Dixon, Schmalenberger, and cutter Kyle Weigand were among the Sunburners who played with Sprawl during the club season. After a fourth-place finish at Southwest Club Regionals, those players bring back invaluable experience to Sunburn.
Adjusting to The Sunburn Zone in the Ultimate Video Age
When Sunburn pulled off 15 straight wins to begin 2013, the whole country was put on notice. As teams adjusted, Arizona's results dropped off a bit. With the amount of ultimate media reporting on the top tournaments, scouting is increasingly plausible. Top programs like Sunburn are especially susceptible, as more video on them is available.
Much ado was made about the zone defense that Sunburn utilized on their way to a hot start and subsequent nationals berth. Now the question is whether teams will adjust to the defense. Arizona's captains are optimistic that they have the pieces in place to stay ahead of the curve.
"Teams prepared for our zone, but it's about the people running it and that's why it's so dominant," says Lacy. "It would be a mistake to assume that Arizona will rely on the zone to get wins."
Rather, the leadership would be constantly making adjustments to the defense, depending on what works. "The zone can be ran many different ways," says Lacy. "The key to success is getting 7 people on the field who are thinking with one mind."
In 2013, it would seem that teams adjusted to Arizona's tactics, albeit with only moderate success. Although Sunburn was not able to keep up its top-5 pace, it was still able to make Nationals and finish tied for 13th. Sunburn doesn't plan on abandoning its zone in 2014, so the game of adjustments continues.
Overall Team Outlook
Recent history would suggest that the depth of the Southwest will make a Sunburn return to Nationals unlikely. But Arizona doesn't think that will be a problem. This group may not have hit its peak yet.
When firing on all cylinders, Sunburn is a loose, athletic, and confident bunch that is capable of beating great teams in big games. The team hopes to play the elite tournaments again in 2014. Competing at Centex, Pres Day, and the Stanford Invite would go a long way towards preparing the team for a deep Nationals run.
Sunburn 2013 was absolutely dominant for one early-season stretch, and merely very good for the rest of the season. The question now is whether Sunburn 2014 can sustain an elite level of play over the course of a tough regular season and into the series. They are certainly not lacking in confidence or experience.