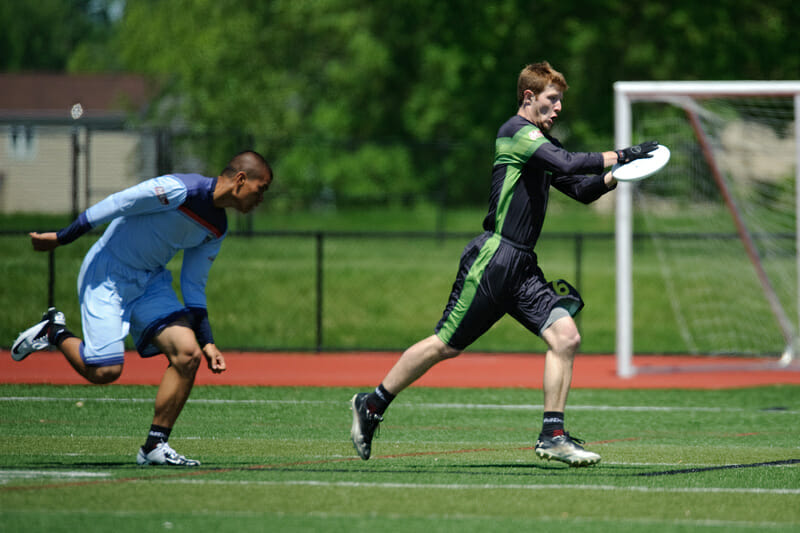 2013 Major League Ultimate Eastern Conference MVP Chris Mazur has re-signed with the New York Rumble for the upcoming 2014 season.
The signing marks the return of one of the MLU's biggest stars. Mazur is the second New York PoNY player — after Robbie Gillies — to return to the Rumble.
"[I'm hoping to create] a more polished product solidifying the MLU as the best place to play any type of ultimate and clearly to break a few scoring records," said Mazur, who finished last season with 24 goals and 32 assists. "Who doesn't want to do that?"
Mazur's combined 56 points (goals + assists) led the league in the regular season.
As expected, he was a priority for the Rumble management this offseason. "Mazur's resigning is a step towards a Championship for New York," said Rumble GM Michelle Kondracki.
He will be joined at the handler position by previous signing, Isaac Saul, a Pittsburgh graduate who was the center offensive line handler for the back-to-back college champions. Mazur met Saul at a recent tournament, and the two have been talking since.
"He's a smooth operator that sees the field in a creative way," said Mazur. "I'm definitely looking forward to seeing what we can create on a big field together."
Mazur is likely to continue to grow his profile in the elite ultimate scene. He has already had to adjust to significantly tougher defenders after his breakout 2013 campaign with the Rumble. He frequently gets the opposition's #1 defender. He's also enjoyed a little bit of celebrity.
"I was in a bar in the Lower East Side and I was out with non-ultimate friends," he said. "A couple comes up and says, 'Hey, do you play ultimate?' One of my friends knew about the MLU and he exploded with excitement, explaining everything he could to the group. It was fun. Embarrassing, but fun."
Like Ultiworld New York on Facebook and Twitter.