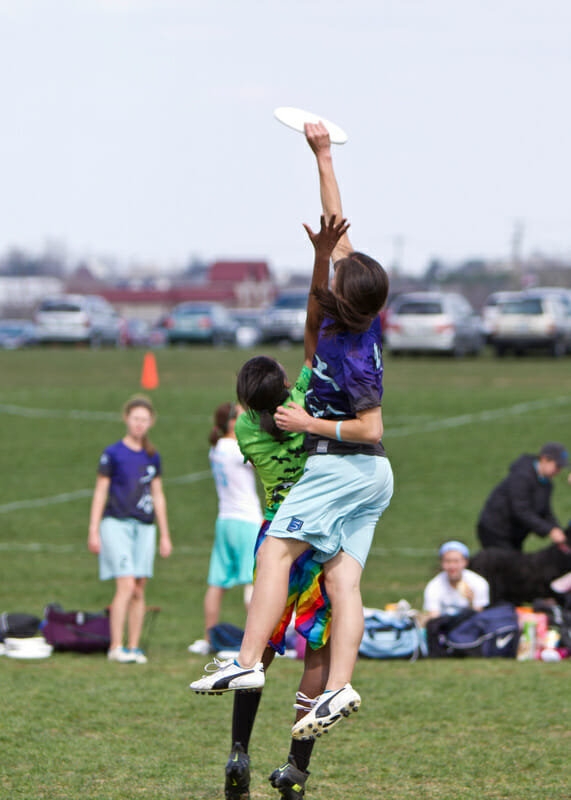 "Great Lakes, Great Times."
It's the motto of the Great Lakes region, a cheer that Great Lakes teams exchange after games, or as passing support, and a rallying cry that unites teams even as they fight bitterly for every upwind, freezing point each Spring.
Every region has a story, a history that haunts or empowers its teams every season. In the Great Lakes, the story has long been the battle for the strength bid. Since 2005, this region has only earned a second bid 5 times, the lowest total number of total bids allotted to any region in USA Ultimate history1. The region has never earned a third bid, and every year either Northwestern or Michigan has been one of the teams moving on to Nationals.
This history has marked the Great Lakes region as one of the weakest regions in the country, but more importantly, as one of the most gridlocked. These are harsh facts, but they have indelibly framed this region, and they form a foundation for looking forward.
But this year, this season, holds a new cast of faces and a new focus to the Great Lakes region. Of course, these teams will have to gain big wins in and outside of the Great Lakes if they hope to garner another bid and make some noise on the National level.
The Powerhouses
Michigan Flywheel
Michigan Flywheel has long been the heavyweight in the region, with hopeful teams breaking against the bulwarks of Michigan's defense and duking it out for the second bid instead.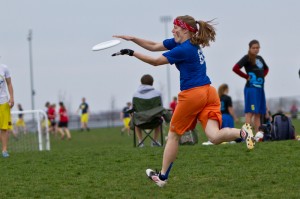 Last year was the first year that Michigan has lost Regionals since 2007, and it came as a wake-up call. Michigan is refocused and ready to reclaim their seat of power. Their Fall season made a statement about their plans, with multiple 15-0 and 15-1 wins, and a 5th place finish at Classic City Classic, where they had their season's first losses in close games against Virginia and Central Florida.
Strong club players will ensure a tight, effective offense: Meeri Chang (Polar Bears) and Hannah Henkin will both dominate in the backfield, while Jacqueline Jarik, after a season of cutting for Nemesis, is ready to become the playmaker downfield that Michigan needs. Captain Bailey Torvinen is back this year for Michigan, and if Becky "Tots" Moore (Nemesis) can stay healthy after a torn meniscus this past summer, she'll be an influential cutter. This season may be Michigan's to lose.
Illinois Menace
When asked who their team to beat was, Illinois Menace coach Angelo Ramos Jr. didn't hold back: "All of them." And after finishing 5th in the region last year, it sure seems like Menace is out for blood this season.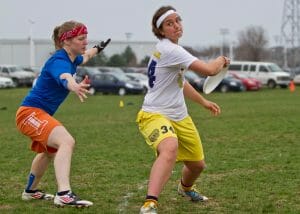 They are led by senior captains Allie Fish (Spicy Tuna) and Jean Huang.  Equally interesting will be seeing what freshman Joline Chang (Neuqua Valley High School) does for their team as an experienced young player. Illinois is a new team this year, and they're ready to show the region what focus and fundamentals can do.
Despite several close losses to Minnesota and a Wisconsin split squad earlier in the fall, Illinois clocked in a number of strong wins against local teams in the area.  Their showing in the semifinals at Missouri Loves Company indicates that they wanted to prove themselves early in the Great Lakes region. They aren't targeting a strength bid this year, focusing instead on improving themselves and learning how to beat local teams for the automatic bid. This approach could be effective, but only if Illinois learns how to pull off big wins in the games that count — something they have not yet shown.
Northwestern Gungho
Every player on Northwestern Gungho knows exactly how many seniors they graduated last year: 12. Beyond the high volume of turnover, the graduated players included playmakers such as Liên Hoffmann, Angel Li, and Carol Li, three players that were rarely off the field for Gungho last year. Playing for Nemesis, Hoffmann went on to establish herself as a rising stars in the club series.
This year, captains Alex Chudler (Spicy Tuna), Ellen McGrath, and Jenny Li will look to take over as veteran handlers, while Gungho continues to develop their cutters and their defense.
But even with discipline and a strong offensive structure, they're missing the personnel that made Northwestern such a force last year. They placed 2nd at No Wisconsequences, but they have work to do to recreate the dominance that earned them a 9th place finish at Nationals. Every team dreads the term, but Northwestern may face a rebuilding year.
The Hopefuls
Purdue AMOC
Purdue AMOC may have their strongest season in a long time after a 3rd place finish at Regionals last year. Glimpses of their potential is evident in their fall season record, with 5th place finishes at Ohio State Fall Brawl and at Missouri Loves Company.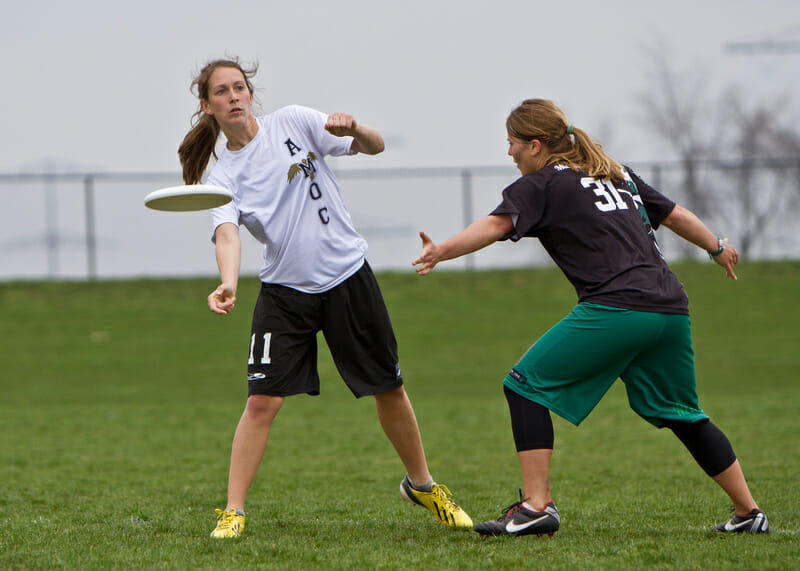 Kristin Dudley, Monica Lasley, and Anastasia Foster spent the summer playing together on Interrobang!, an Indiana Mixed team, and they'll take charge on both sides of the disc. Purdue spent the fall developing their rookies, building new chemistry, and bringing everyone up to speed. Yet AMOC emphasizes that their veterans can get the job done when they need to. Even their top will need to hone their game and make some more noise in the region, both by facing stronger teams outside of the Great Lakes and by battling for wins against teams like Illinois in-region.
Notre Dame Womb
Notre Dame entered Regionals last year as the one seed with a win against Michigan State in their pocket. They finished 4th, and could be a powerful contender again this season.
But losing 11 Seniors from last year's team meant that they spent this past fall developing their rookies and perfecting the chemistry between the handlers, Senior captain Kelsey Fink and 5th-year Senior Kelly Gilmour. After playing together for 3 years, these handlers can confidently run their offense, and they're complemented downfield by the other senior captains, Eliza Herrero and Molly Carmona.
11 players is a hefty loss; it changes the nature and pace of a team. But Notre Dame wants the Great Lakes bid, and they'll have to play bigger games against the teams they're targeting in the region before anyone can gauge where they really stand in the Great Lakes this year.
The Builders
Illinois State Lady Gnomes
The Illinois State Lady Gnomes had a shaky fall season as they recovered from the loss of strong seniors such as Catie Johnson (Spicy Tuna), who was a vocal and dominant handling force for them last year. When you add wide-eyed rookies, injuries, and limited substitutions, the results of a game or a tournament belie the development that the Lady Gnomes is working toward. They're building fundamentals and cultivating a positive team culture, with their sights set on Illinois as their team to beat this season. Senior Allie Krebs will control their defense while their younger players get ready to become the bigger players that Illinois State needs going forward.
Michigan State Infamous
With only 7 returners from last year, Michigan State Infamous will be a brand-new team this year; they too will look to build fundamentals, the right attitude, and a love of the game in their new players before they turn toward the competitive season. Their strongest players have had to shuffle to accommodate their losses, but Kotomi Obayosh and Michelle "Meesh" Rizor will nevertheless perform when their team needs them.
Their fall season reflects their need for development with what captain Lindsay Kappen calls "crazy ups and downs", but Michigan State is looking at the long game this year, hoping to create a program that will last.
Other Notes:
– Loyola University Sirens and University of Chicago SuperSnatch continue to build their programs, introducing women to Ultimate and cultivating a love of the game. Both teams lost influential players last year, with Loyola graduating Sara Nolan (Gambit), and University of Chicago graduating Phoebe Shambaugh (Nemesis), an unstoppable handler who defined their play last year.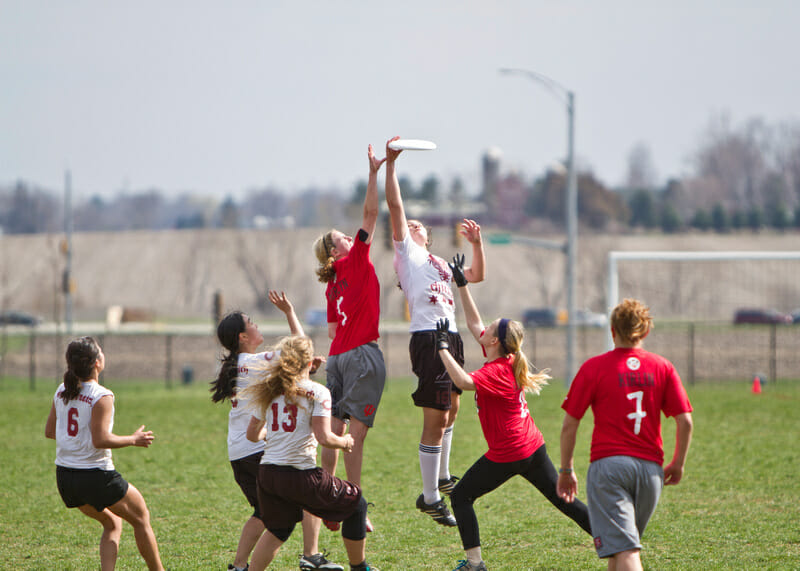 – Indiana Calamity Jane flew under the radar this past Fall, but they had a lot of wins against weaker teams in the area. With bigger wins under their belt, they could become a team to watch this season.
Tournament Schedule:
All of these teams face tournaments that offer opportunities for glory and opportunities for disappointment. These aren't new tournaments, but they have new meaning as these Great Lakes teams continue to adjust and seek out big victories. Michigan Flywheel, Northwestern Gungho, and Illinois Menace will have to secure in-region wins against local competition while trying to beat neighboring rivals such as Iowa, Iowa State, Wisconsin, and Kansas.  Here are the tournaments to watch and the games that will count:
Queen City Tune-Up:  Over the past few years, Queen City Tune-Up has become the most interesting Winter tournament for top Women's teams to warm up at and duke it out. Last year QCTU hosted 10 of the teams that would eventually make it to Nationals, with Carleton proving early that they meant business with a 2nd place finish.  This year, these heavyweights are all back again — Michigan will remember their disappointing performance last year as they fell from 2nd seed to a 16th place finish. Don't bet on Michigan making the same mistakes. They've already seen Virginia and Central Florida this year and show that they can keep up – they'll meet both teams again in their pool on Saturday. Northwestern will also return to QCTU with a fresh team and high hopes — this tournament is an early chance for this team to prove that their personnel loss from last year shouldn't count them out. They face an uphill battle on Saturday against teams like UNC Pleiades and Florida State who established themselves early this year as contenders. This is the first big tournament of the season for Great Lakes teams to test their mettle, but the caliber of women's teams that attend QCTU makes this tournament important nevertheless.
Midwest Throwdown: There's no better word for this tournament than throwdown. In years past this tournament brought together most of the Midwest's teams, big and small, and this year is no different with two Women's divisions and over 30 teams. Northwestern and Michigan may meet in Division I, but even if their paths don't cross, they'll be kept busy with strong competition from Iowa, Iowa State, Pitt, and Colorado College.  Landing in early March, Midwest Throwdown could set up Michigan as the team to beat in the Great Lakes. Last year Northwestern caught everyone's attention by beating Iowa State on universe point, briefly gaining the Great Lakes the hope of a strength bid; they'll want similar strong wins this year against out-of-region teams. Purdue AMOC will also compete in Division II, where they have fewer opportunities to play the big games. Whatever happens, Midwest Throwdown will lay the groundwork for the rest of these teams' seasons.
Centex: Bids are allocated mere weeks after 24 of the top women's teams in the country meet in Austin, TX for Centex, and this tournament will be the last chance for Great Lakes teams to vie for a strength bid. Centex is also the only tournament this year where Michigan Flywheel, Illinois Menace, and Northwestern Gungho will all play before Regionals, and this will be the best chance for these teams to check each other out before the big show. If Northwestern and Illinois make enough noise for a strength bid, the Great Lakes region could look completely different come post-season.
Regional Outlook:
I can't say who these teams will be by late March: big tournaments build and break teams, and they change a team's character. Last year Michigan gloried in a D-II Championship at Centex while Northwestern faltered from their lingering Midwest Throwdown high; Illinois didn't attend either tournament at all. These season-end results didn't forecast the Region's results, but they made them a hell of a lot more interesting.
---
This statistic applies to regions that have existed since 2005 – there are newer regions with inevitably weaker strength bid records. ↩