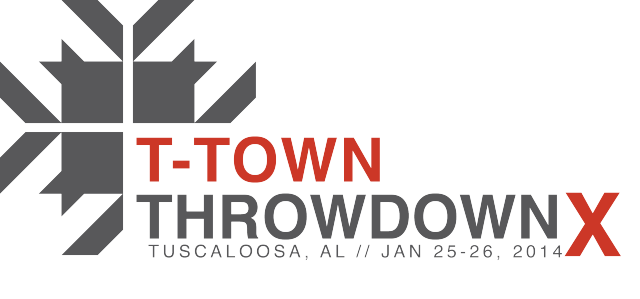 Disclosure: The author is a player on Alabama.
TUSCALOOSA — With #9 Central Florida coming into the weekend looking to dominate, many questions remained about how they would handle the loss of Mischa Freystaetter and Michael Hickson. If you were to look at the end result of the 10th annual T-Town Throwdown, it would be easy to assume that UCF cruised to their third straight tournament title.
But it was LSU capturing the spotlight away from the Dogs of War in the second round of pool play on Saturday, taking down the top seed 13-6.
For LSU to have a chance at beating the Dogs of War, they would need three things to happen:
1. The wind would need to pick up.
2. They would need to have all their starters playing without injury or any other setback.
3. LSU's Garrett Yetman would need to make smart, patient decisions while also taking calculated risks.
The wind on Saturday was a factor all day long. In the early morning, it affected games to the point that some even had hard cap go off at halftime. LSU used the wind to their advantage and ran multiple zone looks against UCF, causing some impatient decision making that we haven't seen from the Dogs of War in the past few years.
LSU also had all their starters performing well, including freshman Tom Echols who had just recently recovered from a dislocated elbow. After they were able to force turns, LSU relied heavily on rising star sophomore Garrett Yetman. Yetman started for the under-19 Team USA before enrolling at LSU, and then in his first season grabbed a share of the rookie of the year award for the gulf coast section. It became clear on Saturday that Yetman has left the "rookie" connotation far behind.
He was smart with the disc, cut dynamically around the field, and managed the team defensively from the deep spot of their zone.
Combining the above resulted in an LSU beat down of the 2013 College Championships runner-up. What may have been even more impressive was that, in LSU's huddle after the game, their leadership never seemed satisfied with the performance. They acknowledged what had just occurred as a realization of their potential, and then found more things to work on throughout the rest of the weekend. In the UCF huddle, Head Coach Andrew Roca hoped to get his team back to fundamental offense and good decision making to finish out the tournament.
UCF finished the weekend on a five game winning streak, closing out each game by no fewer than four points. After finding themselves in their third straight T-Town Throwdown final, they enacted revenge against an LSU team that gave them their only loss of the weekend. UCF dominated the finals with thier multiple zone looks — a three man cup, a four man cup, man downfield with poaches on the handlers — or just tight man defense. By the time Purple Haze could dissect what they were seeing, it was often too late.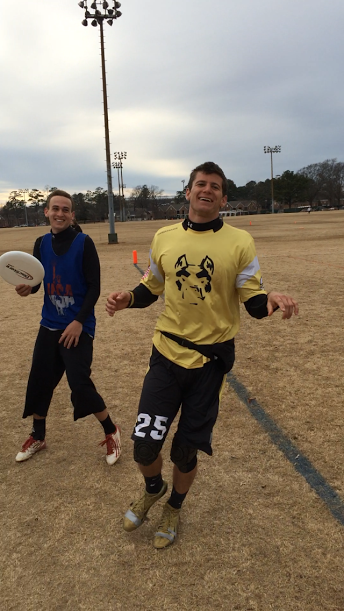 But the 15-10 final score of this game isn't an accurate portrayal of how fun it was to watch. The matchup of the day was UCF's Jeremy Langdon on LSU's Yetman. To the fans who stuck around, these two put on a spectacle the likes of which you might see in backyard pick-up or a summer league game. They were constantly taunting each other and trying to personally beat the other to the point of laughter from both sides of the field.
Late in the game, Langdon had a chance to catch one over the top of Yetman in UCF's end zone. After the disc slipped off his hand, he laughed and hit the ground in frustration, almost as if the personal score between these two was just as important as the game score itself. Ultimately, it was a back and forth contest with Langdon grabbing a few D's and Yeti getting some scores in as well. Watching these two super athletes compete is something we might not get to see again until regionals at the end of the season.
T-Town also featured a great third place game on Sunday between Auburn and Arkansas. Arkansas was led by Abe Coffin, who was unstoppable all weekend. Arkansas was able to win three double game point games (two against Auburn and one against Alabama); Coffin was the main reason why.
In the third place game, Arkansas started their double game point on offense. Coffin led the team downfield and then put a perfect backhand huck down the sideline. After the throw bounced off his receiver's hands, Auburn had a chance to end it with a break. Auburn sophomore Blake Galloway made a great cut deep only to have the wind catch the throw and sail it just a bit too far.
Arkansas had another chance. Coffin, who a teammate described as able to "jump out of the gym," once again took the point over with his ridiculous athleticism. After some great disc movement, Coffin called a timeout just outside the end zone. Arkansas isolated the front of their vert stack and Auburn's TJ Martin came up just short of a D just inside the goal line.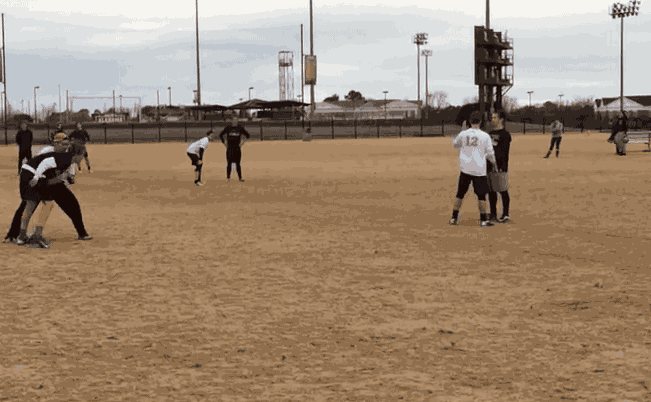 Other standouts from the weekend included Matt Radcliffe of Tennessee, who while playing with two broken fingers on his throwing hand, still managed to will his team to the quarterfinals.
In one of the Ultiworld games to watch, Southern Mississippi was able to overcome their neighbors to the north (Mississippi State) behind the play of Chris Partin and Nathan Sims. The Golden Eagles broke twice to win on DGP, getting back a win that was hard to find in recent years. Rookie Garrett Lawson for USM was a deadly handler for them, and will definitely be a contender for Rookie of the Year in the Gulf Coast Section.
In the the last game of Ultiworld's games to watch, Auburn came out quickly on Alabama. They found great throws from Ryan Landry who had one of the best performances from the weekend. After a quick 3-0 start by Auburn, Alabama showed some improvements going point for point for almost the rest of the game. Brian Moore and Austin "Draco" Taylor rarely took points off all weekend (playing 43 and 41 minutes in the LSU game, respectively), and found some help from freshman Clay Tylka and Liam Holthaus. Even in a disappointing weekend for Yellow Hammer, there were glimpses of real promise in performances from freshman and younger players that covered for some key players out with injuries.
Kennesaw State managed to make quarters, even after the wind became a huge factor for a team that likes to stretch the field deep. JP Burns was a defensive force for KSU Parliament, even when playing though some tough injuries and fatigue.
***
With the win of their third straight title in Tuscaloosa, Central Florida still looks like the team to beat in the Southeast. However, LSU showed the Region that a formula for beating them does exist, but with the leadership of Coach Andrew Roca and a set of four outstanding captains (Best, Ogren, Langdon, Bullock), don't be surprised if the formula only works once.
Final Standings (Change in Seed)
1. Central Florida (0)
2. LSU (+6)
3. Arkansas (0)
4. Auburn (-1)
5. Kennesaw State (-1)
6. Xavier (+3)
7. Tennessee/Alabama (-1/+1)
9. Indiana (-4)
10. Davidson (0)
11. Georgia state (0)
12. Southern Miss (0)
13. Harding (+3)
14. Vanderbilt (+4)
15. Mississippi State (-2)
16. Mississippi (-2)
17. Alabama – Birmingham (-2)
18. Auburn – B (0)
19. Alabama – B (0)