The 2023 season starts on Friday!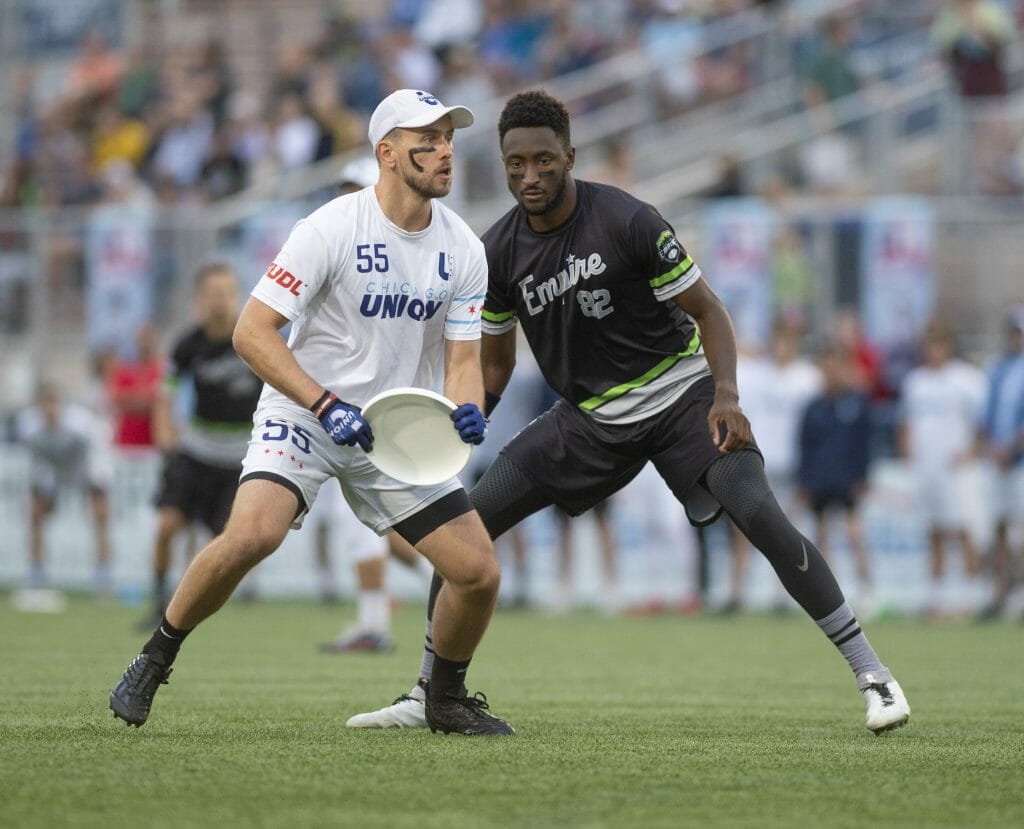 It seems like the dust hasn't quite settled from the riveting 2022 AUDL season and we're already gearing up for another one! With a new team, interdivisional play, and plenty of stars moving around the league, we have you covered as we enter the 2023 season of semi-pro ultimate.
Stories to Watch
And the Empire Remain the Empire
With just minor improvements to what was already a championship roster, the New York Empire enter the season as the favorites — perhaps against the entire field — to win the AUDL once again. For the team at the top, let's start with the talent at the top: the winners of the last three MVP awards (Ben Jagt and Ryan Osgar) have all starred for New York . The most versatile and clutch player in the world (Jack Williams) somehow hasn't won his own yet. And the human highlight reel that is Jeff Babbitt is hopefully over the injury woes that slowed him down towards the end of last season and will be back to churning out big under cuts and dominating end of quarter situations again.
Compared to their 2021 second place season, where those four did the heaviest lifting, the Empire ran three lines deep in 2022 and are poised to do so again entering this season. Headline players like John Randolph and Antoine Davis joined last year, but just as importantly, players like Charles Weinberg, Ethan Fortin, John Lithio, and Marques Brownlee all had their moments to shine while slotting into important roles. Instead of sweating out close games, the Empire were a dominating team top to bottom and earned blowout victories, including at Championship Weekend. Instead of running Williams and Jagt out for almost 40 points a game, the Empire trusted their non-all-stars to play like all-stars in the moments that mattered. Rather than as a collection of players supporting stars, but truly as a team, the Empire are set to create their own AUDL empire if they win again, which would give them four consecutive title game appearances and three trophies.
While there are other teams, namely the DC Breeze, who have enough firepower to slow down or even defeat the Empire, until proven otherwise New York will sit at the top of the power rankings and the front of opponents' minds.
Wild Wild…MIDWest
It seems like every year the West division brings some much needed chaos to the league. This year, with Colorado firmly entrenched at the top, it appears the midwest part of the country, host of the the Central Division, will be providing said chaos. Chicago, Minnesota, Madison, and Indianapolis are all poised to battle it out in what has become a wide open division. For a quick history lesson, Madison dominated the Central from their inception in 2013 through their championship in 2018. Indianapolis loaded up in 2019 and took the crown that season behind stellar play from import Brett Matzuka. Chicago ensured that was a one season blip with star-studded teams playing well into Championship Weekend in 2021 and 2022.
Now, Chicago's two biggest stars have left town. Minnesota, who finished as the runner up in the division the past two seasons, saw nearly half of its starting offense depart. Madison and Indianapolis both bring back most of their rosters that contended for the playoffs last season, with Indy ultimately winning the tie-breaker and earning the playoff berth. In short, all four teams will be closer than ever in talent.
Usually a winning formula in the AUDL is to take care of business at home and win a handful of road games against lower-talent teams (read: Detroit) before fine-tuning strategies and tightening up lines for a playoff run. Given how close all four teams are to just three playoff spots, the battle to make the postseason starts from the very beginning of the season. Madison has a tougher-than-it-looks road game at Pittsburgh while Indianapolis has to face an Atlanta team looking to regain its own playoff position in the South. When one game could be the deciding factor between a potential Championship Weekend trip and an early offseason, these four teams will need to be locked in from the opening pull. By the way, Championship Weekend is in Minnesota this year, which might give the Wind Chill some extra motivation to finally break through and win their first division title.
Mile High Highlights
Colorado had as close to a perfect expansion season as one could expect in the modern AUDL. With one trip to Championship Weekend already complete, the Colorado Summit are looking to start planning annual trips. Jonathan Nethercutt had one of the best throwing seasons in league history last year — 5,145 throwing yards, 48 assists, and just 35 throwaways in the regular season — coupled with a stellar defensive season from Cody Spicer. With reinforcements coming in (Calvin Stoughton, Connor Olson, Noah Coolman, and Kai Marshall headline that list), Colorado is clearly the favorite out west. The real question is if they can win any games once they get to Championship Weekend.
The Union showed between 2021 and 2022 that there is ample room for growth. Colorado will be hoping to replicate the success of their 2022 slayers in 2023 when they might take down another new-to-Championship-Weekend team, or they simply might have the talent to hang with a team like Carolina or New York who has been there before. Colorado will face New York to close out the regular season, at which point it's likely both teams will have clinched a playoff spot, but it's possible there could be home field ramifications on the line. If both teams want to win, we're in for what is shaping up to be an instant classic, and one that should prepare Colorado well for what could be ahead should they indeed win their division.
Can DC Finally Do It?
In both 2021 and 2022, the DC Breeze put together an impressive regular season but wilted in the divisional playoffs to the eventual champions. Despite probably having the second best team in the league each of the past two seasons, the Breeze have never been to Championship Weekend. Not a team to simply rest on their accomplishments, DC is bringing in the cavalry, hoping to finally take down New York and make it to the final four.
With experience playing on local club team DC Truck Stop, Breeze newcomers Cole Jurek and Andrew Roy should slot seamlessly into the offense. After playing with the team in 2021, Joe Merrill returns; he'll pair with Christian Boxley, Tyler Monroe, and Jurek to form as formidable a cutting unit as you'll find in the league. Though he has no history of playing in DC, Thomas Edmonds has the talent of a plug-and-play O-line hub handler and his presence will likely shift former MVP Rowan McDonnell to the defense to bolster the counterattack. We're talking about a super team and we haven't even gotten to the defense, where newcomers Rami Paust and Charlie McCutcheon are likely to make their biggest impacts.
At the end of the day though, DC can build a super team, but they still need to beat New York in order to accomplish their goal. The two teams are evenly matched on paper and in recent playing results, but New York has won the playoff games when it mattered the most. Will the Empire's top-end talent and Championship know-how carry them to another Championship Weekend appearance, or will the Breeze's stronger depth and hunger for their breakthrough be enough to end the Empire's reign?
Players to Watch
Pawel Janas (Los Angeles Aviators)
Pawel holds most of the meaningful throwing records in league history and signed a historic six year contract with the Aviators. While he is turning his tenure there into a project to ultimately bring a title to the Angel City, his first act will be mentoring LA's glut of young players brimming with potential to what I'm sure he hopes is the team's first playoff appearance since 2019.
Jonny Malks (DC Breeze)

It is no coincidence that the Breeze's rise to the top spots in the AUDL power rankings are correlated with Malks' return to the team in 2021. While McDonnell commands attention, it is Malks who is the hub of everything the DC offense is doing both on and off the field. With his athleticism somehow still improving, expect a more dynamic Malks to challenge defenses in new ways this season and contend with whichever Empire player we decide we like best this year for the MVP award.
Joe White (Carolina Flyers)
We got just a glimpse of Joe White in a handful of games for the Chicago Union down the stretch last season. And what a few games they were. In five games, White finished with 16 assists and eight goals. At Championship Weekend when Chicago needed a spark, they turned to White who can change the shape of the field with a single throw and blank an opponent's best player. Now with the Flyers, White has the chance to be the focal point of an offense for the first time in his AUDL career. With the talent to play in the backfield or as an isolation cutter, coach Mike DeNardis will have plenty of options as he deploys his creative offensive looks on unsuspecting South Division defenses this season.
Quinn Finer (Colorado Summit)

Jonathan Nethercutt got a lot of attention last season for his historic throwing season, but someone has to run down all of his hucks. Enter Finer who is just coming into his own as a player. A quick receiver who can initiate an offense out of a standstill, Finer has the speed to get open on most defenders and the concentration to make contested catches even when somebody can hang with him. With a year of film to study, expect defenses to clamp down on the dynamic throwing prowess of Nethercutt and fellow backfield slinger Alex Atkins, freeing up Finer to become a downfield star.
Abe Coffin (Minnesota Wind Chill)
In 2022, Coffin's first year on the Wind Chill, he was deployed as a puller, defensive stopper, and quarterback after a turnover. Realizing that his offensive prowess is too good to leave him on the sidelines when receiving a pull, the plan is for Coffin to play mostly offense this season. On one hand, Minnesota's hand may have been forced with the departures of some key offensive players. On the other, setting up Coffin to pick apart defenses with his throws and dynamic movement should pay dividends by giving the Wind Chill one of the best throwers in the world the disc more often.
Paul Arters (Chicago Union)

Freed from the shackles of Pawel Janas's shadow, Arters is set for a season to be remembered. Now left as the most talented thrower on the team, expect coaches Dave Woods and Sara Gnolek to dial up a few set plays so Arters can show fans his full range. With talented receivers like Ross Barker, Nate Goff, and Andrew Sjogren hanging around, Arters will have a chance to challenge some offensive records and make fans forget about that Pawel guy out west.
Paul Owens (Philadelphia Phoenix)
The AUDL is an offensive league and it can sometimes be tough to spot the defensive players who end up making huge differences in games. Some defensive players get a lot of blocks (see Phil Turner) or shut down star players in big games (like Cody Spicer). Owens can do those things but most often will simply outwork his opponent and force them into disadvantageous situations time and time again. The Phoenix will usually give Owens their toughest matchup — the Jack Williams matchup, the Rowan McDonnell matchup, those kinds of assignments. And time after time, Owens forces them out of their preferred spots and makes them work harder than any other defender out there. If Philadelphia is going to pull an upset over DC or New York, Owens' defense will be a big reason why.
Grant Lindsley (Salt Lake Shred)

Lindsley has not played a ton in the AUDL, but his limited minutes have been impactful in helping the San Francisco FlameThrowers (in 2017) and New York Empire (in 2019) to titles. After suffering a scary brain injury at the USA Ultimate Club Championships back in October, it's incredible that we will be able to see Lindsley on the field at all, never mind that he's playing with a new team in a new city that could use his help and experience in their own push for Championship Weekend. Though we do not expect Lindsley to play every game, he's an incredibly versatile player who will be able to slot in to whatever role the Shred need him to fill for as many games as he is able to play. Come the playoffs, he could be an X-factor.
Luc Comiré (Toronto Rush)
Because his ascendency coincided with the COVID-19 pandemic that canceled the 2020 season and forced the Canadian teams to play an isolated series in 2021, it seemed like Comiré came out of nowhere in 2022. He's been steadily building his skills and leadership and enters the 2023 season ready to go toe-to-toe with the East Division to bring Toronto back to the playoffs for the first time in recent memory. With a massive throwing range and youthful energy to burst open for easy resets, Comiré has become the engine driving the Toronto offense. As they push towards the top tier once again, you can expect a great season from the Rush's star handler.
Eric Taylor (Carolina Flyers)

One of the most versatile players in the league, there is little on an ultimate field that Taylor cannot do. That presents an interesting challenge to the Flyers coaching staff, who need to find a spot where Taylor can be his best. Is it initiating the offense alongside Anders Juengst and Alex Davis? What about pulling to pin opponents deep in their own end zone and quarterbacking the counterattack after a turnover? Launching pinpoint over-the-top throws to escape double-teams and poaches? Taylor has really done it all in his Flyers career. Now paired with another versatile hybrid in Joe White, the possibilities for Taylor are endless and — given both the talent surrounding him and the leadership void left by the departures of Carolina mainstays Noah Saul, David Richardson, and Justin Allen — Taylor is in line to step up and become an unstoppable star this season.
Division Previews
East
New York Empire
2022 Results: 15-0, 1st place in East Division, Defeated Chicago in AUDL Championship Game
Offseason Grade: A
2023 Ceiling: Win another chip
2023 Floor: Lose in East playoffs
What more's to be said about the juggernaut who rolled through nearly all challengers last season? (Their playoff overtime win over DC acted as a minor speed bump to the stampede that was the Empire in 2022.) They return all major contributors, add high level rookies like Shashank Alladi, Jeff Holm, and Bretton Tan, and look poised for another stellar season. Like I wrote last year, anything other than a return to Championship Weekend will be a disappointment to a team that invests the most in its players and now has perennial championship aspirations. Their inevitable playoff game against DC will likely be the de facto championship game, and winning tough road games in Colorado and Salt Lake late in the season could determine whether that games happens in New York or a few hours south.
DC Breeze
2022 Results: 11-3, 2nd place in East Division, lost East championship game to New York
Offseason Grade: A+
2023 Ceiling: Win a title
2023 Floor: Lose in East playoffs
DC had one of the best offseasons of any team in the league. Without losing any major contributors, the Breeze added Thomas Edmonds, Andrew Roy, and Cole Jurek to a team that came moments away from upsetting the eventual champions for the second season in a row. D-line Rowan McDonnell is going to be a menace and his switch to the counterattack is made possible by significant growth and development from Jonny Malks, who is poised to mount an MVP campaign despite the egalitarian nature of the DC Breeze's offense. Getting over the New York hump is a tall task, but this team is uniquely poised to pull it off.
Philadelphia Phoenix
2022 Results: 6-7, 3rd place in East, lost playoff game to DC
Offseason Grade: B
2023 Ceiling: Cement spot in playoffs
2023 Floor: Lose out to a resurgent Toronto and miss playoffs
Philadelphia took the leap in 2022, making their first playoff appearance since 2013. James Pollard took home Most Improved Player honors last season and now will partner with fellow Big Guy™ CJ Colicchio to bolster the Phoenix's huck-happy offense. With much of the core coming back, many on multi-year contracts, and the additions of Calvin Trisolini and Kainoa Chun-Moy, the Phoenix are looking to prove that they are playoff regulars and not just one-hit wonders.
Toronto Rush
2022 Results: 4-8, 6th place in East Division
Offseason Grade: B
2023 Ceiling: Playoffs in the East
2023 Floor: Last place in the division
Ty Barbieri and Jeremy Hill headline the long list of additions to a Toronto team that is looking to replicate previous generation's success in the AUDL. The young talent in Toronto is coming together quickly as Luc Comiré , James Lewis, Phil Turner, Oscar Stonehouse, Wilkie Lewis, and Mike Mackenzie (rejoining the team after taking 2022 off) are all developing into star players in front of our eyes. While they aren't likely to be the undefeated champions of a decade ago, this Toronto team will push others in the East and should be in playoff contention come the end of the season.
Boston Glory
2022 Results: 4-8, 4th in East Division
Offseason Grade: C
2023 Ceiling: Make the East playoffs
2023 Floor: Finish outside the playoffs, perhaps even in last place
Tanner Halkyard's return from injury should mitigate the loss of Tannor Johnson somewhat, but for Boston to be a relevant team in the AUDL they needs to do more than print cool jerseys and be loud on Twitter. Securing a commitment from their players to show up to every game will go a long way towards making this talented team competitive. The additions of Tyler Chan and Jay Clark give the Glory a nice throwback feel; perhaps their veteran leadership alongside the play of Ben Sadok will be enough to propel the Glory into the playoffs.
Montreal Royal
2022 Results: 4-8, 5th place in East Division
Offseason Grade: D
2023 Ceiling: Make the East playoffs
2023 Floor: Last place in the East
Entering the season with a glut of talent and big playoff hopes, the Royal flopped in 2022. They might fall even farther in 2023. Without offensive stalwarts Jakob Brissette, Sacha Poitte-Sokolsky, and Quentin Bonnaud, the Royal will be relying on Malik Auger-Semmar and Kevin Quinlan to do the heavy lifting. Picking up Brandon Adibe from the now-defunct Outlaws will be helpful, but the Royal might need a Toronto-like retooling before they're competitive again.
Central
Minnesota Wind Chill
2022 Results: 10-4, 2nd in Central Division, lost Central playoff game to Chicago
Offseason Grade: B+
2023 Ceiling: Make championship weekend at home
2023 Floor: Lose in Central playoffs…again
After taking Chicago to the brink in the past two Central Division title games, the Minnesota Wind Chill are retooling with the hopes of making their first Championship Weekend appearance. With the AUDL hosting its marquee event just a few miles south of the Wind Chill's typical home stadium, the team has a bit of extra motivation to finally push through what will be a wide open division and play for a championship in front of their fans. Abe Coffin's first season in Minnesota was a revelation and the indication that he'll play more on offense this season should be a boon to the Wind Chill's chances. Though they've let a lot of talent go (Roy, Jurek, Rami Paust, Tony Polletto, and Rocco Linehan are all gone after starring for the team last season), Minnesota still has enough talent to compete, especially with Chicago losing a major piece or two as well. While their depth will be challenged more than in seasons past, the Wind Chill should like their chances to make the playoffs and challenge for a spot at Championship Weekend.
Chicago Union
2022 Results: 13-2, 1st place in Central Division, lost AUDL championship game to New York
Offseason Grade: D
2023 Ceiling: Represent the Central at Championship Weekend
2023 Floor: Lose in Central playoffs
Many headlines this offseason featured Pawel Janas…in a Los Angeles Aviators jersey. The longtime Chicago star is moving on, along with a handful of other starters like Joe White and Kyle Rutledge. With Paul Arters, Ross Barker, and Nate Goff still around, Chicago's top level talent will continue to be formidable. Adding Andew Sjorgren and Axel Agami are pickups any team would make in a heartbeat. But, there's this nagging feeling that the Union might have lost too much to overcome a rising Minnesota team. Between these two, Indy, and Madison, whichever team can develop more of its new and/or young talent is likely to come out on top.
Indianapolis AlleyCats
2022 Results: 6-7, 3rd in Central Division, lost playoff game to Minnesota
Offseason Grade: B+
2023 Ceiling: Return to the playoffs
2023 Floor: 5th in the Central Division
The AlleyCats surprised fans with their competitive return to the playoffs despite the absence due to injury of franchise legend Travis Carpenter. Carpenter returns along with the bulk of the 2022 squad to challenge for the division title with Chicago and Minnesota each seeing talented (now former) players depart to other AUDL cities ahead of the 2023 season. Cameron Brock, Rick Gross, Levi Jacobs, and Keegan North form the core of an offense that puts up big numbers in their home indoor arena. Xavier Payne and Carter Rae both had big seasons for the defense last season along with breakout stars Lucas Coniaris and Jeremy Keusch. Riding a wave of positive momentum, it wouldn't be shocking to see Indy finish even higher than they did last season and push to steal a spot at Championship Weekend.
Madison Radicals
2022 Results: 6-6, 4th in Central Division
Offseason Grade: C+
2023 Ceiling: Make the Central playoffs
2023 Floor: 5th place in Central Division
While Chicago and Minnesota take the headlines once again, the Central Division mainstay Madison Radicals quietly have what it takes to be a playoff contender again. While Madison doesn't boast the firepower of either Minnesota or Chicago, it does have plenty of veteran know-how and playmaking ability–not to mention one of the best defenses in the league. Madison veterans Andrew Meshnick, Sterling Knoche, Tom Annen, and Brian Hart all return. Victor Luo was pivotal last season, and young stars like Kai DeLorenzo, Jake Carrico, Kai Marcus, and Jake Rubin-Miller have another season of development under their belts and are hungry to make some noise. Jack Kelly emerged last season as a highlight cutter on offense–the Radicals will need more players to similarly step up (especially with team talisman Kevin Pettit-Scantling reportedly out for the season with a torn ACL) if they're going to step up their spot in the standings to clinch a playoff spot.
Pittsburgh Thunderbirds
2022 Results: 4-8, 5th in Central Division
Offseason Grade: D
2023 Ceiling: Stay in contention for the Central playoffs through the second half of the season
2023 Floor: 5th in Central Division
Max Sheppard and Jonathan Mast return to the Thunderbirds, while Anson Reppermund and Sam VanDusen bring veteran poise and know-how. With Thomas Edmonds decamping to DC, the story of the season will be which young player(s) step(s) up and raise(s) their game to be able to contribute at the professional level. Dogged handler defender David Snead, athletic cutter Mikey O'Brien, and former college star Dylan Best all have breakout potential.
Detroit Mechanix
2022 Results: 0-12, 6th in Central Division
Offseason Grade: D
2023 Ceiling: Lead at halftime of one game
2023 Floor: Add 12 more games to the losing streak
If Detroit couldn't break their six year losing streak last season when Johnny Bansfield, Mac Hecht, Nathan Champoux, Jake Steslicki, Adam Stautberg, Kevin van Roosmalen, and James Highsmith were on the roster, there is little hope this season. They'll be camped out at the bottom of the power rankings unless they're able to pull off a miracle win.
South
Carolina Flyers
2022 Results: 12-2, 1st place in South Division, lost AUDL semifinal to New York
Offseason Grade: B
2023 Ceiling: Win another title
2023 Floor: Lose in South playoffs
The additions of Joe White and Liam Searles-Bohs will certainly give Carolina an edge. While losing franchise legends in Noah Saul, Tim McAllister, and David Richardson is a tough pill to swallow, the collective talents of Sol Yanuck, Matt Gouchoe-Hanas, Anders Juengst, and Alex Davis should be enough to continue to propel the Flyers to the top of the South. Tough early season games against DC will be a good measuring stick for a team with championship aspirations.
Atlanta Hustle
2022 Results: 8-4, 3rd place in South Division
Offseason Grade: C
2023 Ceiling: Win a playoff game
2023 Floor: Return to South playoffs
A loss to Austin kept Atlanta out of the playoffs last season. With an extra spot opening up in the South Division, the Hustle are almost assured of a spot in the postseason on talent alone, but their battles with Austin will be pivotal to determining who gets home field for that clash and who will earn the right to challenge Carolina for a spot at Championship Weekend. Losing mainstays like Elijah Jaime (who led the team in goals and +/- in 2022) and Kelvin Williams is a blow for the Hustle who will also be without John Stubbs this year. Austin Taylor is basically instant offense in the backfield and growth from young players like Brett Hulsmeyer and Dean Ramsey along with veteran leadership from Matt Taylor and coach Tuba Benson-Jaja should be enough to keep the Hustle in the conversation. Wildcards like Jakeem Polk (returning after an injury absence) and Mischa Freystaetter (joining the Hustle after a few years away from the league) could make or break the Hustle season.
Austin Sol
2022 Results: 9-4, 2nd place in South Division, lost to Carolina in South playoffs
Offseason Grade: A-
2023 Ceiling: Breakthrough to Championship Weekend
2023 Floor: Make the South playoffs
After a slow build during the 2021 season, the Sol broke through in 2022 to make the playoffs for the first time in franchise history and nearly took down the Carolina Flyers on the road. Bringing back the bulk of the team who accomplished all of that, the Sol are hungry for more success and enter the season as motivated as ever. With a cupcake schedule featuring eight games against Houston and Dallas, the Sol have a path to winning the division. It's not crazy to think that Austin could upset Carolina at home…right? Kyle Henke, Evan Swiatek, Mark Evans, and company are in for a fun season!
Dallas Legion
2022 Results: 1-11, 4th place in South Division
Offseason Grade: D
2023 Ceiling: 4th in South Division
2023 Floor: 5th in South Division
What a fall from grace for a once-proud franchise that now has a long list of players not returning to the team, the addition of a competitor in Houston, and the near guarantee of making the playoffs evaporated. Young players like Alec Wilson Holliday, Jason Hustad, Connor DeLuna, and Emmanuel Kameri give fans something to be excited about. With veterans like Kevin Richardson, Dillon Larberg, and Brandon Malecek in the fold, there is still a higher-than-Detroit floor for this team. The games between Dallas and Houston will be exciting, but they'll likely be battling it out for an inconsequential 4th place.
Houston Havoc
2022 Results: N/A
Offseason Grade: C
2023 Ceiling: 4th in South Division
2023 Floor: 5th in South Division
Houston has collected a solid level of talent for an expansion team with a lot of shared geography between two rival teams in the area. Matt Bennett, Jimmy Zuraw, and Ben Lewis bring a veteran presence and leadership…and take some talent away from division rival Dallas. The UT quintet of Aaron Barcio, Xavier Fuzat, Cade White, John Clyde, and Jake Worthington bring some much needed chemistry to a new team. Coach Bex Forth is already drawing rave reviews, and the pieces are in place for a not-last-place finish. That's pretty good for a first-year AUDL team that isn't based in an ultimate hotbed like Denver, San Jose, or Toronto (to name a few teams who made it to Championship Weekend in their first season).
West
Colorado Summit
2022 Results: 12-2, 1st place in the West Division, lost to Chicago in AUDL semifinal game
Offseason Grade: A+
2023 Ceiling: Advance to Championship game
2023 Floor: Advance to Championship Weekend
A stellar debut season saw the Summit crush all opposition in the West Division before petering out to more experienced competition at Championship Weekend. With a season of AUDL play already completed, and many players from the Denver Johnny Bravo team that just won an amateur championship during the offseason suiting up, the Summit will certainly be favored to get back to Championship Weekend where they are unlikely to be the weakest team again. Jonathan Nethercutt returns after leading the league in 2022 with over a mile of throwing yards. Adding strong defensive players like Kai Marshall, Connor Olson, and Noah Coolman will help Colorado keep an advantage over the notoriously defense-averse West. New York's late season visit will be an important measuring stick for a team that is now craving a championship.
Salt Lake Shred
2022 Results: 11-3, 2nd place in West Division, lost to Colorado in West championship game
Offseason Grade: C+
2023 Ceiling: Advance to Championship Weekend
2023 Floor: Miss the playoffs
An impressive debut season saw Salt Lake come tantalizingly close to knocking off Colorado and making it to Championship Weekend. All-AUDL player Jordan Kerr led the league with 121 scores, Luke and Chad Yorgason provided steady backfield play for the offensive and defensive lines respectively, and Joel Clutton nearly single handedly won a playoff game. Unfortunately for the Shred, Clutton is gone, as are goals leader Joe Merrill and D-line mainstay Garrett Martin. Elijah Jaime should replace much of Merrill's production, though it may take time to translate the telepathic connection Kerr seemed to have with Merrill to his new teammate. World Games star Grant Lindsley returns to the AUDL and to ultimate after a scary injury and will be a key player for as many games as he can make. Will Selfridge is back after tearing his ACL last season and young talent like Simon Dastrup, Max Dehlin, and McKay Yorgason (yes, there's another) will have the opportunity to step up and keep Salt Lake right there in the Championship Weekend conversation.
Los Angeles Aviators
2022 Results: 4-8, 5th in West Division
Offseason Grade: A
2023 Ceiling: Make West Playoffs
2023 Floor: Fight to avoid last place in West
Let's not bury the lede: Pawel Janas is the league's biggest free agent signing in years. Yes, bigger than World Games star Khalif El-Salaam changing teams each of the past four seasons and Jack Williams moving to an already stacked New York team. Janas brings instant credibility to the Aviators in a league that he has simply dominated over the last half-decade in Chicago. The continued growth and development of young talent like Matt Miller, Calvin Brown, Brandon VanDeusen, Everest Shapiro, and Sam Cook has given this team a solid base to build from and made additions like Janas, Jason Vallee, Daniel Brunker, Devin Cox, and Sean McDougall (returning to the team after a season in San Diego) that much more impactful. This is the best Aviators team since their 2018 Championship Weekend appearance and they enter the season as one of the favorites to claim a West playoff spot.
Oakland Spiders
2022 Results: 4-8, 4th in West Division
Offseason Grade: C
2023 Ceiling: Make the West playoffs
2023 Floor: Last place in West
The Spiders enter the season under the radar but with enough talent to compete for a playoff spot. All of the headlines out West will be about Pawel Janas' move to Los Angeles, but the Spiders have quietly added a quarterback of their own in Mac Hecht and two defensive stoppers in Jacob Smith and Jake Thorne. The Spiders have a distinct college feel with many current college division players and recent graduates joining veterans like Justin Norden and Matt Crawford. A few of the youngsters to look out for: Walker Frankenberg, Dexter Clyburn, Evan Magsig, and Matt Barcellos could all have an instant impact.
Portland Nitro
2022 Results: 2-10, 7th place in the West Division
Offseason Grade: C
2023 Ceiling: Advance to Championship Weekend if everyone shows up
2023 Floor: Last place if they don't
For a team that in 2022 boasted the league leader in receiving yards and points played, not to mention the AUDL Rookie of the Year, and took the Colorado Summit to a close overtime game early in the season, one might think they would finish with more than two wins. However, significant roster turnover game after game hindered Nitro's ability to find their footing and the team never really took off. Leandro Marx (he of the accolades above), Raphy Hayes, Eli Friedman, Will Lohre, Sam Franer, Tom Doi, Mica Glass, and Ke'ali McCarter are but a few of the names who dot this impressive roster. If they all play consistently, the Nitro could be one of the best teams in the league. If they play as sporadically as the team's stars did last season, it could be another year battling the similarly inconsistent Cascades in the West basement.
San Diego Growlers
2022 Results: 9-4, 3rd place in West Division, lost playoff game to Salt Lake
Offseason Grade: C-
2023 Ceiling: Lose in West playoffs
2023 Floor: last place in the West
Another power shift is coming to SoCal. With Pawel Janas' move to Los Angeles, key players like Sean McDougall and Zak Schackner followed, leaving the Growlers with a lot of opportunities for young players to step up and make a name for themselves. Travis Dunn and Paul Lally return to steady the offense. Dunn in particular should put up big numbers with McDougall in LA,  with Jesse Cohen not playing and Goose Helton out for the season while recovering from a devastating motorcycle accident. Caden Sigerud and Garrett Hable are two rookies who have had success playing in college and could become instant standouts on a team looking to stay competitive while welcoming in a new generation of talent.
Seattle Cascades
2022 Results: 2-10, 6th place in the West Division
Offseason Grade: C
2023 Ceiling: Be relevant for playoff implications in the last weeks of the season
2023 Floor: Last place in West
It's once again tough to know what to make of Seattle. On paper, they have the talent of a playoff team. Tony Venneri, Jack Brown, Marc Munoz, Tarik Akyuz, and Zeppelin Raunig form a nice core of players. Bringing back Khalif El-Salaam and Garrett Martin raises the team's ceiling. Per usual, young players will have ample opportunity to stand out; keep an eye out for high school star Ocean Hines, D-III standout Corbin Atack, and club breakout candidate Dom Jacobs. I wrote this last year and it still holds true: Seattle has never been a consistent team. Aside from the quality of their performance, the team that shows up from week to week often has a good amount of turnover. If they can generate some consistency, let's talk about Seattle as a playoff team; until that's expected, this team is always good for an upset bid and a fun home crowd, but shouldn't be counted on for anything more, especially on the road where they have struggled to be competitive.
Power Rankings