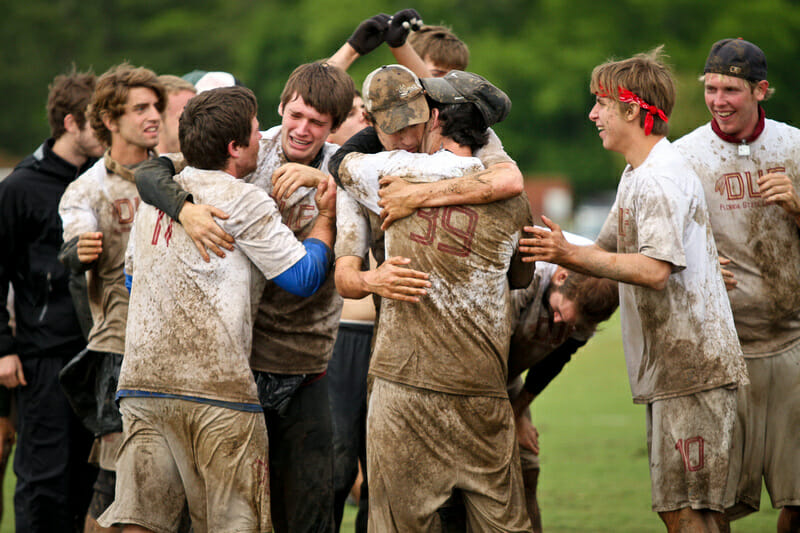 Florida State's Demented Ultimate Freaks, or DUF, are coming off a very successful 2013 season. Raking the last bid from the Southeast Region, DUF made its first trip to Nationals in the modern Ultimate era, 2014 DUF now looks towards going one extra step  — putting together a solid Nationals performance in Cincinnati at the end of the spring.
The #13 ranked team has some big shoes to fill, but a team-first approach and a lot of learning from last year may help them achieve their goals.
Larouque Rises to Fill Personnel Loses
DUF lost two key pieces in Ben Stringer and Jordan Huston from the 2013 squad, leaving a hole in leadership. It is evident early on that the pressure will be on Captain Chris LaRocque (Florida United) to make plays and lead DUF in the spring. While LaRocque is definitely capable of making the big play downfield, he will be utilized as a center handler this year for DUF's offense.
[youtube TmP0BntNJxs 600 337]
LaRocque's strengths come from his ability to know exactly what is needed at exactly the right time. At CCC in the fall, DUF needed to impress. They weren't just playing for preseason experience, but for an invitation to the prestigious Stanford Invite in March — an invitation they ultimately received. This put more pressure on Florida State to excel in a fall tournament where most other teams were in their training phases.
"We knew before the weekend that we had a chance to be invited to play in Stanford Invite this year and wanted to make it absolutely clear to the tournament directors that we were the real deal," LaRocque told Ultiworld. 
In this situation, many top-level players would attempt to take over the game and do everything themselves.
However, LaRocque is a new kind of playmaker. In Athens this past November, he made his teammates better. This isn't to say that he isn't a threat on the field: he will beat you with his breaks, lose you with his cuts, and place the disc anywhere on the field. But instead of forcing plays, he played within the offense that coach Peter Van De Burgt had put in place. Because of this, DUF was able to find wins behind the strengths of the secondary cutters and handlers on the field.
LarRocque's passion isn't found in the stat lines or the highlight reel, but in what Florida State calls "The Grind". This team's ability to work as a unit of equally capable players will put them in important positions come Sundays.
Florida State is also led by co-captains Ryan MacFadyen and Andrew Roney, both of whom will be cutting in DUF's standard offensive sets. Florida State's offense flourishes in its patience; watching DUF work gives the impression of just a simple game of throw and catch. 
Physicality on Every Point
Instead, DUF's true threatening nature comes from a defense that is known in the Southeast Region for its aggressive nature (to say the least).
"We take the risk of laying out at every opportunity because in the long run it helps," said LaRocque. "It helps rookies to understand what we are about and it teaches them to learn to take the right opportunities."
In watching film, the "right" opportunity begins to look like every opportunity. Against Central Florida this past November, UCF was able to take five shots at the end zone because of a wide-open mark left by a bidding defender (three of which they converted). From an outside standpoint, this might seem a bit too aggressive, perhaps hurting more than it helps. However, it gives pause to the opposition. This behavior can force teams out of character very quickly, especially teams that may not see DUF very often.
For example, at Easterns in 2013, Florida State had two straight double game point losses to UNC-Wilmington and Colorado (both Nationals qualifiers). This was in no doubt due to a style of defense that separates Florida State from other teams in the Southeast.
As far as the over-aggressive nature is concerned, LaRocque is confident that his team can find the right spots at the right time. "Our mindset this year is to continue to be aggressive and pick the right spots," he said. "We want to have 18 solid defenders that we can rely on late on Sunday for our D-line." If DUF is successful, they'll have a larger group of defenders than some teams have players in general.
New Practice Style Already Paying Dividends
How exactly did DUF turn so many new players into aggressive defenders? A brand new practice style. First of all, Florida State is upping their practice schedule from three to four times a week. But this isn't the only thing inspiring the new DUF team. During practice scrimmages, veterans play against rookies. This system throws the new players into the fire immediately, getting them what LaRocque calls "a better grasp of the game." He made no mention of how long this practice style would be used, but after watching the new players perform at CCC, you might expect to hear about DUF doing this as late as April.
As far as new additions, LaRocque's older brother Drew should prove to be a top defender in the Florida section. Though clearly rocking a substantial familial pedigree, the older Drew actually has much less ultimate experience than his younger brother. That didn't stop Drew from getting two bookend scores against UCF, showing that the potential for his impact on DUF is as high as Coach Van De Burgt wants it to be. Throw in the speed and physicality of Morgan Stanley and Clark Cofer, and Florida State's defense has the ability to propel them back to Nationals and even further.
But first they'll have to make it out of their state. Fierce competition makes the Florida state title one of the hardest ones to win come Sectionals in April.
"With our state being so competitive, it helps to know how to beat some of the best teams in the country with Florida and UCF," Laroque said. It gives DUF the advantage to prepare themselves early for Nationals level competition against some of the best playmakers in the country. They'll need it too, if DUF wants to go from a Nationals participant to a Nationals contender. Up first: Florida State will be joining in-state rivals Central Florida and the University of Florida at Warm Up on February 14 in Tampa, FL.