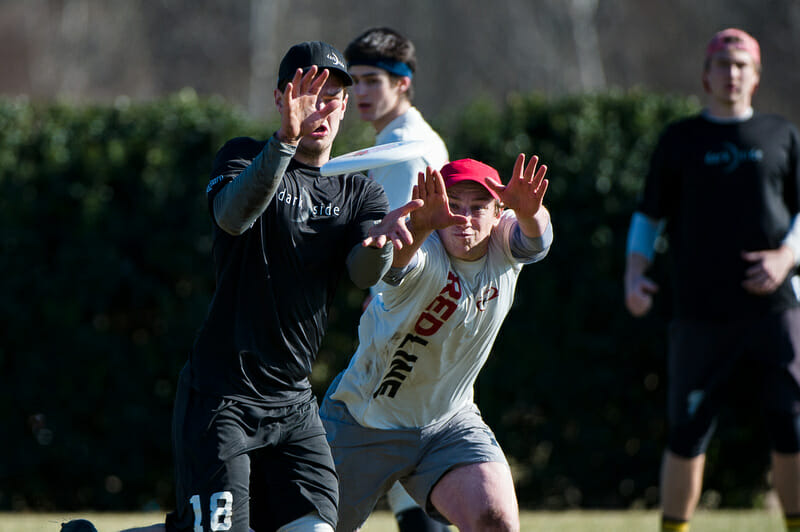 Another weekend, another tournament title for UNC Darkside.
#1 ranked North Carolina defeated #10 Harvard 15-12 in the finals to capture their second straight Queen City Tune Up crown.
UNC, facing almost no resistance on their road to the finals, came out with strong, physical defense and quickly put Harvard on its heels with a 4-0 run early in the first half to put them up 5-2.
"When we have the right game plan in place, our D can really take a bit out of the other teams' offense," said UNC coach Mike DeNardis.
Even a head injury couldn't slow them down.
On the following point, star UNC handler Jon Nethercutt got knocked to the ground in an endzone pileup and was slow to get up. He had sustained a small laceration on his right temple and had to leave the game to head to the trainer for care as concerned fans and parents looked on.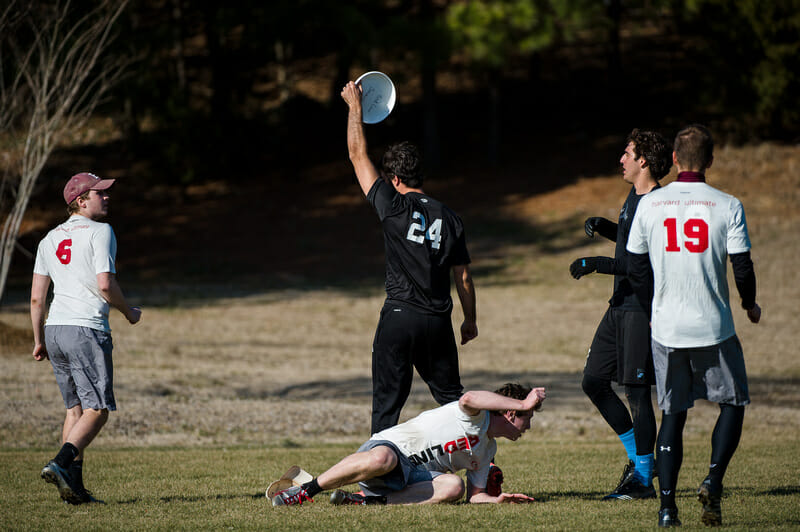 Harvard scored the point and stayed even to 7-4, when Nethercutt returned on a defensive point. After a big pull from Ben Snell, a crossfield swing pass into the wind popped into the air. Players crowded underneath — this time, it was Nethercutt pulling down the disc for a Callahan to take UNC into halftime up four.
"I was definitely excited 'cause I knew I would have a play at it, first point in," said Nethercutt.
Unlike most of the competition UNC faced this weekend, Harvard didn't roll over in the second half. They came out and immediately put up two breaks.
On the first, freshman John Stubbs skied for a disc over the top of Nethercutt that sent the sideline into a frenzy. He quickly threw the assist to get Harvard back within three.
Nethercutt called it an "awesome catch."
"He definitely surprised me on it a bit," he added. "I thought I had actually macked it past him but then I saw he was holding it."
Stubbs was one of a handful of standouts for Harvard. He crossed over onto offense a number of times on big points, while also playing most defensive points, his normal role. He frequently took the toughest defensive assignments — Christian Johnson included.
Harvard closed the lead to one after a UNC dump turnover in their own half. But from there on out, UNC stepped back on the accelerator.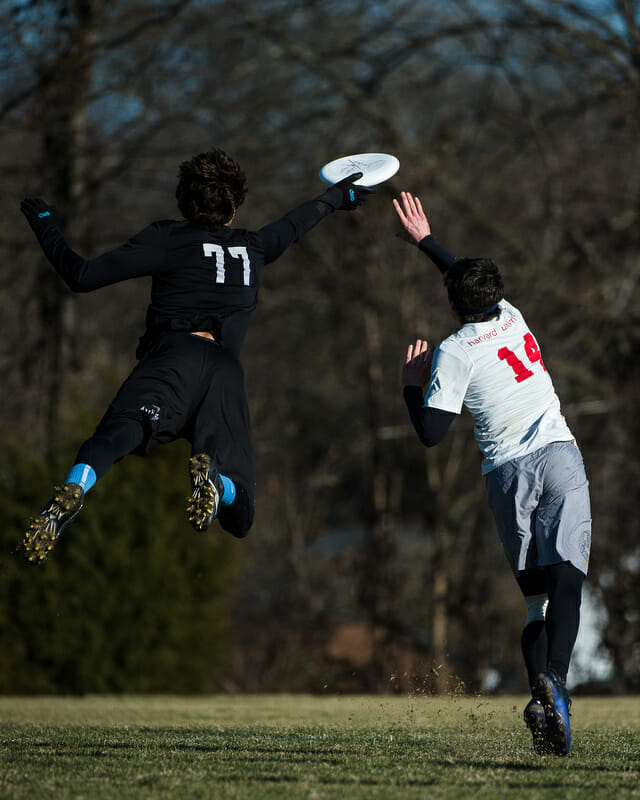 Snell got a huge layout block in the endzone on Stubbs and went coast to coast for the bookends score to put UNC up 13-10, effectively sealing the win with just minutes until hard cap.
"We had a lot of turnovers, overthrows," said Harvard coach Mike MacKenzie. "I think part of that is that UNC has a very good, physical defense."
UNC was playing with an even more dialed in defense than they have showed earlier this season. DeNardis said it was the most bids he's seen from the team all year, and they jumped out to an early lead thanks to their aggression right from the opening pull.
"I think in the first couple points we got rattled," said Harvard senior captain William Dean. "They came out a little harder than we did."
UNC looked, as they did last year at QCTU, like the most polished team at the tournament. Harvard leadership all said that they were looking to reach the finals and face UNC.
"We're really happy to have that challenge early in the season," said MacKenzie.
Harvard's offense, though it struggled at times against UNC's defense (particularly the zone-to-man transition), looked cleaner in the second half. Jeremy Nixon was almost always able to find open under space to initiate the offense. Mark Vandenberg and the other Harvard handlers were steady, despite tricky wind and sometimes stagnant offense.
UNC's offense had just a handful of hiccups, a drop here, a throwaway there. Harvard's zone was not effective at stopping UNC, as Nethercutt just threw 40 yard hammers to the weak side, including the game winner.
North Carolina got contributions from all across their offensive line, as opposed to the more Christian Johnson-heavy attack they showed at CCC. Aaron Warshauer and Drew Chandler were standouts in the finals.
"It's always the plan," said UNC assistant coach Matthew Scallet. "Obviously Christian [Johnson] draws a lot of attention, but all seven of those guys have the ability to make plays."
Both teams now look ahead to the Stanford Invite in just under three weeks. UNC will come in as a top seed with a lot of teams gunning to topple them from their #1 spot.
Nethercutt emphasized that the team will be working on their mental preparation as they steel themselves for a much higher level of competition than they've faced so far this spring.
DeNardis made their goal simple. "Our job is to play perfect ultimate in every situation," he said.
Additional reporting by Simon Pollock.