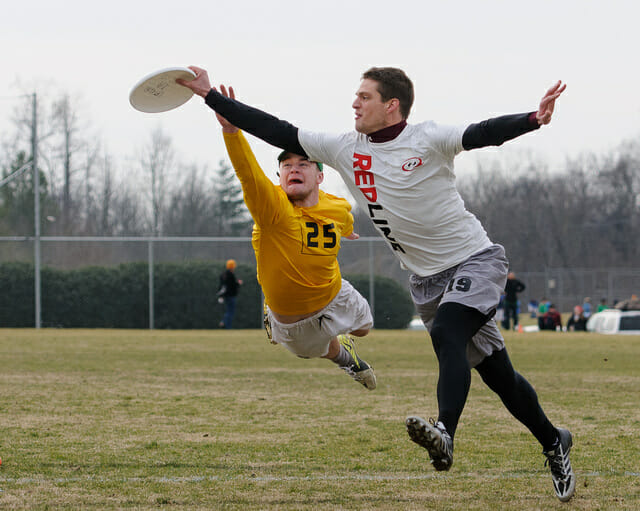 CHARLOTTE — Sunshine, mild temperatures, and light wind greeted teams from a variety of regions this weekend at the 2014 Queen City Tune Up. With drive times clocking in at 13 or more hours and other teams flying in, QCTU featured a variety of regional competitors chipping both rust and ice off their systems.
At first glance, it would seem the weekend went more or less to chalk. #1 ranked UNC Darkside bulldozed their way through pool play on Saturday, defeated a shallower UNC-Wilmington team in the quarters, and walked over University of Wisconsin-Milwaukee on their way to the finals. In the end, North Carolina's towering D-line was unmatched by the competition, and led the way to a tournament title.
While UNC calmly disposed of its opponents, other matchups throughout the weekend showcased a handful of regional competitors making statement wins — some showing trust in good systems, others clawing their way to wins with impressive athleticism.
Who Can Beat UNC?
It's easy to forget that, last seaon, UNC lost just four games. During the regular season, they took two losses at the Stanford Invite, one on double game point to eventual college champion Pittsburgh, the other right after that to Colorado in a big letdown game. The next two losses came at Nationals: one to Central Florida in pool play, one to Pittsburgh in the quarterfinals. Both of those teams, of course, made the finals.
Although UNC has yet to face much truly elite competition (they have beaten a developing Pitt team — barely — and a solid, but not truly great Harvard team), they are unquestionably a step above where they were last season. Jon Nethercutt is as talented and creative an offensive handler as there is in the game; the O line cutters may be even more impressive.
Their defense was their calling card last year, and it is showing signs of development already this year. They showed a very impressive, sustained effort against Harvard, something they have struggled with in the past. Often last season, the D didn't really turn on until late in the game. Earlier this year at CCC, we saw the same pattern.
Nethercutt said the team had to learn to play smart team defense first, and now they are returning to the physicality that served them well last year.
"The past few weeks, we've focused on being tougher on a defense," he said. "Being closer to our man and being willing to lock down individually."
Now, though, UNC has to prepare for their first true test — a long weekend of elite competition in California at the Stanford Invite. Right now, their offense may be the best in the game. On paper, #2 Colorado has the best defense in the game — a line jam-packed with talent including Jimmy Mickle, defensive specialist Tim Morrissy, and a crop of club-level talent. Could it be a finals matchup waiting to happen?
The coaching staff has the challenge of preparing their team for a big step up in competition. Head coach Mike DeNardis — which says the team "is its own worst enemy" — is already beginning to shift the gears.
"I talked to [the team] after the game and said, 'We haven't played a perfect game of ultimate. And especially when we've been challenged, we've tended to play down a little bit.'" he said.
We will see how close to perfect they can be in two weeks.
Harvard Shows Excellent Composure, Ability To Recover
At #10 in the Ultiworld Power Rankings, a lot was expected of Harvard Red Line heading into the weekend. Many team leaders had already cut their teeth at the College Championships in 2013, and the addition of freshman phenom John Stubbs this year added an explosive defensive cutter to a program used to young stars. Harvard had the tools to make it to the finals on Sunday, and sure enough, recorded their only loss (15-12) against powerhouse UNC in that game.
On Saturday, Harvard commanded Pool C, showing unfailing trust in their systems through the day and capitalizing on highlight-worthy play from Stubbs and and offensive line cutter Jeremy Nixon. Harvard's confidence was obvious, with both O and D-line handlers making beautiful breakside throws uphill. Trust and teamwork resulted in excellent puts to space both under and deep, while tight defense held all opponents in the pool to seven points or fewer. At Saturday's close, Red Line sat comfortably in a one seed, earning a spot in the quarters and a first round bye with a record of 4-0.
In the second round of gameplay on Sunday, Red Line's rested offense came up against a Georgetown zone look that greatly contributed to a Catholic Justice upset of #25 NC State Wolfpack in pre-quarters.1 The strongest of the underdogs competing for a semifinals berth, Georgetown took advantage of early Harvard miscues and unforced errors, staying tight and converting to take an 8-7 lead at half.
In the second half, a gusty cross-wind blustered onto the fields and changed the game. Harvard finally woke up, and began to play with some serious confidence. Despite the Georgetown junk look forcing with the wind, Red Line handlers fearlessly broke the mark into the wind and gained a number of points on impressive breakside scores. Harvard's composure held tight as gusts around 8-10 mph swirled on the field, and they accelerated to a 14-11 win.
A tough semifinal matchup awaited against Michigan, a physical team looking to capitalize on their energetic come-from-behind win against a tall Appalachian State zone. With Michigan going to their zone look in the continued windy conditions, Harvard would again rely on their patience to begin wearing down the wall. Jeremy Nixon found open space effortlessly all game, and contributed to a building rhythm that allowed Red Line to tire out the Michigan zone, and exploit the break side. Harvard took a hard-earned half at 8-6.
In the second half, veteran leadership behind the disc helped put away the physical Michigang team, with excellent movement and patience coming from James Thurm, Mark Vandenberg, and Wynn Tucker. A few missed hucks and hasty decisions from Michigan's backfield were all the Cambridge men need to pull away, taking the game 14-9 and moving on to face UNC.
For the story of the finals, read the game recap.
Mark Vandenberg and captain William Dean were big contributors all weekend for a team that relies heavily on a system and deemphasis of individual playmakers.
Both coach Mike MacKenzie and Dean answered questions about how they have integrated Stubbs into their system in similar fashion.
"I thought he played very well this weekend, but he's part of a bigger system, part of a bigger team," said MacKenzie.
"Everyone's doing the work. It's not about the individuals. He's working as hard as everyone else out there," said Dean.
Regardless, Stubbs was a key figure for Harvard, and he crossed over onto the offensive line on a handful of big points in the finals. He took big defensive matchups and got some of his own as well; UNC's Ben Snell often took the assignment on Harvard O points.
For a team that hasn't played outside much yet this spring, Harvard looked impressive. They clearly improved over the course of the weekend and should be a tough out at Stanford in two weeks.
Michigan magnUM Breaks Seed, Looks To Make A Great Lakes Statement
The weekend really began for Michigan when they willed their way to an upset victory over the pool one seed UNC-Wilmington in the third round on Saturday. Michigan benefited from outstanding on-field play and leadership from their three captains: Yonatan Rafael, Sam Greenwood, and Eli Leonard.
Big plays from Greenwood and Rafael were highlights for Michigan throughout the weekend, with Leonard constantly causing defenses trouble from the handler spot. All three captains agreed that their rookies contributed handily to the upset of UNC-Wilmington.
The win on Saturday earned magnUM a bye into quarters, and bumped UNC-W into a tough matchup with a hungry Northern Iowa in pre-quarters.
Sunday's first matchup for Michigan wasn't pretty at first.
Appalachian State had been frustrating teams all weekend with a tall zone, and MagnUM fell behind early as the Nomads zone generated a quick 4-1 lead. Michigan would again rely heavily on the captains — particularly Greenwood — all of whom made contributions on both sides of the disc as the tide started to turn. Michigan tied first at 5-5 and then rattled off two more breaks to take half at 8-6. As Sunday afternoon approached, Michigan's abundance of speed took over in the second half, and a thinner, tired App State team fell easily, 15-8.
Despite their exit against Harvard in semis, look for Michigan to remain a dominant regional competitor, with quick handler movement, dominant physical defense, and players who know how to use their bodies in the air.
A team that last year lacked the mentality to stay positive and aggressive in games has clearly worked out some of those issues and is well above where they were last year at this time.
""We're not taking things as big games. We're getting up for every game and focusing on our toughness," said Leonard. "[Toughness] is something that we've had trouble with in the past couple years."
With a strong weekend behind them, they may have done enough to put themselves in a good position for a top 20 spot in the USAU rankings.
Dartmouth Exits Earlier Than Expected, But Shows Promise
Despite a top seed in Pool D heading into the weekend, Dartmouth Pain Train needed the weekend to shake off the icy cold of the Northeast and retune their system. Though they would maintain the top spot and secure a bye to the quarterfinals on Sunday, four of the five seeds went to head-to-head matchups at the end of the day.
Darmouth stumbled early on Saturday when Penn State, benefactors of an first-round bye, took the field and smothered Dartmouth with a 13-4 win. The men from New Hampshire would then regain their cool with two close wins over Northern Iowa and #25-ranked NC State.
"We're in hibernation mode all winter," said coach Pain Train coach Brook Martin. "We got a little careless offensively [against Penn State]. We have a lot of young talent and a lot of good height…sometimes we get carried away trying to gun for it." Overall though, Dartmouth found success with their zone, which Martin successfully deployed almost randomly at times to stagger opposing teams O-lines.
Dartmouth would go on to an early exit from the championship bracket, losing to a confident University of Wisconsin-Milwaukee 12-10.
Though the team doesn't look to have quite the same skill as they did last season with Ian Engler running the offense, they have a good base of solid, experienced players. Don't forget that their returners all have experience at the College Championships, where they nearly upset Central Florida in the quarterfinals last year after stunning Texas in the prequarters.
Whether they have enough to earn a bid for the New England region is another question altogether.
UNC-Wilmington, Over-Seeded And Over Confident?
The surprise standouts at the College Championships last year took two tough punches on the chin over the weekend, falling first to Michigan in pool play on Saturday, and getting knocked out of bracket-play by regional rival North Carolina in the quarterfinals on Sunday.
But it may not have come as a surprise to the team's leadership.
"First of all, we came in way over-seeded," remarked UNC-W coach Greg Vassar.
Asked if the ranking affected his players' preparation for the tournament, Vassar noted that he had tried to prepare his team for a much lower position going in. Their loss, he thought, was illustrative of the great changes in team makeup since last year.
"We definitely have some growing pains ahead of us," he said. "At times we showed flashes of brilliance. We got our hands on the disc enough times in every game, including the Carolina game, where I think we could have won it."
It seemed without veteran leadership on their D-line, Wilmington just didn't have the experience to convert those generated turns into points.
Look for Wilmington to continue to hone their system and relearn how to play without Tommy Lamar and Mark Evans, as they continue to capitalize on the many talents of veteran Robert Goode later in the season.
University of Wisconsin-Milwaukee Shines As The Cinderella Story
It took the smothering of Darkside's relentless D-line to finally stop Black Cat in the semifinals, who blew past their seed and their expectations on the weekend.
That semifinal was a rematch from Saturday's second round, a game that featured a raucous Milwaukee comeback in the second half against some younger, untested players for UNC who got into the game after Carolina opened up a 7-2 lead in the first half. Even with the emotion of their close win over Dartmouth (12-10) in the previous round to fuel the fire, a tired Milwaukee was no match for UNC, who quickly put the game away 15-6.
"I don't think our guys, coming in to the UNC game, believed that we could beat them at the beginning, as much as we did at the end," said captain Logan Pruess.
It's certainly no black mark for Milwaukee to fall to the nation's top ranked team. Though they fell to a shorthanded Michigan State team on Saturday, they came into Sunday and notched two very quality wins over Iowa and Dartmouth to reach the semis. Their performance was enough to land them at #25 in Ultiworld's Power Rankings this week.
Few expected UW-Milwaukee to be the North Central team making noise, and accumulating strength bid points, for the region. Both Iowa and Northern Iowa had the bigger expectations, but neither came up with big wins when they needed them.
NC State Worthy of #25 Spot?
Wolfpack ended Saturday 3-1 right behind Dartmouth, holding their place in the pool with two capped wins: 10-7 over NYU and 9-6 over Penn State. NC State found inspiration in Drew Moore, who helped take half 7-6 against Dartmouth with an emotional layout score. While NC State would lose to Dartmouth in yet another capped game, their offense found holes in their zone and earned its spot in the pre-quarters Sunday. The Georgetown defense, however, held on just enough to create a few extra turns in that game, and the early-season standout Wolfpack lost on double-game point before being sent to placement games.
Penn State Talented, But Still Adolescent
Penn State offered the weekend's only false promise, falling to a disappointing 2-2 on Saturday after manhandling Dartmouth in their first game 13-4. A big school with a large athletic draw, Penn State has not put a complete effort together in a weekend yet this year.
Coaches Jordan and John Stone agreed that last week's performance at the GSU Indoor Invite had been unsatisfactory for both them and their players. Their surprising win against Dartmouth had instilled confidence in team flow, but the coaches remarked that their middle of the day losses had reminded the team of how much further they have to go.
Bid Implications
It will be tough to get a read on the bid situation coming out of QCTU until the USA Ultimate rankings begin posting later this month, but there are a few trends of which to take notice.
Outside of UNC and Harvard, no team definitively helped themselves on the strength bid front. And since both UNC and Harvard are the favorites in their respective regions, the bid picture is hardly clarified after this weekend. The upcoming Warm Up is more likely to have big implications on bids.
Michigan may be the biggest benefactor from the weekend. At the start of the fall, many noted the Great Lakes as one of the country's weakest regions. But Michigan's strong performance this weekend with an important win over UNC-Wilmington combined with the promise Illinois showed at Missouri Loves Company in the fall could suggest the possibility of a two bid scenario for the Great Lakes.
Wisconsin-Milwaukee tarnished an otherwise great resume this weekend with a loss to Michigan State — they will need to continue to play well to have a shot at a North Central bid. The other NC teams — Northern Iowa and Iowa — simply didn't make a dent. Northern Iowa clearly has promise, but took three out of region losses.
The Ohio Valley is looking increasingly like it could be a one bid affair after Ohio struggled on Saturday. Cincinnati will have their work cut out for them at Warm Up this coming weekend if they want to change that.
Notes
…Special thanks to the observers on the Wilmington v. UNC game that may have held the first-ever media timeout as we relocated our camera equipment…Good quality food trucks are becoming a must-have at tournaments…The weather was beautiful all weekend. Cool and cloudy in the mornings, sunny and warmer in the afternoon. Sunday was windy during the quarterfinal and semifinal rounds…Games were generally very spirited. Observers rarely issued TMFs and were often hardly involved at all…Thanks to the Charlotte organizers and UNC for accommodating some field and schedule changes and for running another great event…
Check out the full photo gallery of QCTU on UltiPhotos.
---
For those who believe in momentum, Georgetown flipped with Harvard captains just minutes after an 11-10 double-game point victory and were riding high spirits. ↩