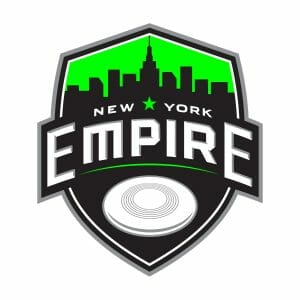 The AUDL's New York Empire are finalizing 2014 contracts with four young North Carolina stars, including Ring of Fire standouts Noah Saul, Justin Allen, and Matt Bode.
The three players will be joined by Cash Crop player Jesse Lieberman as they all relocate to New York this spring to play with the Empire, who become the latest team in the AUDL's Eastern Division to make a splashy player signing.
"A NexGen-like AUDL squad is going to play with the Empire this year," said Bode, who has already signed his contract.
The Empire will be housing and employing the four players. Bode will travel to New York in April to start to find secure housing and the three others will follow. They will work both for the Empire and co-owner Cullen Shaw's recreational sports league organization, UltiRec, to make a living in the city.
According to Bode, the talks arose out of conversations at Fool's Fest last year between him and Empire coach Tom Gibbons.
"[Gibbons] kind of joked around about trying to get the caliber of players like myself and Noah Saul [on the Empire]," he said. The talks became more serious two months ago when Gibbons emailed Bode, and Bode began to put together a contingent of players to join the team.
The players know each other well. Bode played with Allen on the U23 Men's Division team that won Gold in Toronto last summer. He is also best friends with Saul; they both attended Pennsbury HIgh School and have played together on Raleigh club team Ring of Fire. Saul was a captain and standout player last season on Ring, but, like all of the captains, has stepped down as the team transitions to a new leadership format.
Lieberman is less known outside of North Carolina, but was one of the last cuts for Ring this past season and team insiders say he is likely to make the roster this year.
Although not all four players have signed their contracts (both Bode and Allen confirmed that they have, but said the others have yet to finish things up), the negotiations have been completed and it is just in the final stages of getting names on the dotted line.
"Everyone's agreed; we're just in the sign, scan, and send it part," said Bode.
Currently, the players plan to return to North Carolina to try out with Ring later this year, but Allen and Bode said that, given a good job opportunity, they might consider staying in New York.
"We are all really excited for the opportunity," said Allen. "Playing for a team like the Empire is going to be cool."
The signings lock up some top level talent for the Empire, who are looking unlikely to sign many New York PoNY players. Last season, only Izzy Bryant and Jack Marsh (PoNY's captain and best player) played for the Empire; sources say he is not likely to re-sign this season.
"We wanted stars who would fit in the system," said a high level team source. "This is a hugely targeted personnel decision on our side. We wanted to improve our defense."
He added that they will likely play on both sides of the disc, but that they really are focusing on dialing in their defense to be the best in the league.
"The thing about North Carolina guys is that they really want to win, and they're tough as hell," said the source.
Bode feels strongly that, given the Empire's tough defensive mindset last year and how close they came to making it into the AUDL Championship game, they will be a big threat in the league. Last year, the Toronto Rush defeated the Empire in the Eastern Division Finals in Chicago 25-18.
"I don't see us not being in the Championship," he said. "I've never lost to the Toronto guys."
The Empire have also reached out to Colorado's Jimmy Mickle (Johnny Bravo) to join the team as a part of a U23 contingent. Now that Bravo has landed a Worlds bid for this summer, the discussions have been placed on pause. Bode said he thinks it's unlikely Mickle will join the team, given that he will be focusing on preparing for Lecco, Italy.
New York will continue signing players after their combine later this month.