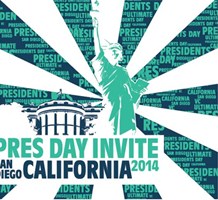 The East coast kicked off the spring season in a big way with Queen City Tune Up, and now the West coast will draw back the curtain and start the show at the President's Day Invitational in La Jolla, CA. #1 Oregon and #2 Washington sit atop the field, but #5 UC-Santa Barbara, #10 North Carolina, and five other top 25 teams are meeting in California to open their spring seasons.
History Says To Bet on Fugue…
Pres Day may take place just outside of San Diego, CA, but it might as well be in Eugene, since Oregon Fugue owns it. Oregon has won the Invite every year since 2010; the last time they didn't make the final was 2008, when they didn't attend. It doesn't look likely the reigning women's champs will go down this year either.
Then again, it didn't look like Fugue could be beaten last season, but British Columbia pulled perhaps the season's most shocking victory, handing Oregon the only loss they'd take all year, 12-10, at President's Day. Oregon would have their revenge in the tournament final.
Washington Element and UC-Santa Barbara Burning Skirts are two of the other favorites, and like Oregon, have a history of success in La Jolla. Element has gotten to the semis in three of the past four years but never beyond, while UCSB has gotten to the final three times in the past five years, including winning it all in 2009.
But What About Today's Oregon?
As the top ranked team in the country and at the tournament, handicapping an Oregon victory is an easy decision. They have perhaps the nation's best handler in Sophie Darch, one of the top cutters in Bethany Kaylor, and a number of premier playmakers like Ashley Young. They add to that a talented crop of rookies that will begin making themselves known at Pres Day.
All of it is tied together by their confidence and their "Clown Tent" philosophy.
"We collectively create a structure that thrives on this year's strengths, rookies included. Roles are definitely still being discovered," said veteran Jesse Shofner. The roles are far from set, and may never be. "Versatility is an incredible strength and staple of Fugue, versatility itself is a role," she added.
Like many in the country, the players have been dealing with the cold and inclement weather. The snow has forced them inside, but the team has been hitting the weights and the film room hard.
"Physical preparation has been at an all time high this season," said Shofner. "This team really loves to work."
There's a side effect of all the time inside and away from the field. The team has been focusing heavily on their trademark man to man defense and fast break tactics.
"The lack of field time for a number of days made us so hungry to play, and that will certainly be retained through the weekend," said Shofner. A famished Oregon defense that's been in the gym more than ever is a fearsome prospect.
Washington Element 2.0 Debuts
Washington's lackluster season in 2013 — well, lackluster compared to their 2012 national title — may have been signaled by a 5-3 weekend at Pres Day, where they barely escaped quarters. This season, however, expectations are for a title. A mixture of elite returners and energetic rookies give Washington the weapons to blow away the opposition.
Amanda Kostic, Lucy Williams, Shira Stern, Sarah Edwards, and Alysia Letourneau lead the way for Washington, missing only Barb Hoover (abroad) from their star roster. But Element will be looking to their new additions to push them over the top.
"Half the roster is brand new to Element this year," said the team leadership, "Our rookies [step] on the field with very high focus."
New faces aren't the only difference for the tournament's second seed: refined systems are in place and the team is much further along than they were at this point last season. Coach Kyle Weisbrod enters his second spring with Washington and the effect is noticeable.
"Last year's Pres day was Kyle's first tournament with the team and so everyone was feeling everything out," said the team leadership. "This year we started the season at a much higher level.  You should expect to see greater depth as well as well as deeper strategy both at Pres Day and throughout the season."
Their pool won't make their first tournament easy, featuring matchups with up and coming #17 Whitman and a UC-San Diego team that's started very strong this year.
"What's been noticeable this year is that we have a higher 'gamer' mentality. What we've seen is higher level of buy-in to the team and strategy, higher levels of athleticism, and fewer injuries," said the team. Those are ingredients for winning.
#10 North Carolina Pleaides and #18 Michigan Flywheel Taking on Back to Back Tournaments
Both UNC and Michigan will be traveling more miles than almost anyone in the field, and on top of that, are coming off tournament weekends. Each made the quarterfinal of the Queen City Tune Up, and, while both had successful weekends, there is no doubt it takes a toll.
"It can be hard to play two tournaments back to back," said North Carolina captain Shellie Cohen, but added, "the quick turnaround allows us to stay hype and focused rather than have to attempt to refocus our energy months down the road."
Cohen also stated the team focused on minor tweaks and tried to avoid adding too much stress to their bodies in the intervening week. She also explained that the test of mental toughness this early in the year would serve Pleaides well in the long term.
"We all made a commitment to the team and we are dedicated to being highly competitive and improving, so we understand that this sort of stress is what we signed up for," said Michigan's Jacqueline Jarik.
Both teams are aiming to build on the momentum of two tournaments in close temporal proximity.
"We learned how to lose, how to win definitively, and how to win in tight game situations," said Jarik, "We are excited to take everything we've learned and use it to get better."
"[Queen City Tune Up] definitely helped boost our confidence," said Cohen. She explained that UNC is looking to use the new competition from across the country to identify new strengths and weaknesses to build on moving forward.
At QCTU, we saw teams that already had some competitive experience under their belt rose above the rest of the field. UNC and Michigan may have the same advantage in California and both have the talent to make deep runs into the bracket.
#5 UC-Santa Barbara Can Announce Title Contention With Big Weekend
For UCSB, one of the program's with the richest history in the women's game, championship contention was once the expectation. The past few seasons haven't been as kind, but a strong returning group, led by the division's premier takeover star Lisa Pitcaithley, has the Skirts looking scary.
Last time Santa Barbara took the field was for their home invite, where they went 6-0, including a big win the final over rival #15 Stanford. Kelly Gross and Noelle Neason both give Pitcaithley ample support; the experience of last year's nationals appearance has pushed the roster's depth higher.
However, we won't know what the Burning Skirts are really about until we see them take on more top competition. Their results against the President's Day field – particularly Sunday – will be telling.
The #Bidwatch Battles
The rest of the field may be hoping for a deep tournament run and focused on improving against strong competition, but make no mistake that many of these results will be felt come the end of the year. #17 Whitman, #19 Victoria, #21 UCLA, and #22 Texas are each looking to make their mark.
Much has been made of the strength of the Northwest Region, and their potential to take five bids. Key to that initiative are the successes of the Whitman Lady Sweets and University of Victoria Vixens. Victoria was knocked last year for riding some early season success against thin rosters to a NW strength bid. Whitman eventually yanked that bid away at Regionals. Both teams are loaded with returners and Whitman adds some very impressive youth talent.
"Coming into this year, no one has questioned that we're heading to DI Nationals; everyone, even the rookies, just know that," said Whitman captain Julia Bladin. "Yes, it sounds cocky, but it's what motivates us. Everyone has been putting a question mark by our name since last year."
Victoria enters as the 3rd overall seed, a big sign of respect. They'll have to contend with Michigan, who showed last week they can break seed, along with Sonoma State, Florida, and Harvard. Some of the teams member have used their time off from school to get down early.
"We're well rested, relaxed, and ready to rock," said the Vixen's leadership.
Meanwhile, Whitman is the 2nd seed in Pool B, meaning Washington, Arizona State, UC-San Diego, and UC-Santa Cruz await them.
"People are ready to start off the season stronger than the Lady Sweets have ever been," said Bladin.
Speaking of UC-San Diego, they are off to a hot start to the season at Stanford Open and Santa Barbara Invite, but lack any marquee wins. They gave #16 Western Washington a good game in a 13-9 loss in the Stanford Open final, but they'll need to prove they can hang and aren't just paper tigers.
Their Southwest brethren, UCLA BLU, is also looking to ride strong opening results. They went 6-1 at Santa Barbara, including thumping UCSD. Some big wins from BLU could open up the Southwest to more than just UCSB vs. Stanford.
Texas Melee saw their reason turn in a good showing at Queen City Tune Up when Colorado and Kansas made their presence felt on Sunday. A veteran Texas team could match that and open the possibility for the South Central to wind up with three bids. Their sights may be focused far more on winning the region again.
"On Melee, we have a philosophy of individual player development and strategic development throughout the Fall and early Spring seasons," said captain Kayla Ramirez,  "We place a lot of emphasis on getting all of our players exposure on the field so that we can develop the depth of our roster."