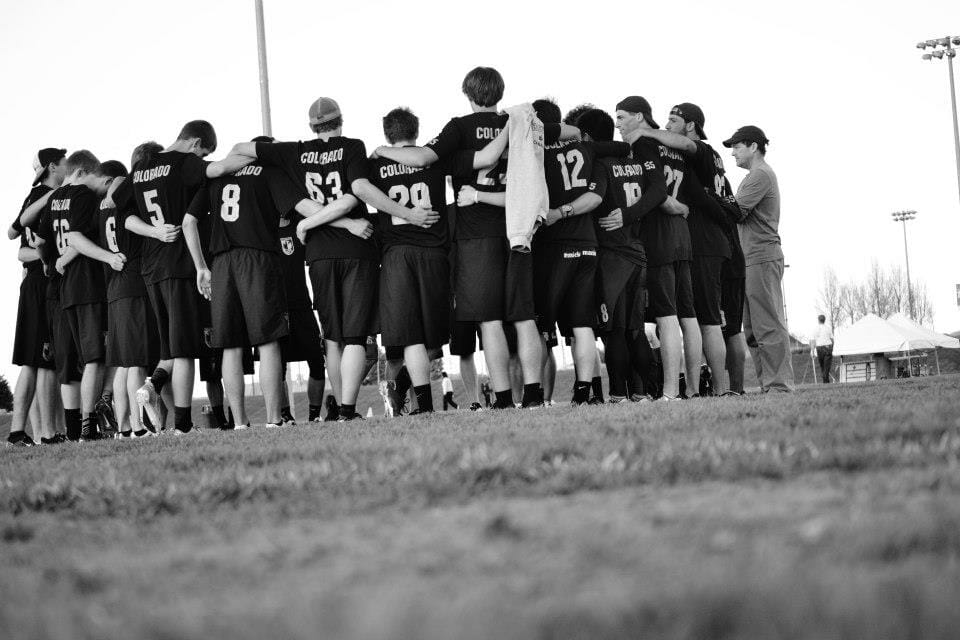 If there's an image that best symbolizes Colorado and their undefeated 9-0 run at the President's Day Invite in San Diego this weekend, it just might be the Mamabird players smiling and throwing around a football during the halftime of their convincing 15-11 win over Oregon in the finals. It reveals a number of things about the dominant South Central team and their identity this year.
First and perhaps most importantly, it shows that Colorado likes to have fun. As has often been demonstrated to be the case with a great number of ultimate teams, including the most successful of them, the ones that have a lot of fun — not just competing but simply being around each other — tend to do better than those that find themselves yelling at each other after every turnover. After all, why devote heaps of time and energy to practice and track workouts and traveling to tournaments if you're not enjoying yourself?
It also illustrates that Mamabird is comprised of a number of pure athletes — that is, the kind of people who need to play sports and compete — and not just a group of distance runners who learned how to throw a disc. This was clear throughout the weekend, with Colorado smashing through the competition in impressive form. Few other teams, regardless of roster size, looked as excited to play their ninth game in three days as Colorado did.
Despite receiving the pull and falling into a 3-0 hole to start the game, perhaps due to the long wait after their 15-5 trouncing of University of British Columbia in the semifinals, Mamabird quickly found their groove and began dictating from that point on. Oregon's initial three breaks would be their only three of the game, as the Colorado offensive line would turn it over just twice more, both on the same point, after their first score.
Colorado O line starter and 2013 South Central All-Region Freshman Jeremy Harker attributed this to his team's positive mindset and renewed confidence. "Our mood dropped pretty quick after the first break," Harker said. "But our 'play football' attitude and chatter on the line helped pick us back up, and after that there was no question."
Earning four breaks back by the end of the half, Mamabird capitalized on Ego miscues with efficient offense and pretty hucks, taking a 6-2 run into the break.
Much of the credit for this goes to the nearly unstoppable offensive line. Featuring three Johnny Bravo staples in Jimmy Mickle, Tim Morrissy and Hidde Snieder, the mostly tall, athletic, and experienced crop of seven ran their vertical stack with striking efficiency. The almost complete lack of no picks and low occurrence of clogging in general created a good amount of isolation cutting, which naturally benefits a team stacked with athleticism and experience.
Mamabird's clean offense did not start that way, however, as early throwaways on their first few possessions led to Oregon opening up the game with three consecutive breaks. At that point, it looked possible that the favored top seed would drop to the speedy disc skills and quick movement of Oregon.
Colorado pulled it together after their initial slump and converted every offensive point from there on, including a second half with no turns from its O line. As both teams on the whole looked pretty efficient with only the occasional slip-up, the match transitioned into what Oregon captain and 2013 Callahan winner Dylan Freechild dubbed a "game of who can turn it over less."
Both defenses looked like forces capable of challenging certain looks, but in the end only able to stop the opponents' first few looks and making them score through patience or big plays. Freechild expressed a satisfaction at his team's ability to do just that all weekend. "We took away a lot of team's first and second options and they would have to beat us with their third," he said. "And late in the season that's not going to be a viable option."
Unfortunately for Oregon, a team like Colorado's third and fourth options still hold up pretty well against most college defenses.
It comes as little surprise, then, that there were few legitimate Ds by either team. Most of the game's turnovers came on throwaways and other execution problems, with only the occasional poor decision or layout D.
Yet, there remained certain impressive defensive feats accomplished by both teams. Oregon managed to contain Mickle to under cuts and handling, thereby preventing one of the sport's biggest deep targets from dominating in the air. But forcing one of the sport's best huckers to do just that created its own problems, as each of Mickle's handful of deep looks looked like homing missiles, often hitting their targets in stride no matter how deep they were or how early he put them.
Oregon's Gabe Fruchter, who consistently got open deep on teams all weekend, often coming down with big skies when the puts where floaty, was pushed under all game. This effectively neutralized Ego's biggest deep threat, especially with Freechild commonly staying back to handle and playing a majority of Oregon's D lines. Both Harker and Oregon captain Brian Penner noted that due to Ego's minimal deep game it was more difficult for them to get easy under looks.
Having to work that much harder to get open, particularly with Oregon's roster depleted to 14 by the end of the weekend, began to take its toll over the course of the game. Colorado, with its bevy of fresh legs and the security in its O line's ability to convert, simply looked like the team that was able to run harder in the second half. This advantage was enhanced by the fact that Oregon was without Penner, defensive stalwarts Ian Campbell and Mario Bundy, and a couple of other key players that could have helped them contend with Colorado's deep roster.
Nevertheless, Freechild said that Oregon lost not because of tired legs or missing players but more because of poor decision-making when they became tired. "I feel like we got what we wanted until we took a bad shot," Freechild said. "There was an inkling of thought of being satisfied with second place."
This might very well be true, as Oregon's turnovers came largely on poor choices: unnecessary hammers, blades, and sloppy dump throws. These miscues led to Colorado conversions and additional breaks at 11-8 and 13-9, extending their lead and effectively putting the game out of reach.
Although Oregon was often able to score despite jamming it up the sideline rather than spreading the field on a number of points, they were never able to earn another break after their first three, and Colorado began to slowly pull away.
While Oregon never looked completely out of it or incapable of reducing the gap, Colorado never gave them much of a chance and finally managed to take home the Pres Day title after their early exits in the past few years, including falling to Arizona in semis last year and losing to Washington in quarters in 2012.
Harker said that Mamabird came into the tournament with the mindset that they wanted to win. Rarely did that mindset look like anything other than the confidence of a team that knows they can accomplish just that.
Both Colorado and Oregon will be traveling to Stanford Invite and Centex to close out their regular seasons, wherein they will have their last chances to test their systems against a wealth of elite teams before the Series begins.