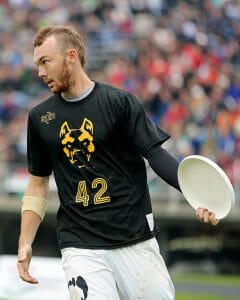 Central Florida captains Mike Ogren, John Best, Jeremy Langdon and Alex Bullock were concerned to the point of being speechless. They had just been knocked out of the prequarters by UC San Diego at the Stanford Invite. This wasn't supposed to happen. UCF was the reigning National runner-ups.
What could you say to a team at this time? To the Dogs of War captains, the answer to that question was simple: nothing. Or, at least, that's all they thought they could say until sophomore Seth Calhoun piped up.
"It was younger guys that were willing to step up and tell the team things that I've never heard a freshman or a sophomore say," UCF coach Andrew Roca said. "[Calhoun] told our team, 'We're too focused on each other and the biggest thing that I can recommend is that you worry about yourself and you care about the team.'"
These staggering words hit the team hard.
"There was definitely a sense of entitlement from my top end tier of the team," Roca said. "The way that you handle entitlement is that you have to get knocked on your ass a couple of times to know that it's going to take more than 'being better' than the other team."
And at least from a talent perspective, 'being better' hasn't been enough; the team has had plenty to worry about this season. UCF began its season with pool play loss to LSU at T-Town Throwdown, a tournament it won last year by a total score of 97-46. Though UCF would recover to win the tournament again, eyebrows were raised.
The Dogs of War next appeared at Florida Warm-Up where, after an up and down tournament, they were ousted by an upstart Northwestern team in the play-in game to semifinals.
This brought them to the Stanford Invite. Up to this point, losses could be brushed off. All great teams lose games early in the season. It is a part of developing the depth that they need later in the season. However, with Florida State and Florida having great starts to the season, and with losses already under their belts to other Southeast teams LSU and Georgia Tech, UCF needed to do itself some favors in the realm of earning bids to Nationals. Stanford, possibly the most competitive tournament of the season, was the place to do it.
"To be completely frank, you look at our season and you look at the bids, you have to play to win," Roca said. "You have to do the best that you possibly can at tournaments to bring three bids to the region."
It was possibly that pressure that led to such a silent huddle in the wake of the UCSD prequarters loss that came on the wings of a loss to UC Davis in pool play. Though Calhoun's words would have their impact on UCF's season, it wasn't until Roca and company suffered two more losses in California, to Las Positas and Tufts, and headed home that the team would have an opportunity to explore what "worrying about yourself and caring about the team" really meant.
"The vibe at practice has been extremely different because there is a little bit more team camaraderie," said Roca. "At Stanford we kind of hit the factory reset button on how we run this team. That's from my end to the captains."
Roca used the expression that UCF was working in practice to "love the game again." That effort has manifested itself in a number of ways. From Roca's perspective, that means that UCF has had to change from its "strictly business" attitude of last year, to several weeks of scrimmage focused practice and team focused workouts. While, in the past, members of the team were expected to get their workouts in with small groups whenever they could, this year's team is setting aside time to workout together with a focus on team building skills within that workout time.
Additionally, in a non-negative sense, Roca and the team have asked the captains to take a step back from their captaining roles.
"It's not like they're not captains anymore," Roca said. "We're just focusing on leveling the playing field more. I think the weight of last year is still on their shoulders and that's not a good weight to put on players that should be driving certain lines. So we really evened out this team so that they can walk onto the field and not worry about 'Oh that's a captain, I have to listen to him,' or 'Oh, that's a rookie, I can tell him what to do.'"
That means that when you see UCF warming up at practice or even before games, you won't see a captain telling the team what to do. Rather you'll see a team of peers warming up.
"They know what to do," Roca said. "They don't need someone to tell them how to warm up. That's where we were overstepping our bounds."
Roca's hope is that this all translates to success this weekend at Easterns. To Central Florida, that means playing its best Ultimate this weekend. UCF's recent history at Easterns is an impressive one. The team burst on to the scene two years ago with a Finals appearance and followed that up with another runner-up performance. Roca wants to see his team continue that pattern this year and that will be a two-fold performance.
"Historically we've peaked at Easterns," Roca said. "We have a great last two years but haven't been able to close out a championship. I would say right now that the focus is primarily on defense and really nailing down what we consider to be our 'three sets' of defense. Then, of course, having our offense just be the cleanest offense at Easterns."
It would be a lie to say that there isn't some sense of urgency to this UCF team at this point. It has a lot on its mind and a target on its back. However, if the question is: should UCF be worried? The answer seems to be an emphatic yes.
But not in the sense that we outsiders define the Dogs of War worries and concerns. Rather, after a shift of focus in the middle of the season and some wise words from an unexpected location, Central Florida's players are worried — worried about themselves individually and caring about their team.
Follow Central Florida at Easterns with Ultiworld's live video coverage and reporting all this weekend.