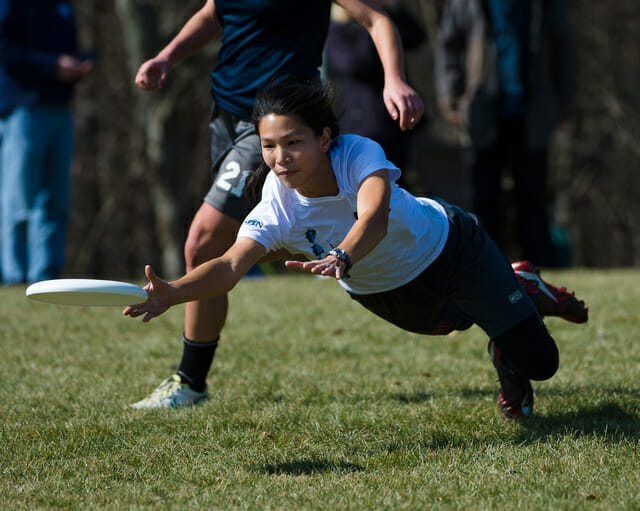 CHICAGO — Austin was full of surprises last weekend, with the mighty falling and Division III teams rising. Centex held true to form with gusty winds on Sunday and a lot of mid-range movement, and regional rivals got a good look at each other before the start of the Series next month. Centex was not the stage upon which the North Central and Atlantic Coast hopefuls were able to secure bids, but this tournament proved once more that a lot can happen when you throw 40 teams together, and stir.
A rough weekend for the #7 UCSB Burning Skirts…
Upsets are no longer quite so surprising as parity increases between women's teams across the county, and smaller programs are able to occasionally grab one-off wins against established legacies. But that story doesn't fit the UCSB Burning Skirts' weekend.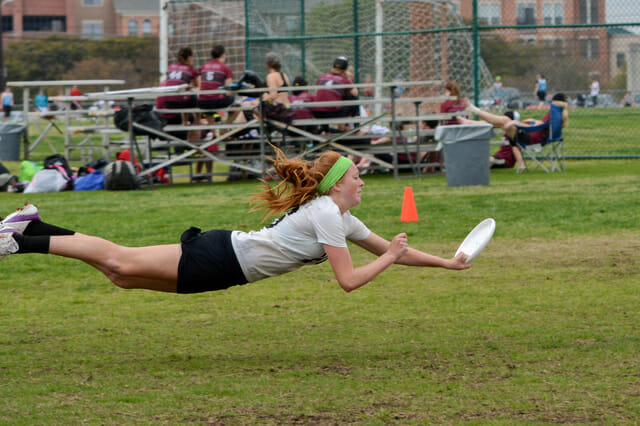 One point against Flywheel epitomized the Burning Skirts' performance: one of their players caught the disc at the endzone line, but she was unsure and unsteady with the disc. She threw a shaky, low pass to Pitcaithley who executed a huge bid to catch the disc and then threw an inside break for the score. She made several huge plays easily, which at first glance makes UCSB look great. But Pitcaithley laid out because of her teammate's poor throw; the crucial context surrounding her excellent play speaks more about the Burning Skirts as a team than Lisa's talented play (and she is talented), and it grants insight into why their weekend unfolded like it did. UCSB lost to Flywheel 6-13, and then they literally walked through their game with the UCSD Psychos, letting the score reach 13-13 before they stepped it up to win 15-13.
Sunday morning they met Texas Melee in a windy, cold quarters game. Melee stacked the first few lines in order to gain early breaks, and it worked. They went up over the sleepy Burning Skirts 4-0 before UCSB could put points on the scoreboard, and Melee took half 7-2. Upwind some of the Burning Skirts' throws twisted into blades, and more than once Kelly Gross's throws downwind sailed over her receivers. Melee closed out the game 13-8.
There's an indescribable indifference that the Burning Skirts exuded, even in games that they won handily. Their top players are tall, fast, and skilled, but even they admitted that they didn't show up to play at Centex; there may have been external factors coloring their weekend. They didn't need a bid, and their losses really only meant bigger gains for other teams who needed them, but hopefully the Skirts can regroup for their post-season.
"They look like the University of Florida of old; Sunny Harris is the new Kurt Gibson."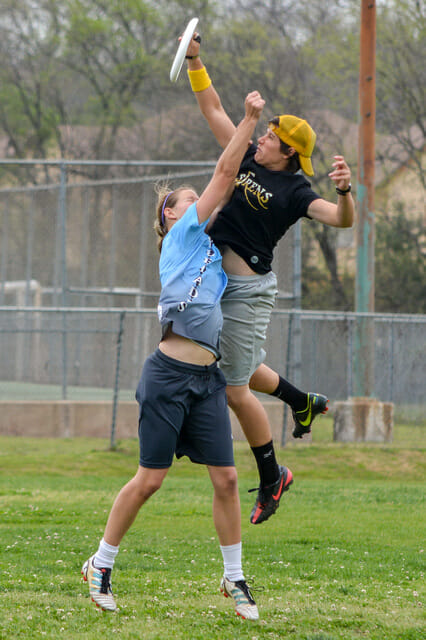 The Central Florida Sirens (#2) were a freight train throughout the weekend. Neither wind nor any other team were able to change their game (except Northeastern, for about 10 points). On Sunday, teams struggled to find the upwind endzone while the Sirens held class on how to do so. Sunny Harris was a force to witness, but it's a testament to the rest of the Sirens that her talent wasn't glaring; instead, she was a cog in the dangerous machine of Central Florida's offense.
Central Florida coach Joe Tilley said that this weekend they worked on "development of players outside of Sunny. There were some people with confidence issues, and they really stepped up." Indeed, since Stanford Invite, Mariel Hammond, Erin Goding, and Alexa Wood have expertly handled the disc when opposing teams target Sunny. The Sirens are actively working, even this late in the season, to develop their bench so that their team never has to rely on one player, even when that player is as high-profile as Sunny Harris has become.
The depth Central Florida has cultivated has accompanied advancing of team intelligence and strategy. They have to be considered a contender for at least the semifinals at the College Championships, having proven themselves in elite environments multiple times this season.
No Asterisks Needed For The Northeastern Valkyries #6
"I think everybody felt like they had a little something to prove," said Northeastern coach Jason Adams, referencing the Valkyries' game against University of Virginia Hydra. But he could have been talking about their weekend as a whole. Throughout last year and this season they have had asterisks attached to many of their victories: the opposing team was tired, it was windy, etc. A win, somehow, doesn't fully count for Northeastern.
So they came to Centex to remove any annotations from their record: they excelled at rallying in games where they were down, and their physical defense consistently generated the turns they needed. Kate Flood had an aggressive yet intuitive mark, and downfield she made plays in the air no matter who had possession. Northeastern loves their forehand punts, with big and sometimes foolhardy looks from Lizzie Jones and Hannah Walter that nevertheless resulted in points scored.
Northeastern rallied to win time and again: they pulled out of a 2-6 deficit against the UCSD Psychos. They battled for the one break that would seal their quarterfinals victory against Virginia. Facing Flywheel in the semis, the Valkyries struggled throughout the game to match the upwind breaks that Michigan was churning out. And then at 7-9, they found their momentum: they earned a break, 8-9. They sealed their break to tie it up at 9-9, and huge plays from Kate Flood, Jenni Ladutko, and Mei Brust carried them through the game to win 11-9 on a 4-0 run.
You can add an asterisk if you want: it was windy, the kind of day where games are won on the flip. But Northeastern has shown again and again that they deserve credit, and if you're still suspicious, you need only look to their zone against Central Florida in the finals.
Unparalleled Skill From Michigan Flywheel #11
I knew that Michigan was doubling down for the 2014 season, and it was evident in their precise take-downs of their opponents at Midwest Throwdown and on Saturday at Centex. But I didn't get it until I watched their dance in the annual Centex dance-off, a fun and spirited event in which teams perform goofy, exuberant choreography to the latest top songs. Michigan Flywheel performed a perfectly choreographed step dance replete with backflips and timed cheerleading throws that require a special level of synchronization, chemistry, and extensive practice. Michigan is not messing around.
In my brief recap of Midwest Throwdown I criticized Flywheel for some judgment errors and some slippery catches, but Flywheel's execution on Saturday was near-flawless. When I spoke to one their coaches, Kristin Essary, she confirmed that over the past few weeks Flywheel has worked on valuing possession and playing boring offense. It shows.
Meeri Chang draws a lot of attention in Callahan discussions and in the media, and she was yet again an impressive handling force. But when you watch Flywheel, you realize that the beauty in Chang's play is that she's not a star player: instead she is the load-bearing wall of the team that enables Michigan's entire offense to work. Through her fluid handling, players like Jacqueline "JJ" Jarik, Becky "Tots" Moore, and Hannah Henkin were better able to do their jobs on-field. Jarik was ever-present to bring down 50/50 discs and make aggressive cuts, and her handlers trusted her to find spaces they could huck to.
The Atlantic Coast
Shellie Cohen proved herself a worthy Callahan nominee for North Carolina Pleiades #16 this weekend, looking dangerous wherever she was on the field. Their game against Michigan Flywheel was one of the more beautiful games of the weekend with both teams patiently guiding the disc upwind and down. The level of focus felt thick, like you could see the teams dissecting each other's zones. North Carolina displayed a level of depth and consistency that they'll need at a hotly contested Atlantic Coast Regionals, and combined with Virginia's steady play they could grab the Atlantic Coast a second spot to the 'ship.
The saying goes that the score doesn't always reflect the game. For Hydra, the weekend doesn't reflect the team. University of Virginia Hydra #18 had a strong weekend of tenacious, veteran play, but they leave Centex with three out of their four wins against their regional neighbors. They held with Texas in pool play until Texas eked out a 14-12 win, and they traded hard-won points with Northeastern on Sunday until the Valkyries took their break.
All weekend Virginia played close, competitive games, led by smooth handling from Alika Johnston who assisted nearly every other goal for Hydra. Hydra knocked at the door all weekend, but they weren't able to close. All in all they proved that they can swing in the big leagues, but they didn't play the games they needed to guarantee a strength bid by themselves, especially with the formidable NW Challenge looming this weekend.
#10 Texas Melee Strong In The South Central
Texas is a favorite for the South Central region: their upset of the lethargic Burning Skirts boosts their rankings and their confidence, and they proved that they have the ability to suffocate their opponent's play when the time comes. Brady Stoll takes control of points like a puppet master, moving the disc where she wants and directing her cutters to the perfect spaces. Her counterpart Kayla Ramirez has strong break throws and unexpected defensive plays that Melee can feed off of for easy scores from the explosive Naomi Trang. So far this season Texas has only lost to Oregon, Ohio State, Central Florida, and UCLA, most of whom are favorites to go deep in the bracket at Nationals.
Kansas Betty (#21) played like the team they are: an up-and-coming talent with too few big games under their belt. Their handler core still executed their style of clean, crisp play, but they didn't seem able to lock into the necessary higher gear to take down better teams. This isn't their year to win the South Central region, but their development is promising: expect to see Kansas again.
North Central Falters
Despite close games and moments of glory, the North Central teams at Centex last weekend did not pull out the wins the region badly needed. Iowa State Woman Scorned went winless, and Iowa had two wins against Florida and Kansas, two teams outside the Top 20. Wisconsin found more success, finishing 9th overall, but 3 out of their 5 wins were in-region matchups.
Following their pattern from Midwest Throwdown, Iowa State hit the snooze button in their first game against Central Florida: they scored only two points as the Sirens efficiently racked up scores. They warmed up throughout the day with a nail-biter against UCSB in pre-quarters, but even with Cami Nelson playing again they couldn't find consistent play.
The University of Iowa Saucy Nancy that has shown up so far this season doesn't look like the Saucy Nancy that battled in the semifinals last year against Oregon. With both Chelsea Twohig and Jen Nowak gone, Liza Minor is left with missing pieces that Saucy Nancy hasn't been able to fit together. Liza Minor looked authoritative and strong on the field, but they needed more weapons in order to reach the red zone effectively. Their momentum picked up on Sunday, but Saucy Nancy is clearly rebuilding this year.