The Northwest Challenge brings together 12 of the top women's programs in the country for a weekend of high profile clashes. Watch games LIVE on Ultiworld and check out the tournament preview.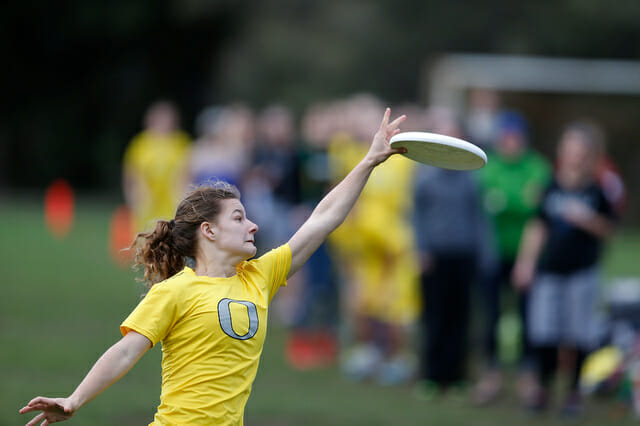 Northwest Challenge is not your average tournament.
From the competition to the format to the stakes, few events can be compared to what has been assembled for this weekend in Washington. And that's exactly how the tournament wants it.
A handpicked elite field with custom built schedules makes for a complex and competitive environment that will be closer to Nationals than the typical tourney. 12 women's teams — all highly ranked and with strong chances to make the trip to Cincinnati — will butt heads, but that's not all, folks.
There's a Friday night showcase game installment of what is probably college women's best rivalry: Oregon Fugue and tournament hosts Washington Element. There's a forum on the future of women's Ultimate. There's a developmental division complete with RiseUp coaching events. A bevy of sponsors and a weekend worth of Ultiworld live streams.
The NW Challenge is going to put the best of college women's Ultimate on display for all to see.
Words on the Format
As noted above, the format is far from typical. The 12 team field is composed half of Northwest Region members and half of out of region competition; the tournament is also roughly striated by the elite-most teams and teams fighting for bids, with a couple of teams in the middle. Each team plays a seven game schedule, built to give them maximum exposure to good competition, chances to earn bids, and out of region opponents. Each Northwest team plays four out of region opponents and each out of region team plays four teams from the host region.
Teams with comfortable strength bid positions and aspirations for deep nationals runs — Oregon (UW #1, USAU #1), Ohio State (UW #3, USAU #3), Western Washington (UW #4, USAU #4), Stanford (UW #5, USAU #5), and Washington (UW #9, USAU #7) — will each get games against one another. Meanwhile, #Bidwatch squads like Tufts (UW #8, USAU #18) and Whitman (UW #17, USAU #20) will get chances to abscond with valuable rankings points against one another.
The schedule unfolds over three days. Some teams will be playing a nationals-esque pace of a couple predetermined games a day. Coaching staffs will be using this team to prepare their rosters for the change in rhythm.
What the tournament lacks in traditional tournament structure — which constrains teams' schedules but places inherent value on certain games — it makes up for in stakes. Strength bids, regionals seeding, nationals seeding, mental advantages, and pride are all on the line. Expect teams to come out swinging.
Homefield Advantage: Is Washington Element Ready for the Big Time?
The impression that Washington is scuffling this year, despite a 13-4 record and a top 10 standing, shows just how high expectations are in Seattle. Their record has some impressive wins — a 15-6 demolition of Michigan, 12-6 over UCLA, and 15-8 over Victoria — to match their talent-laden roster. Even the red in their ledger includes two losses by a total of three points to top competition, Stanford and UBC.
The pockmark, however, is their performance against rival Oregon. There are plenty of explanations – or excuses – for the 30-8 aggregate against Fugue, but they come accompanied by a bitter taste. With a crowd of friends, family, and fellow players on hand for the showcase, plus an at-home livestream audience, everyone will be looking to see if Washington can put up a fight.
That isn't the only reason there are doubts about Element. They have made tight contests out of games that, on paper, should be blowouts. The myriad reasons for those games notwithstanding, a strong showing from Washington could send them back into the top five and have them considered a title contender again.
Things that could help that happen: Barb Hoover, goal scorer extraordinaire, returns to action after time out of the country. Handlers Lucy Williams and Amanda Kostic have been nursing injuries, and should also be in much better shape than they were at Stanford Invite.
Strong Showings = Strength Bids
The complex algorithm that powers USAU's rankings and bid allocation can be boiled down to this simple equation for some of the Challenge attendees.
For Tufts Ewo, who has logged just 12 reported results this spring, the weekend represents a crucial change to win the New England a bid. With the rise of Northeastern (UW #6, USAU #11), having additional bids will be a huge boon to Ewo; Harvard (UW #23, USAU #14) gives them a little cushion to work with. That all means games against Whitman and Carleton will be especially important.
The Boston women aren't focused on that. They're mostly just relieved to be outside.
"Other than QCTU, Terminus, and some non-freezing days in Boston, which are few and far between, the Ewo haven't be able to play outside," said captain Emily Shields. "We're looking to build on our experiences at QCTU and see what we can do against other talented teams from across the country."
Likewise, Whitman, Carleton, and Colorado will be looking to score vital wins. A number of teams are hanging around the cutoff and late changes and results could make big differences.
Pole Position in Cincinnati Up For Grabs
The top three teams in both the power rankings and the USAU rankings are Oregon, Central Florida, and Ohio State. Right now, Fugue sits in the driver's seat for another top seed at nationals, having only lost one game all season, and even that by a single point to a top 10 team. But everything could change if Ohio State is able to upset the reigning champions.
Ohio State only has two losses on their record, and they are both early season games against Central Florida. Central Florida, for their part, took a double game point loss at Stanford Invite to Oregon. Odds are that these are the top three seeds at the College Championships. What order they are in depends on how the games this weekend shake out.
Of course, with Stanford and Western Washington lurking, plus a strong field, nothing is certain.
Stanford Invite Breakouts Looking for Encores
Palo Alto was the stage on which Western Washington and Stanford made their case for elite contention. Can they turn in successful performances on an even bigger stage?
Western Washington's Stanford performance has been covered in depth, but there are no doubt skeptics still out there. Many teams have turned in big tournaments but not been able to consistently perform at that level. Chaos can silence what haters remain by running with the big dogs again. Their schedule gives them ample opportunity, pitting them against Stanford, Ohio State, and Oregon.
Stanford Superfly has a stronger tournament resume, but face their own challenges. Injuries from the Stanford Invite have taken a toll on their cutting rotation. Without Jennie Lummis and Hilary Vance, Superfly's ability to compete in the deep lanes could be compromised. Maya White will be asked to deliver a big weekend downfield on both sides of the disc. If Stanford goes more conservative, they'll be sliding the burden to stud sophomore handler Monisha White, freshmen Caitlin Go and Amanda Somvilay, and hybrid Callahan nominee Steph Lim.
The Talent Portion of the Pageant
While every team will be focused on winning games, the subtext of the Callahan campaigns will be ever present. Among the contenders are Oregon's Sophie Darch, Ohio State's Cassie Swafford, Western Washington's Callie Mah, Washington's Shira Stern, and Stanford's Steph Lim.
While highlight reels may rule the day, performances in front of the cameras against elite competition — expect to see some contenders line up against one another — are a great way to state a case. This is especially important for lesser known names like Mah and Lim.
In another way, however, this is an important part of the growth of women's Ultimate. There are stars to show off and the stage is set for them to strut their stuff and dazzle the crowd.
The Weather
A Seattle weekend with this many strong teams is bound to hold surprises, but there's one thing that isn't a surprise: a forecast calling for rain. Some light winds and rains could change the color of the tournament and force teams to adapt.
The Evil Empire Invites You Over For Dinner
And you're what's on the menu! But really, they're aiming to eat you.
In the new bid landscape, it would have been possible for the Northwest region to continue to field some of the strongest teams, stay on the west coast, and rack up bids. Maybe last year's North Central put a scare into them or they were nervous about being surprised by the rising east coast squads, but they've opted to invite a select few to the popular kids' lunch table.
Bringing an elite — or even the most elite — tournament to the region gives inherent benefits. The field is stacked with nationals hopefuls and the Northwest has every opportunity to lock up a greedy sixth bid. They save on travel and get access to elite competition; the same reasons many teams put on tournaments.
It may further empower the west coast, who now can compile a tournament slate of Santa Barbara Invite, Stanford Invite, and Northwest Challenge and score a top eight seed at nationals, without ever leaving the coast.
Live streaming video FREE the whole weekend! Watch the Northwest Challenge on the dedicated tournament page.