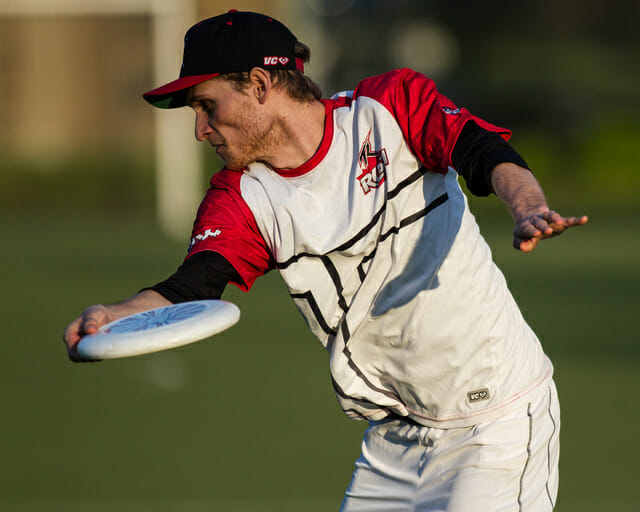 Given their complete dominance last year, culminating in an undefeated season and a Championship, one might be tempted to view the AUDL's Eastern Conference as the Toronto Rush and everybody else. This can be forgiven, as they'll be returning most of their core and adding some key pieces — making a repetition of this dominance a distinct possibility. But considering the massive structural changes experienced by nearly every other team — and the inclusion of a brand new expansion team in the Montréal Royal — another perfect Rush season may not be as assured as it seems.
New York and Washington D.C. had huge offseasons, the Royal come into the league with a majority of their players having played together for years on Odyssée, and the Phoenix and Dragons will be looking to assert an even stronger presence in 2014.
This is all to say, one should expect to see a much more contentious regular season within the conference this go around.
Here's a look at some of the big changes the teams of the East made since last July.
Toronto Rush
Returning: Mark Lloyd (GOAT), Jeff Lindquist (GOAT), Cameron Harris (GOAT), Thomson McKnight (GOAT)
Adding: Anatoly Vasilyev (GOAT), Jonathan Martin (GOAT), Jaret Meron (U-23), Remi Ojo (U-23)
Lost: Calum MacKenzie (U-23), Willem Maessen
It's not easy to come off a perfect 16-0 regular season and a championship title looking to improve, or even maintain, but the Toronto Rush certainly appear to be in a prime position to do just that. They'll be returning their core group of contributors, starting with AUDL Championship MVP Mark Lloyd, who tallied the fourth most goals (51) and D's (35) in the league. They also bring back Cameron Harris (52 assists, 41 goals), Jeff Lindquist (40 assists, 27 goals, 29 D's), Thomson McKnight (42 assists), and a host of other big names from Canada. The fourteen Rush players who also played on GOAT in 2013 were a huge part of the AUDL team's dominance. Though they'll be losing one in Calum MacKenzie (U-23), another four will be joining them this year in Remi Ojo (U-23), Karl Loiseau, Jonathan Martin, and the always dangerous Anatoly Vasilyev.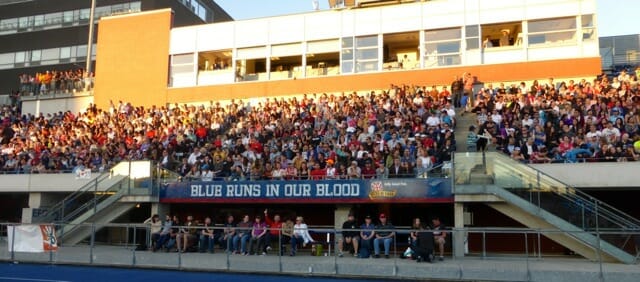 Along with these acquisitions from the club circuit, the Rush will also be adding young talent in Jacky Hau, Jaret Meron, and Andrew Watts. The latter two played with Canada's U-23 team, Meron in 2013 and Watts in 2010, and will join their fellow U-23 members who are already on the Toronto pro team, including Eamonn Pinto, Nima Mostaghimi, Ricky Szeto, and scary good Isaiah Masek-Kelley. These additions should help the Rush improve upon their league leading 502 goals from last season, a statistic made more astounding by the fact that the team with the second most was the Madison Radicals at 382.
Perhaps even more so, however, the new 2014 Rush could potentially ramp up their 322 D's from last year, also a league best and a primary reason for their unparalleled dominance. With twenty returners from a championship team and a crop of rookies with enough experience to essentially make them veterans, one thing is for certain. Unless some other squads in the East step their game up big time, expect to see another undefeated streak from the Rush.
New York Empire1
Returning: Mike Drost (7Express), Isaiah "Izzy" Bryant (PoNY), CJ Oullette (7Express), Joe Santosus (7Express), Seth Canetti (District 5)
Adding: Noah Saul (Ring of Fire), Ryan Drost (7Express), Justin Allen (U-23), Matt Bode (U-23), Lionel Wininger (PoNY)
Lost: Jack Marsh (PoNY), Husayn Carnegie (District 5)
Having clawed their way to the Eastern Conference Championship before being knocked out by the undefeated Rush, the New York Empire return in 2014 hungry to make the leap to the title game. Returning a solid core from last season, including Mike Drost and his league leading 46 D's, D Line handler Isaiah "Izzy" Bryant (38 assists), and O line handler Seth Canetti (32 assists), the team will once again rely on its six 7Express players and various other mixed club stars to help challenge Toronto for Eastern Division supremacy.
They'll be losing essential pieces in Jack Marsh and Husayn Carnegie. Marsh might be the best player in New York, while Carnegie racked up a team-high 43 goals last year. The two losses are substantial.
[youtube tcWoXCJqQ6g 600 337]
But their big moves in the offseason will surely help to fill any holes left by Marsh and Carnegie's departure. Three Ring of Fire players will be joining the Empire this year. Noah Saul, a mainstay on the Raleigh team for years and former Nexgen whiz, will provide additional handling to New York. Two U-23 stars in Justin Allen and Matt Bode will bring young athleticism and huge plays to the East Coast squad.
Additionally, Ryan Drost, who led all mixed players at Nationals last year with 18 goals and 9 D's despite his team's 14th place finish, will also be lacing up for the Empire this year. With these acquisitions, New York will become even younger; last year, the Empire rode its athleticism all the way to a close semifinal exit against the Rush. But to make the final leap, they'll likely need to change the culture of its play — the Empire finished first in the league in throwaways (475) and second in turnovers (575) in 2013. If they can manage such a feat, Toronto might just have a bit of trouble topping their conference for a second straight year.
Philadelphia Phoenix
Returning: Dave Hampson (Heva Havas), Sam Esser (Heva Havas), Will Hoehne
Adding: Tom Allen (U-23), Danny Bjorkman (Ambiguous Grey), Frank Harris (Hammerheads), Schuyler Redding (Spinners)
Lost: Matt Esser, David Brandolph (Spinners), Kevin Chiang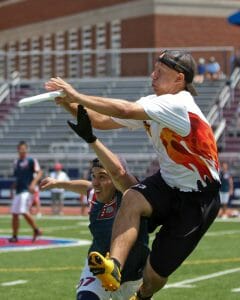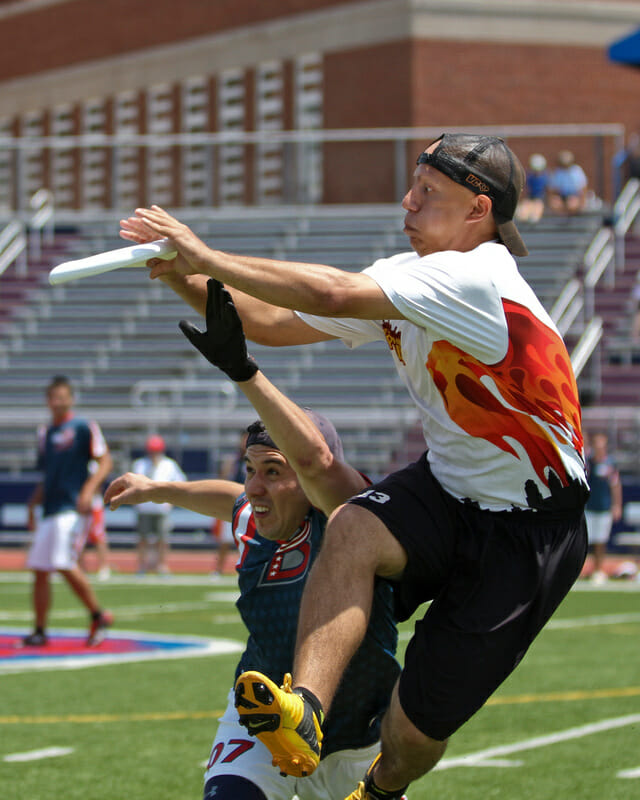 Though they enjoyed a relatively successful 2013, going 9-7 and finishing third in their conference, the Philadelphia Phoenix might well have trouble maintaining that status this season. When you lose three of your team's captains, it tends to take some time to rebuild.
Eastern Conference MVP David Brandolph and Matt Esser will be playing with the Spinners this season, and Kevin Chiang appears to be taking a year off from pro ultimate. Brandolph threw for 70 assists, second only to Chris Powers' 74, and Esser was the only player in the AUDL to notch at least 35 goals, assists, and blocks, the last of which put him at third most in the league with 37.
Though Philadelphia will be returning solid contributors in Dave Hampson, Sam Esser and Will Hoehne, they're going to need strong play from their newcomers if they expect to stack up in the East.
Much of this support will come from the 12 Heva Havas players on the roster, including U-23 baller Tom Allen. Some are familiar faces, but a majority of them are new to the AUDL. That does not mean, however, that the Phoenix's new players are inexperienced.
Frank Harris and Dustin Sullivan come over from the collapsed New Jersey Hammerheads team, the former serving as their defensive captain, and Schuyler Redding will make the switch from the MLU after playing with the Spinners last year. Danny Bjorkman and Stephen Ng have played with Ambiguous Grey and AMP respectively, whereas Jimmy Zuraw will join them after his college season with Darkside concludes. The Phoenix will need these recent acquisitions to step up and improve their dismal completion percentage, second to last in the league, and lackluster defense from last year if they want to make the postseason.
Washington D.C. Breeze
Returning: Daniel Selwyn (Medicine Men), Jon Pressimone, Liam Shramko (Medicine Men)
Adding: Brett Matzuka (Ring of Fire), Tyler DeGirolamo (Doublewide), Alex Thorne (Doublewide), Chris Kocher (Nexgen)
Lost: Joe DiPaula (Medicine Men), Kevin Connolly (Medicine Men)
Their 4-12 record and fifth place conference finish last year may not look good, but if the revamped roster shows that the Washington D.C. Breeze may be an entirely different beast to be reckoned with in 2014. It's almost impossible to know what to expect from this squad in 2014.
The Breeze only re-signed eight players this year, but that might be a good thing following a disappointing season. Five members of club team Medicine Men that played with the Breeze in 2013 will return, including Liam Shramko and Daniel Selwyn, the only player in the AUDL with at least 50 assists and 25 D's last year. Selwyn also ranked fourth in assists at 64 and first in points played (514) and completions thrown (847). Jon Pressimone, who led the squad with 40 goals, will also be suiting up for a second year.
What will most help Washington D.C. assert a winning culture in 2014, however, will be their wealth of elite acquisitions.
Ring of Fire handler and Team USA member Brett Matzuka, along with his club teammate Josh Norris, will bring their numerous years of experience playing at the highest levels to the Breeze this year. Complementing these additions will be an immensely talented crop of young players in Chris Kocher, Alex Thorne, and Tyler DeGirolamo. All three played Nexgen, Kocher in both 2013 and 2012, and Thorne and DeGirolamo in 2012.
Thorne and DeGirolamo also played together on Doublewide last year and were integral parts of Pitt's back-to-back college championships. A number of other common names to the D.C. area will also be joining the Breeze, including Jonathan Neeley (DC Current), Ben Feng (Truck Stop), Mark Lin (Truck Stop), and Jarnail Bajwa (Ambiguous Grey).
[youtube fcgNH4jUqvs 600 337]
And yet the biggest acquisition of all may be the man charged with the task of managing this great influx of talent: new head coach Alex Ghesquiere, who helped lead Revolver to multiple national titles and coached Scandal to their finals upset over Fury at last year's Club Championships.
Despite the Breeze's less than stellar play in 2013, wherein they finished second in drops (126) and third in turnovers (491), with such veteran leadership and perhaps the best offseason roster overhaul in the East, the Washington D.C. team will be favored against most of their divisional rivals this year, and may challenge the Rush for the division title.
Rochester Dragons
Returning: Timothy "TJ" Burns, Joe Thompson (Buds), Kevin Quinlan
Adding: David Ferraro (PoNY), Gabe Hage (Empire), Will Sloane, Matt Chun (Buds)
Lost: David "Snowflake" Wheeler, CJ Collicchio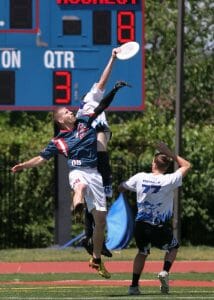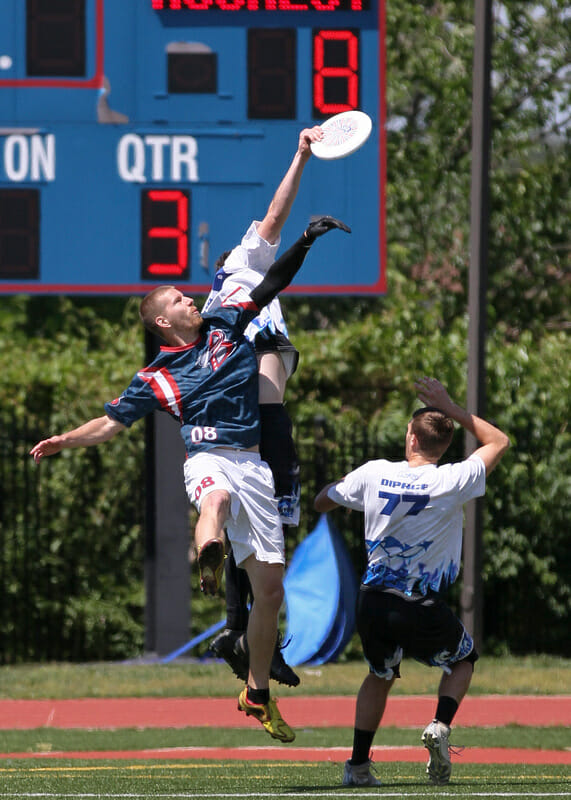 Though one of the youngest teams in the league last year, the Rochester Dragons nevertheless surprised a few teams with their athleticism and finished fourth in conference in 2013 with a respectable 6-10 record.
While the squads of the East have revamped their rosters across the board and such a task will be significantly more difficult this year, the upstate New York team did some retooling of their own and there's good reason to think that the Dragons will once again prove a thorn in the sides of opponents who make the mistake of underestimating them.
Re-signing last year's goal leader in Timothy "TJ" Burns (48) and assists leader in Kevin Quinlan (33) will go a long way toward that cause. The retention of Joe Thompson, KJ Ziak, David Abbott, and the rest of Rochester's twelve returners will also help maintain a good deal of their momentum from last season. Although they'll be losing key contributors in David "Snowflake" Wheeler (21 assists, 26 goals) and CJ Collicchio (21 D's), the Dragons new acquisitions should more than make up for such losses.
PoNY's D line standout David Ferraro and Gabe Hage, who handled for the Empire last season, will bring leadership and experience to the young squad. The addition of Will Sloane, captain of the Albany Destructors, and young talent in Matt Chun, Brian Kibler, and Matt Rybak should also provide further athleticism and energy to a team already stacked with youth hungry to prove themselves.
Though they may not have a long list of famous standouts from club like some of the other Eastern Conference teams, the Dragons' dedication and continually developing chemistry — the team started tryouts in October with mini-camps designed to further hone fundamentals and get players more time on the field together against top competition — makes them an ever-present threat to steal a win against any opponent. The main question will be whether this potential will be repeatedly actualized in a conference loaded with experience and talent, where sometimes being simply good just isn't enough.
Montréal Royal
Returning: N/A
Adding: Jean-Lévy Champagne (Odyssée), Christian Mathieu (Odyssée), Kevin Groulx (U-23)
Lost: N/A
Replacing the now-defunct New Jersey Hammerheads in the East and looking to assert a powerful identity early will be the 2014 Eastern Division expansion team, the Montréal Royal. Not too much is yet known about the new squad, but the information that is known points to a great potential. The Royal were formed by a group of eight co-owners, all of which are from Montréal and most of whom played with the competitive mixed team Odyssée last year.
Despite taking home the U.S. Open title in July and tying for seventh at Nationals in October, losing only to eventual finalists Drag'n Thrust and Polar Bears in the latter tournament, the former Pro Flight team will not be returning for the upcoming club season. Most of the men on their roster, however, made the jump to pro ultimate and will be playing for the Royal in 2014.
A total of ten Odyssée players from last year will be donning Royal jerseys this spring, including former captains Jean-Lévy Champagne and Christian Mathieu. Top cutters Jean-Philippe Riopel, Gustavo Castano, and Yoland Cabot will also be joining them. The chemistry this group of players has developed over the past few years playing at the elite mixed level will surely enable them to establish a strong presence in the East from the get-go.
Additionally, three U-23 Canada stars in Kevin Groulx, Tim Tsang, and François-Xavier Hotte will be providing inspired play and high energy alongside their veteran teammates. Just how all of these pieces will come together may yet to be seen, but expect the competition in the East to be that much tougher this season as Montréal looks to make a name for themselves.
Outlook
To say the division is Toronto's to lose is perhaps an understatement. It's not just a question of whether anyone in the East will beat them this season (no one did last year), but it's also fair to wonder if any team has the potential to even give them a tough game.
The Rush didn't feel legitimate pressure last year until the Championship semifinals, when division rival New York was able to hang close until the Rush pulled away late. The good money is thus on New York, the clear second best team in the East last season, and the D.C. Breeze, with their elite off-season acquisitions and stronger on-paper roster, to be the two teams most likely to challenge the Rush.
Last year, teams struggled to routinely win against weaker opponents — especially on the road or in the second game of a back-to-back. The playoff battle in the East could thus be more about consistency than worrying about beating Toronto once. If either New York or D.C. struggles with consistency, then Montreal and Philadelphia will be waiting to pounce. Philadelphia was the surprise team last year, solidly securing the division's 3rd and final playoff seed. But with their biggest stars gone and other teams adding weapons, it will be tough for them to perform so well again this year.
Montreal is a more unknown entity, but will almost certainly look to use their throwing experience to take down Eastern teams who often turned over the disc too easily last year. If teams like New York and D.C. don't show possession improvement, then Montreal will find a way to knock them off; the Royal might make it an interesting three-way race for the final two Eastern playoff spots regardless. Rochester, without an elite club or college scene to draw from, will again likely be forced to build and play the role of spoiler.
That isn't so much a knock on the Dragons as a testament to the substantially increased competitiveness in the division; with the Hammerheads out of the league and the Breeze improved, it will be much tougher for a less experienced team to sneak into any of the three playoff spots.
---
Note: Ultiworld has a professional partnership with the Empire, including live video production of games in the 2013 and 2014 seasons ↩