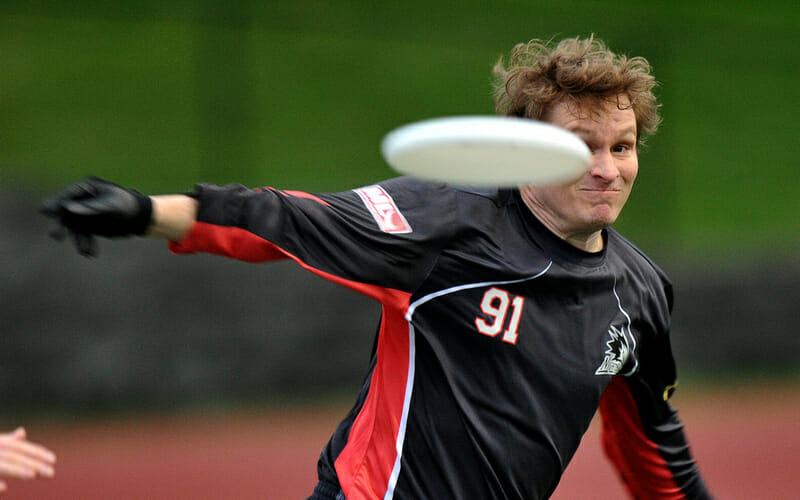 In the inaugural MLU season, there was a great gap in results between the two top teams and the two bottom teams out west. The San Francisco Dogfish and Seattle Rainmakers – which largely drew their rosters from perennial club championship contenders Revolver and Sockeye, respectively – combined to go 16-4, while the Portland Stags and Vancouver Nighthawks were left in the dust at a combined 4-16. Aside from two San Francisco losses — one to Seattle and one to Portland — the story of the west was simply 1) Dogfish, 2) Rainmakers, 3) Everybody Else.
2014 will be nothing like that. While the Nighthawks and Stags return the majority of their 2013 rosters, last season's frontrunners experienced massive roster turnover — for entirely different reasons — that should balance power significantly in the West.
Seattle Rainmakers
The Rainmakers had a successful 2013 campaign, finishing in 2nd place in MLU's Western Conference. However, the roster took a big hit when Seattle Sockeye qualified for the World Ultimate Club Championships by virtue of its 2nd place finish at the USAU Club Championships, and subsequently asked its players to forgo playing with either the Rainmakers or the AUDL's Raptors.
Thus only a small handful of Sockeye players will still be Rainmakers in 2014. Reigning Western Conference MVP Adam "Chicken" Simon returns, bringing consistent hucks out of the handler position. Simon has played for Revolver, Sockeye, and even Team USA at the 2012 WUGC. Adam Holt will be missed, however. Holt was the rock of the Rainmakers 2013 handler set, using scoobers and deceptively fast pivots to shred defenses, without ever losing composure.
Sam Harkness (Sockeye), Matty Zemel (Bravo), Matthew "Skip" Sewell (Sockeye) and Danny Trytiak (Voodoo) return to the defensive line, providing the energetic defense, quick cuts, and sharp throws that have become a trademark of recent Sockeye teams. Handler Mario O'Brien (Sockeye) also returns, and will serve as a player-coach for the 2014 Rainmakers.
In the absence of the rest of the Sockeye players, Rainmakers GM Rusty Brown has reached into the deep Seattle talent pool to form the rest of his squad. Khalif El-Salaam (Voodoo) comes over after playing the inaugural MLU season with the Portland Stags. El-Salaam has played on multiple Youth Worlds teams and already compiled an impressive ultimate resume, despite only recently reaching the legal US drinking age. He combines athleticism, body control, and technique into a player capable of making astonishing plays as a cutter. If anyone can replace the playmaking abilities of B.J. Sefton (Sockeye), it will be him.
[youtube xkXt-KFqx0U 600 337]
Henry Phan (Voodoo) is an all-around great player who will play a large role in his rookie season. Phan has excellent throws and can get up high for the disc when necessary. Carleton product Chris Rupp is a grinder and will handle on the offensive line. On defense, look for Rory Gallagher (The D'Oh Abides) to bring the pressure and wear down his opponents.
Outlook: Even without many of the Sockeye players that filled the roster in 2013, the Rainmakers have plenty of talent. The superlative Seattle youth ultimate scene keeps churning out great players, and the Rainmakers are taking advantage. The Rainmakers won't dominate like they did in 2013, but this talented squad will definitely contend for the Western Conference title. Predicted finish: 5-5, 2nd place in the Western Conference
San Francisco Dogfish
Like the Rainmakers, the San Francisco Dogfish lost a lot of talent from their 2013 roster, but for a completely different reason: AUDL expansion. The addition of two new professional teams to the Bay Area introduced more opportunities for players. While Dogfish 2013 featured mostly Revolver players, several of those have chosen to play in the AUDL with either the San Jose Spiders or the San Francisco Flame Throwers this season. Only nine players remain from the 2013 roster, and of those only three played for Revolver last season.
This has opened the door for more players from other club teams to join the squad. Reaching into the vast Bay Area talent pool to fill out their roster, the Dogfish have signed ten players who played for Boost Mobile. A number of players from the mixed circuit have also signed.
Mac Taylor (Revolver) and Jordan Jeffrey (Revolver) return to the Dogfish as two of the toughest cutters in the world to guard. Big, fast, and physical, Taylor and Jeffrey will open up the cutting lanes for their fellow cutters – if they don't get the disc first. Newcomer Jackson Stearns (Boost) adds yet another big and fast cutter to the Dogfish, although he is less of a throwing threat.
Evan Boucher (Revolver) and Drew Kim (Boost) are veterans whose leadership and experience will be important for a team with so much roster turnover. Both are workhorses and will generally cut. Gary Dixon (Boost) and Tyler Boyd-Meredith will distribute the disc to the team's talented cutters.
Outlook: After a dominant 2013 in which the Dogfish lost to the Boston Whitecaps in the MLU Finals, San Francisco will fall back to earth in 2014. Much of the roster has moved to the AUDL, leaving a collection of athletes from different club teams who will have to put in a lot of practice in order to become one unit. Predicted finish: 4-6, T-3rd place in the Western Conference.
Vancouver Nighthawks
In stark contrast to the Dogfish and Rainmakers, the Vancouver Nighthawks retained almost their entire roster from 2013. In theory, the Nighthawks should have the least trouble figuring out how to play together as a team, as all but two of their players have played for either Furious George or Team Canada (or both) at some point over the past two years.
In what seems like a relevant comparison and possible foreshadowing, Furious was able to beat Rhino twice at last fall's Northwest Regionals, en route to earning the region's second bid to Nationals. With the Rainmakers turning from mostly Sockeye into mostly Voodoo, it would seem that the door is open for the Nighthawks to seriously contend in the Western Conference, unlike last season when they won only three games.
Tayuka Saito headlines the list of MLU rookies who will be playing for the Nighthawks in 2014. A former Buzz Bullet, Saito played for Team Japan in the 2012 WUGC. Previous visits to Vancouver led to a friendship between Saito and Furious. Saito will be an offensive line cutter, bringing a combination of speed, agility, and bits of the Japanese style of ultimate that will be unique in MLU.
Kevin Underhill (Furious) and Kirk Savage (Furious) will be the Nighthawks' primary offensive handlers. Underhill is a University of Victoria alum who made Furious the summer after his freshman year. Despite being one of the younger players on the team, he has the look of a natural handler, making smart decisions and using his quickness effectively.
Savage, who has been playing ultimate almost as long as Underhill has been alive, will move the disc with accuracy. The Canadian ultimate legend led the 2013 Nighthawks in completions, and did so at a 93% rate. However, the duo will certainly miss their 2013 position mate Oscar Pottinger, who made plays from all over the field and threw more assists than every other player in the Western Conference. Pottinger has decided to take some time off in 2014.
Vancouver legend Morgan Hibbert is the captain and inspirational leader of the team. The physically imposing Hibbert always brings intensity both at practice and on the field, embodying Furious George ultimate. He will usually play on the defensive line, covering the opponent's primary cutter, although coach Andrew Lugsdin says they will bring him to the offensive line if it is struggling.
Outlook: Almost every Nighthawk has played for either Furious or Team Canada recently, making Vancouver the team that most resembles a single elite club team. With a diverse mix of experienced leaders and younger players, the Nighthawks will be a force in the MLU's Western Conference. Predicted finish: 7-3, Western Conference Champions.
Portland Stags
The Stags only won one game last season, a close victory over a shorthanded Dogfish amidst a season of disappointment. However, while Seattle and San Francisco lost many of their stars, Portland retains almost its entire team. They go into 2014 with the conference's second-highest player retention rate, welcoming only ten newcomers.
One of these newcomers is Mark Burton (Sockeye) who not only led the Rainmakers in combined goals and assists last season, but also scored more goals (33) than every MLU player not named Peter Prial (Whitecaps). Burton joins Timmy Perston (Rhino) to create the conference's most fearsome cutting duo. Perston was one of the few bright spots on last season's Stags, tying with Beau Kittredge for the third-most goals scored (32).
The cutter rotation will also include dual-threats Cody Bjorklund and 2010 Callahan Award winner Eli Friedman. Bjorklund led the Stags in combined goals and assists last season, while Friedman was third. Both are University of Oregon products who are very comfortable both throwing and receiving for big plays.
Jeremy Norden (Rhino) will distribute the disc to the Stags' talented cutters. Norden is a natural handler, making both breaks and hucks look routine. Breeze Strout and Adrian King (Rhino) will join Norden among the offensive handler ranks.
A few younger players join the Stags in 2014, including defensive standout Topher Davis (Rhino), handler Tyler Cable (Ego), and speedy cutter Camden Allison-Hall (Rhino/NexGen).
The Portland ultimate scene has not lacked exciting players in recent years, but turning that talent into results has sometimes proven to be difficult. Rhino just missed out on Nationals in 2013, losing to Furious in the game-to-go.
Outlook: The Stags have an exciting and athletic team, including what might be the best group of cutters in the conference. As the only pro team in the area, the Portland player pool did not have to be diluted among multiple teams. This helped the Stags return almost their entire roster from 2013, adding only a few young but experienced talents. They won't lose nine games again, but they'll have to be at their best if they want to jump all the way up to 1st place. Predicted finish: 4-6, T-3rd place in the Western Conference.