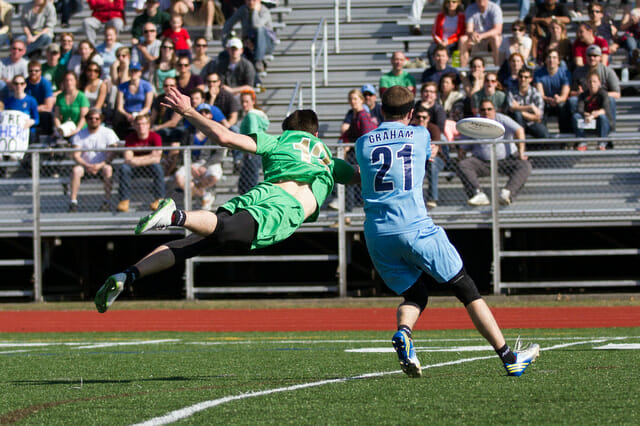 I went to the opening day for the MLU's Boston Whitecaps this past Saturday, with the intention of seeing some friends and family, checking out the new venue, and watching some ultimate. This year, there seems to be more hype than ever around the semi-pro leagues. I was looking forward to seeing how the overall experience compared to last year's games and an AUDL Connecticut Constitution game I attended in 2012.
This is anecdotal, biased analysis from someone who is most likely not the targeted audience for these games. I tried to see the event through non-ultimate eyes. I sat with Boston players and some Dads with boy babies. There is absolutely no data here.
1. Parking
Easy to park, particularly since we were 15 minutes early. If they ever draw a really big crowd, there could be problems. B+
2. Tailgating
The gates opened an hour early and we saw a few groups playing Kan Jam and grilling. Lots of promise, particularly when college players are not at conference tournaments. B+ with potential for A+.
3. Arrival and Ticketing
The woman selling tickets was thrown for a loop when I asked for a receipt for my $15 ticket. (The same thing happened in 2013 at the Framingham stadium.) But that was nothing compared to the unfriendliness of the ticket taker. Other fans told me that they did not feel welcome either. The Red Sox can get away with this; the Whitecaps cannot. First impressions matter. C-
4. Stadium
Beautiful turf field. Stands were fine. Had an industrial feel with a windmill on the horizon, and the entire complex hosts playgrounds and other amenities. Location, location, location. So much better than Framingham. A
5. Signage
There were sponsor signs on the far side of the field. Virtually unreadable. The print is too small and they are too far away. This seems an easy fix.
Suggestions for improvement: Having signs on the busy roads outside of the stadium could bring in non-ultimate fans. Don't make them too nice, because ultimate players will steal them, but thousands of cars go by those corners every day. C with potential for A.
6. Announcer and Loud Speaker
I assume Josh McCarthy was as entertaining as always. But we could not hear one word he said, even when we moved closer for one of the contests. I don't know why they didn't have the in-house PA system working, unless it had something to do with the live streaming. Not acceptable. Announcer: A+. Loud Speaker: F.
7. Bathrooms
Let's say that I would rather use the Sunday port-a-potties at Devens than spend one minute in this stadium's women's room. Absolutely disgusting. An F is not low enough.
8. Uniforms
Great contrast in colors and they looked very professional. Lots of dark suits too. Fans were obsessed with how short the shorts were for the Rumble. (They were rugby short, not soccer short. They were almost Larry Bird short.) Maybe that was because I was sitting with some Brute Squad players. White Caps: A. Rumble A+ to F, depending on how you prefer your thighs.
9. Food
Excellent food from The Dining Car. We hired them for our last conference and their food is outstanding. They left before the game was over, which I guess is routine, but I think they could have sold more if they had stayed around. A-
10. Ice Cream
None. (I was with a four year old and this was a VERY. BIG. DEAL.) 0
11. Contests
The fans live for the these. The Whitecaps Crew does some giveaways after the first 3 quarters and at half time. More contests with more prizes is always good. With a working loudspeaker and an announcer providing commentary, these contests could be even more fun. Having your name announced over a loudspeaker as a kid is thrilling. Heck, having it announced as an adult is cool too. B+
Suggestion for improvement: Maybe Whitecap minis by Innova would be worth an investment. They are cheaper than shirts or Pulsars and fun to throw.
12. Rules and Refs
You know I am not going to criticize the reffing system. I don't like everything about it, but they kept the game moving and their calls were clear most of the time. Again, a working loudspeaker would have been helpful.
Only one interesting dispute occurred. Miles Montgomery-Butler of the Whitecaps fouled the Rumble's Chris Mazur as he was throwing a goal, which resulted in a turnover. Miles knew it was a foul and called it on himself. However, even though MLU players can reverse a ref's call, they cannot make calls. Therefore, the no-call by the ref stood and it remained a turn. Discuss. B+
13. Level of Skill
Beautiful day but very gusty. Certainly some problems for some players, but overall it seemed reasonable for an early season game. Average for the two teams: B
14. Level of Thrill
The game is too long. I have been at these games before when the score was close and it was slightly better, but I still think the 10 minute quarters are too long. Field is still too wide but I think that is just a necessary evil.
Having each quarter end by the clock is also understandable but seemed anticlimactic. I think ultimate players just need to adjust and be more aware of the clock. Someone needs to go downfield when the Hail Mary goes up.
It seems that most fans and players are looking for the play that will make Sportscenter's Top Ten. The one by Quinn Hunziker seems the most worthy. There is nothing wrong with that, but it still feels like a show instead of a competition. B-
15. Gauntlet at Exit
After the game was over, the Whitecaps ran over to the stands and formed a gauntlet as we all were leaving. Lots of high fives and smiles. While Jeff Graham's mouth guard may have frightened a few toddlers, it was a great way to end the day. A
16. Overall Fan Experience
We chose to drive two hours each way to see this game and we agreed, except for the four year old who didn't get ice cream, that it was a ton of fun. Maybe it was because we were able to see Boston friends or because it was a beautiful spring day or because we are just diehard ultimate fans. Everyone there still seemed to be friends or family of the players, or were ultimate players in their own right. B+ with a potential for A.