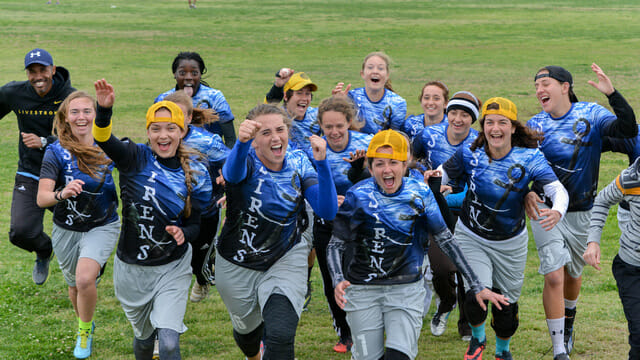 The Southeast had the chance to either make a leap forward to a yearly multi-bid region or to step back into the single bid abyss they've been mired in. Unfortunately for the region, the latter situation is the current reality, with the Southeast making little noise on the national scene, save for one squad.
From out of the receding region, a powerhouse has risen: Central Florida. UCF has stood tall above the rest of the region, but now will have to fight through it to continue their march towards a championship.
After UCF, the crop of teams is competitive, albeit inconsistent. For the most part, teams throughout the lineup in Tuscaloosa have beaten one another. It could be a chaotic fight through Southeast Regionals to see who gets to take their shot at the top dog.
THE FAVORITE
Central Florida Sirens (#1)
The UCF program has grown from practically nothing to a program with a national pedigree. This marks the third consecutive year they've been in the conversation to win the region and are coming off their first trip to Nationals. What they are still seeking is a Southeast title.
By now, you've heard the names. Handler Sunny Harris is the reigning Southeast Player of the Year and Callahan shortlister and Mariel Hammond is a high energy athlete capable of taking over a game downfield. Coach Joe Tilley has built the team's unique playstyle around the skills of his stars, who are liable to touch the disc every other throw for chunks of a game.
What you've missed is how much the team has matured and grown. While still aggressive, athletic, and relying on brute force to batter opponents, they've developed depth and more versatility. Man defense was pretty much a four letter word for them in past seasons, but now it's another weapon. The Sirens have more capable players all along the roster.
Erin Goding has become a huge piece of their offense, often filling in for Hammond or Harris. Alexa Wood's solidified her role as a stud-stopper, adding more intelligent defense to her speed. Stephanie Williams and Kalah St. Pierre bring additional throwing prowess, while Rachel Acuña, Amy Price, and Jodi Dearing rocket around in the deep lanes racking up goals.
The prognosis for the Sirens is good. Their health doesn't seem to be in question, they've beaten everyone in the region, and, even with some sloppy play at Florida Conferences, stabilized their play. It would take a confluence of events to take them down.
THE CHALLENGERS
Florida State Seminole Ladies (#2)
In most ways, Florida State has established themselves as the clear number two team in the region. But the Seminole Ladies aren't the business of "clear", as their muddled season performance indicates.
"When we're on, we're on, and we're tough to stop," said captain Kristin Lloyd.
On the one hand, FSU's record features the best out of region wins this side of Central Florida: Kansas, North Carolina, Maryland, UC-San Diego, and Wisconsin are all victims. On the other hand, they have in-region losses to Auburn and Florida (13-6), plus out of region losses to Pittsburgh and Penn State.
"The biggest thing with those games was us getting out of our system," explained Lloyd. "We came out flat versus Auburn…our loss to UF at sectionals was a similar situation."
If they can navigate their potential pitfalls, they look like the best bet to beat the Sirens. They're the only team in the Southeast to come within seven points of beating the #1 seed*. The Tallahassee girls have the side and speed to challenge the Sirens' stars.
"[You have to] stop Sunny and Mariel," said Lloyd. "It's not an easy task; there is a reason why they are ranked #3 in the nation, but it is definitely doable."
Megan Reeves marshals the offense for FSU, with her armory full of throws. She has the cutters and athletes to work with, like Kari Tomarelli and Lari Ferreira. Skylar Taggart, Lauren Brunner, and Alleigh Grover give them additional firepower on both sides of the disc. They certainly miss the talents of Lloyd, who is down with a ligament tear, but believe they have the necessary firepower.
"We're very confident in our chances to do the unexpected, but we will have to have a near perfect weekend," added Lloyd. "We've been tweaking a few things since sectionals, but really, as long as we play our game and control the tempo, we will do well."
*Exception: An anomalous Florida-B at Florida Conference Championships
THE FIELD
Florida FUEL (#3)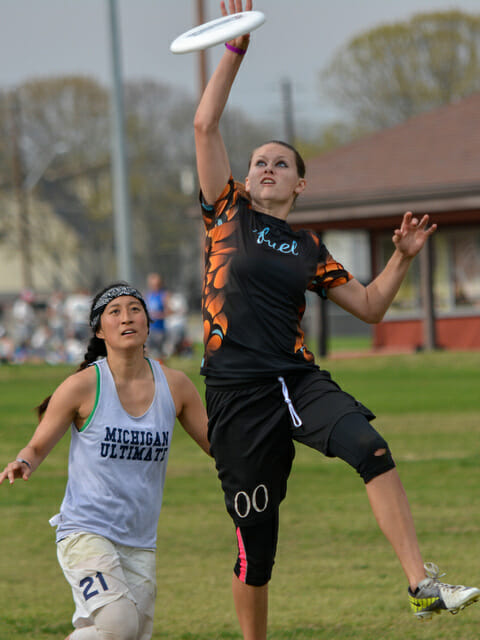 The schedule this year for FUEL was challenging: Florida Winter Classic, Queen City Tune-Up, President's Day, Centex. That slate of tournaments rivals Central Florida's, and Florida's results have improved of the course of the season. FUEL is known for peaking in the Series and these signs point to that pattern continuing.
In fact, FUEL's most important win of the season may have come during their Conference Championships, when they manhandled rival Florida State 13-6 in pool play. But they were unable to repeat that on Sunday in the 2nd place game, losing 12-6.
"The parts are all there," said captain Kyra Catabay, "One of our challenges is just putting them together into a cohesive unit and then being able to execute confidently."
Perhaps more concerning is that they haven't finished anywhere close to beating Central Florida, losing to them by an average of 13-4 in three meetings.
"They've a very good team and move much faster than last year," admitted Catabay. She noted the need to contain their stars, but said that "playing with swag and confidence" was also key.
Make no mistake that FUEL won't be satisfied with anything less than winning the region. Sarah Gardiner is one of the region's biggest offensive threats and Emily Witt is an athletic force. Their handler group, anchored by Catabay and Didi Elsner, is solid.
"I think we are deep and any player can fill any role," said Catabay. "We are packed with smart capable throwers, but we also trust our receivers to throw downfield."
Regionals will be a tough test of their skill and depth, with few easy points to be had, but Florida should be well prepared after this grueling season.
Auburn NOVA (#8)
On the surface, Auburn's breakthrough is quite straightforward: talented team with a couple of big time players they rely on heavily who struggle when their depth and endurance are tested. Regionals is their last chance to prove they are more than the sum of those parts.
The starpower gives them a chance to beat quality opponents. Joanna Vogt is the team's most versatile threat, moving effectively from in front of to behind the disc. Freshman sensation Kristine Fedorenko is able to use her imposing size to massacre marks, while Rachel Sedlacek chooses a more speed-based approached to setting up throwing opportunities. They have athletes downfield who can make plays on both sides of the disc.
Those top end talents are why Auburn is not a team you want to see early. That's when they scored their biggest win of the season against Florida State, at FSU's home tournament, Tally Classic. At Gulf Coast Conferences, they rolled Vanderbilt and beat Alabama in their first two rounds.
The question is what they can do when they're weary. At Freaknik, they dropped late games to Georgia Tech and Clemson. At Conferences, they were upset in the semifinals by Vanderbilt. Regionals will offer more consistently difficult games and tough Sunday battles for NOVA.
Georgia Dawgma (#5)
It is never smart to count out the reigning Southeast Champions, especially when they boast a pair of aces like Hannah Leathers and Lane Siedor. They are a known quantity as dominant forces anywhere on the field.
Dawgma has spent the year trying to put the pieces and system around them to make their move at Regionals. The season has been completely focused on development. Kate Hines, Michelle Yang, Melissa Merrill, and Lily Stockton have taken on more featured roles while they've added some speedsters to get run through Ds and get open deep.
There were some doubts about how Georgia would fare in their own Conference, and while a hamstrung Georgia Tech squad didn't make it easy, Dawgma emerged from the weekend unscathed. It is a good sign for their odds of competing with the company they are used to keep at the top of the regional pecking order.
Alabama (#4)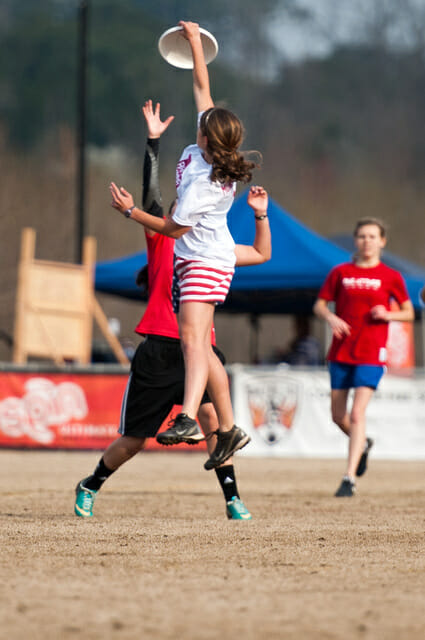 The much maligned Gulf Coast Conference has had trouble landing a team in the thick of a pretty established top end of Florida and Georgia squads. Alabama looks to be the first to break through, following a strong regular season showing and Conference Championship.
What Bama lacks is top end wins – they've come close against Florida and Florida State – even if they've done quite well against the rest of the field. They've already scored wins against every team seeded below them (except Georgia, who they haven't played), albeit with some losses against those teams thrown in.
Caroline Marsh has risen to a recognizable leader, and is a tireless defender and handler for Alabama. The mistake is thinking she's alone. She's flanked by her club teammates with DeSoto, Megan Wojick, an aggressive and physical defender, and Ahsha McQuain, a composed and efficient thrower. Andrea Munoz operates as an offensive spark with the disc, making healthy amount of big deep throws.
Alabama will relying on those names to carry them through a lot of tough competition and show the rest of the Southeast that they aren't playing second fiddle anymore.
Georgia Tech Wreck (#6)
Where other teams rely on stars to give them a chance in every game, Georgia Tech has turned to another strength: scrappiness. Few teams can match Wreck's energy and heart.
Wreck runs a deep rotation – when they have the numbers to do so – and ask for contributions from nearly everyone. They're that team that has a variety of players hustling through discs, getting second effort grabs, and running down layouts your tired players gave up on. That attitude comes from their leaders: Coaches Maddy Frey and Allison Douglas, and captains Lily Ponitz, Maria Linebaugh, and Cate Woodhurst.
That leadership has also built a team with stronger disc skills and more complex defensive strategies than last year's iteration. They have the wins to back it up.
Their future success is tough to predict. They've beaten five teams in the field of ten, but have also lost to all seven teams in the field that they played. If they can use their experience against those teams to make smart adjustments, they could surprise. They might be the biggest wildcards in the field.
The Rest
This distinction is somewhat arbitrary, as Vanderbilt, Emory, and South Florida have all beaten at least one other team that'll be in attendance. Each features one of the region's best players: Jin-Mi Matsunaga of Vanderbilt, Kira Lou of Emory, and Teal Dabney of South Florida. Each has shown flashes, but failed to put together complete performances.
They are just as capable of making a big splash in Tuscaloosa from the lower seeds.
Players to Watch
Sunny Harris (Central Florida)
Mariel Hammond (Central Florida)
Sarah Gardiner (Florida)
Hannah Leathers (Georgia)
Megan Reeves (Florida State)
Caroline Marsh (Alabama)
Joanna Vogt (Auburn)
THE VERDICT
All the odds point to Central Florida rolling through the weekend, with maybe two or three close first halves, but only a game or two ending with a tight margin. From outside the region, this tournament lacks pop, with a heavy favorite seemingly lined up to dominate.
From inside though, the parity creates the potential for myriad possible outcomes. Outside of the top seed, every team in the region has both wins and losses against one another. The opportunity is there for everyone, but someone will rise up and take it.