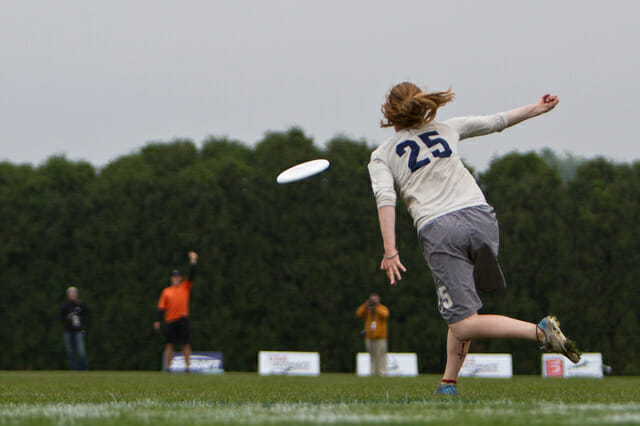 No matter what your opinion is on this year's bid allocations, it's hard to deny that the North Central has had a rockier year. All of their strength bids from last year have been grabbed from the West and the South, leaving the North with a handful of entitled teams and only one ticket to Ohio.
Carleton College Syzygy, University of Wisconsin Bella Donna, Iowa State University Woman Scorned. All three teams went to Nationals last year, and all three will want to return again.
Syzygy has had the strongest season, but they also had the most to prove as Nationals finalists.
Bella Donna started their season hot, but their seams show and their depth falters when they face higher level competition.
Woman Scorned has played their tournaments hot and cold, and their unpredictability makes me hesitant to count them out of the running; you never know which version will show up.
While any combination of these three is my favorite to go, the regional veteran Robyn Wiseman cautions that "The weather is always such a factor in the North Central. With one bid, there is even less room for error. [Bella Donna] will not be looking past any one of the talented teams represented at Regionals."
The rest of the North Central teams should follow their example. This weekend, every team will face cold, rain, and a vicious battle to win the North.
The Contenders
Carleton College Syzygy has had a long season. They warmed up at Queen City Tune Up with a mixed bag of wins and losses, dropping close games against Northeastern and Kansas. At Northwest Challenge they proved their mettle against some of the country's best teams, and they sent a message: Syzygy can still box in the big leagues.
This year they lost Anna Reed's throws and Flannery McArdle's height, but Kirstie Barton and Julia Snyder quickly stepped into their predecessor's big shoes with confidence, patience, and dirty break throws. Syzygy relies on the power and skill of their handlers, and without Snyder's high-release backhand or Barton's deep puts their game would look very different. Downfield this duo is matched by Emily Buckner and Brianna Rick, and together they will work through most of the teams at Regionals.
Syzygy will be playing for themselves this weekend: they will be playing to defend their finals appearance last year, to contest any doubts surrounding their personnel loss, and to justify months of cold, hard work. But they will also be playing for James, for Paxton, and for Michael. Because more than one team lost teammates and friends on February 28th. And more than one team – indeed more than one school – will be honoring their memory at Regionals.
With influential returners and Heist veterans such as Callahan nominee Sara Scott and Amelia Cuarenta; a new coach Robyn Wiseman; and a large influx of new talent, Wisconsin Bella Donna looked promising early this season. They began to put the pieces together at Stanford Invite, and by Centex in late March they found a chemistry that let their stars shine and their new players step up.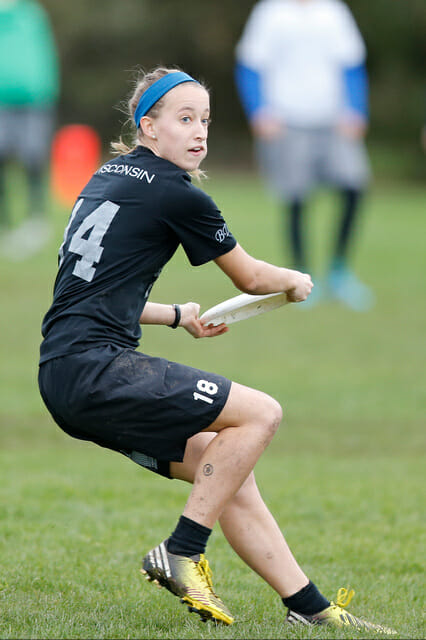 Sara Scott's name litters the stat sheet of any Bella Donna game; her tweeted name literally filled the screen of her Callahan video. Scott has the personal depth and experience to be four different kinds of weapon at once, and every team Bella Donna faces will have to address how to dampen her impact on-field. Sara Scott is not Bella Donna's only asset – Lo Guerrin and Al Ellis should never be underestimated – but Wisconsin is not the same team without Scott.
Robyn Wiseman's goals for the weekend are clear: "I want [Bella Donna] to feel united, in-sync, and on the same page. I want them to trust in themselves, and in each other. When they play with swag, they really are the best version of themselves…" Indeed Bella Donna has an opportunity to fight their way to the top of the pile in the North, where they will likely find Syzygy waiting to defend the crown.
Iowa State University Woman Scorned had two settings this season: groggy and all-out. Their scores reflect their energy shifts: they lose 3-15 against Michigan before beating Colorado State 12-9 at Midwest Throwdown. They lose 2-13 against Central Florida before nearly upsetting UCSB Burning Skirts 11-13 on Sunday. Iowa State can run games with their legs, utilizing quick transitions to score, and besides Kelly Gross and Lisa Pitcaithley, Woman Scorned has the tallest power couple in the country, Callahan nominee Cami Nelson and Sarah Pesch.
They seem to have a penchant for close games. They toy with double game points at nearly every tournament, and these close margins shows both a team that refuses to give up and a team that doesn't care to win efficiently. Their windy loss to Carleton 8-9 at Conferences is countered by their windy 8-11 loss to Saucy Nancy on Sunday: these two games tell conflicting stories. Woman Scorned has the ability to play calculating, clean offense coupled with aggressive D. They have the ability to take down Bella Donna this weekend; but it will be a nail-biter.
Championship Bracket
Last year University of Iowa Saucy Nancy was on top of the world, with a versatile senior squad that could be menacing in a dozen different ways. Chelsea Twohig, Jen Nowak, Liza Minor, Audrey Erickson: these girls were able to secure wins last year against some of the country's top teams, including Ohio State and Tufts. At Nationals they continued to apply the pressure, playing through into the semifinals where they fell to Oregon.
This season, only Liza MInor remains from last year's core, and her talent alone hasn't  been enough to carry the team. Others have stepped up to help, such as potential North Central FOTY Helen Carey and Liz Gronnert, but Saucy Nancy still looks like a team that's a few spokes short of a full offensive wheel.
They began to find their rhythm late at Centex, beating Kansas and Florida on Sunday, and they went undefeated at the Old Capital Open. They will make it into the top 5, but they won't be able to move past Woman Scorned or Bella Donna. Yet they have made it clear that this year is about discovering their chemistry and their game, and with such a small door into Nationals, this may be the year that Saucy Nancy just works to get their groove back.
Lead by the formidable Sarah Anciaux (Minneapolis Pop), the University of Minnesota Ninjas have built a tidy season from few regular season tournaments and a handful of wins. While the Ninjas have struggled against stronger teams like Illinois Menace and Wisconsin Bella Donna, their two wins over Iowa this year are good indicators that the Ninjas may end up in the semifinals. The Ninjas know who sits above them, and Minnesota Coach Christie Dosch says "If we want to make it to Nationals, we will have to beat whoever we face on Sunday."
The Ninjas' victories will come from Anciaux's deep game, freshman Makella Daley's impressive grabs,  Mindi DePaola's (North Central FOTY '12) speed, and Greta Regan's (North Central FOTY '13) able handling. They will be missing Andrea Crumrine behind the disc for Regionals, but regardless of who steps on the field, the Ninjas know that going deep in the bracket will take everyone.
The Nebraska Cuddle Raptors have cleaned up in Division II tournaments this season, losing only to Truman State at Hendrix Ultimate Experience and standing out at the limited Midwest Throwdown Division II. The Cuddle Raptors' roster is filled with Midwestern corn-fed girls: they have a full line of girls 5'9″ or taller, with two of their weapons, Emily Lander and freshman Liz Diffey, clocking in at 5'9″ and 6'0″ respectively.
The Cuddle Raptors are known for their spirit and their spunk, but as Nebraska Coach Emily Langland wrote in the North Central D-I All-Regional discussion, "I'm lucky enough to coach and nominate Emily Lander…she not only is an outstanding athletic play maker, she is the heart of our team…Emily has consistently carried our team over the past few years, and she's our 'go-to' cutter." Lander will make consistent plays for the Cuddle Raptors this weekend, and they are likely to hustle out more points than teams will expect. From their stars to their rookies, the Cuddle Raptors have the height, the throws, and the sheer energy to separate them from many of the developmental teams at Regionals.
North Central Rookies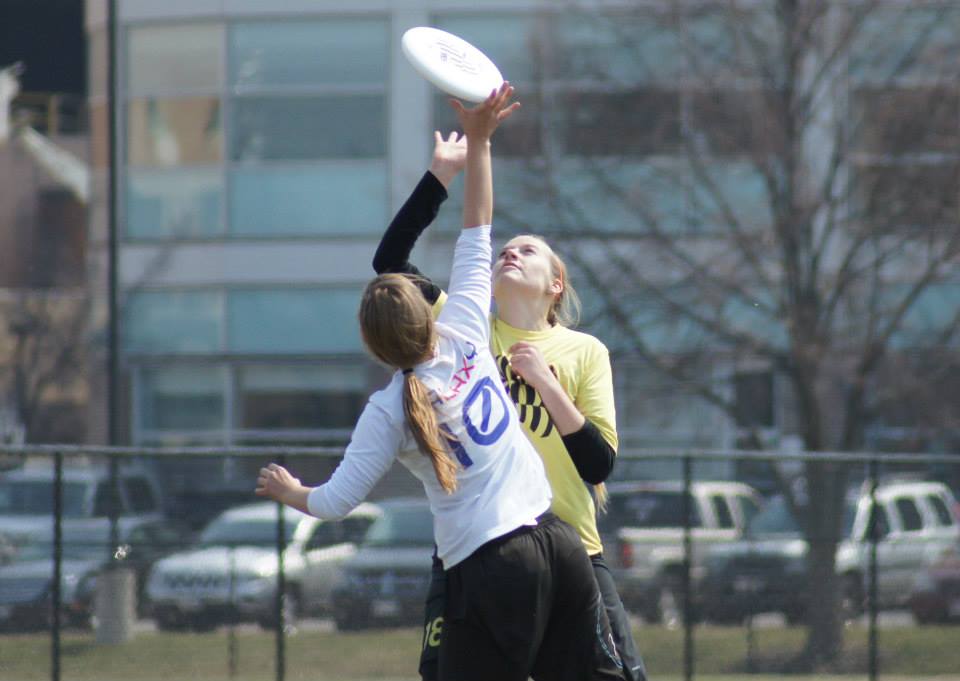 University of Wisconsin La Crosse GaLAXy arrives at Regionals for the first time this weekend. They are a young team with a lot to learn and few wins under their belt, but they have moxie in spades. Captains Emily Peterson and Abby Werner agree that "Of course our team doesn't like losing, but this tournament means a lot more than wins and losses. More than anything our team is excited for another opportunity to play ultimate together."
Freshman McKenna Hage will do work for GaLAXy this weekend, catching whatever her teammates throw at her, while junior Sam Rodenberg generates many of GaLAXy's defensive turns. Of the teams attending Regionals, GaLAXy will look to rematch Northern Michigan Aurora after a 1-13 blowout at Chicago and a much closer 8-13 loss at Conferences. The only team at Regionals that GaLAXy can confidently overcome may be Wisconsin Stevens-Point, but the team's best games will be those they play against stronger teams like Wisconsin Bella Donna and the Minnesota Ninjas. These games are the ones that will help build their program, better their rookies, and ensure that Wisconsin-La Crosse sees another Regionals.
Most teams this season have combated uncooperative weather, but not many teams face snowed-over fields the week before Regionals. Northern Michigan Aurora is not most teams, and they frankly look forward to playing in some sunshine for a change. In only their second year as a team, Aurora has grown quickly throughout the season: they lost most of their games at Midwest Throwdown, but they rallied to break the top 10 at Chicago Invite, and they placed 3rd at Conferences with a 9-player squad. Led by Callahan nominee Cassy Hastings, Katie Canfield, and Samantha DeNeef, Aurora will make the most of their time in the sun.
My Verdict
Because everyone loves proving the predictions wrong, here are mine:
Carleton Syzygy
Iowa State Woman Scorned
Wisconsin Bella Donna
Minnesota Ninjas
Iowa Saucy Nancy
Nebraska Cuddle Raptors
Wisconsin Eau-Claire SOL
Wisconsin-Milwaukee BlackCat
Northern Michigan Aurora
Wisconsin-La Crosse GaLAXy
Minnesota-Duluth LakeEffect
Wisconsin-Stevens Point Shockwave