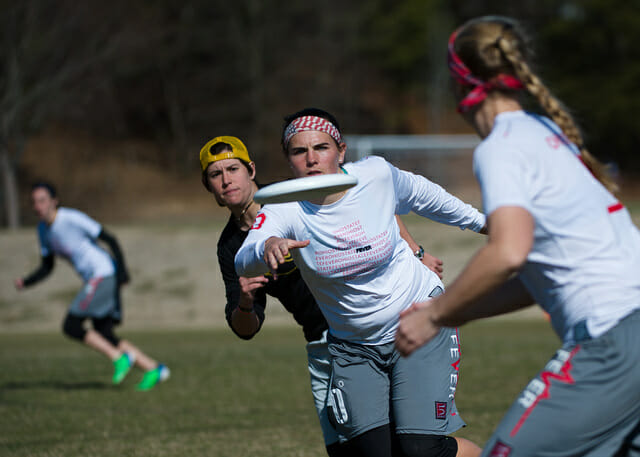 No region in the country has suffered the same lopsided Regionals results that the Ohio Valley has the past few seasons. Ohio State has risen to become one of the elite programs in the country, and this year's team is one of the favorites to win a national title. Mirroring the men's side, where Pittsburgh has reigned supreme, Regionals has often been a battle for the honor of being slain by a National Championship caliber squad.
If you're interested in who will finished second in the region, this year's field is soaked with intrigue. The juicy main course will be seeing how Pool B, featuring West Virginia, Penn, and Pittsburgh, will shake out. Penn State figures to be in the mix in the bracket on Sunday. Let's break down the full menu.
THE FAVORITE
Ohio State Fever (#1)
The number one team in the country doesn't have a team within shouting distance of their pedigree within the region. It could look even worse than last year, when Fever ran roughshod: in their seven games at regionals, they gave up just 13 points. Total. AT REGIONALS.
There's also the fact that they romped the #2 seed, Case Western, at Sectionals 15-2 in pool play and again in the final.
"We have a team culture of not getting complacent no matter who the team we're playing is or what our expectations are. It comes from maintaining that sense of urgency," said captain Caitlin Harley. "It starts right now, the week before, getting pumped to play in a tournament we've been practicing for all season. During the tournament, that excitement comes from our sideline presence constantly pushing us and making sure we don't ever let up."
Fever will make the trip. They'll get some run in, work on tweaking little things, and spread out playing time while nursing any injuries they may have. And in all likelihood, they'll win the Ohio Valley going away, for the fourth straight season, and celebrate the honor of returning to the College Championships.
THE FIELD
To be honest, it is hard to label anyone a challenger to Ohio State at this point. Beating them isn't impossible, but nobody has earned that status.
Pittsburgh Danger (#5)
It's been a tough season for Danger: lots of difficult environments and more losing than they planned for. At Queen City Tune Up, Music City Mash Up, and Centex (the Without Limits special), they compiled a 7-13 record.
Along the way, however, the nabbed some quality wins: 9-5 over Florida State, 12-6 over Georgia, 11-6 over Illinois, and 12-10 over Wisconsin. Every team they've fallen before will be one of the top teams in their respective regions. Pittsburgh has been tested in battle.
But then came Pennsylvania Conference Championships, and a wind-influenced upset at the hands of UPenn.
Danger will have to regroup going into Regionals. They'll turn to Katelyn Loughery and Jess Sheehan to carry the load, buttressed by Marla Jacobs, Carly Brog, and Vaughan Skinner. Every team in the region knows better than to underestimate them just because of their seed and they'll be a favorite to return to the final.
Penn State Isis (#6)
The regular season concluded with Penn State as the second ranked team in the Ohio Valley, with wins over Florida State and Notre Dame. Everything was lining up for them to usurp Pittsburgh as the primary challenger to Fever's dominance.
Their Conference Championships showing, however, didn't fall in that line. Games against West Virginia got away from Isis, plus another to Pitt. Combined with their 2-4 close to the regular season, PSU lacks for momentum heading into Regionals.
They'll turn to the leadership of captain Regina Wilkinson. The senior is one of the strongest players in the OV and a threat to change the course of any given game. Chelsea Allen and Jill Roe will be providing backup for Wilkinson. Isis's depth will need to step up to the plate, tapping into the experience of this season to help them handle the difficulties of the Ohio Valley's best competition.
West Virginia Mountain Mamas (#2)
The Ohio Valley upstarts, West Virginia, will travel to Edinboro, PA, as the second seed in the region. It was only a year ago they were the last seed, but this isn't last year's Mountain Mamas.
In 2013, WVU played a few sanctioned games at a low level tournament prior to the Series. This year's Mountain Mamas took on Bonanza and River City Lights, and came into their Conference Championships better prepared.
Behind strong play from Charlotte Koerner, West Virginia was able put up big Sunday results, winning each of their games decisively on their way to a Conference title. Their sights are set on bigger prizes at Regionals, where they will look to Koerner and fellow captain Kathryn Lauffer to guide them to more upset victories.
Case Western (#4)
Case may be lurking as the 4th seed, and may have the potential to beat West Virginia and Pitt to win their pool. They've got very little sanctioned Ultimate to look back on this year, but hold a pair of wins over Valparaiso as their highlights from the regular season. Even their Conferences Championships were a bit quiet, with a half decent win over Dayton as their trophy victory.
Case's roster does reveal talent that opponents will need to respect. Senior Kristin Bolte and sophomore Sophie Knowles provide anchors for the Fighting Gobies, but Danielle Runzo and Sharon Yee will also be prepared to take advantage of unprepared foes. This is a team to watch if they get hot.
Pennsylvania Venus (#3)
UPenn may have surprised onlookers with their 2nd place finish at Pennsylvania Conferences, but their season showed a capable squad coming into that weekend. They'd already taken an early season win over West Virginia and a close loss to Cornell. The Conference Championships only built on that, where they felled West Virginia again, along with Pittsburgh.
They also lost to West Virginia and Penn State at Penn Conferences. Venus is capable, but of going either way.
Lexa Stambaugh plays a pivotal role for Venus and will be a big part of dictating Penn's performance. Emily Hyman will also be called upon to deliver in Edinboro. This team is pretty familiar with their opponents, and after losing in quarterfinals 11-10 to Penn State last year, you can bet they're eyeing semifinals and beyond.
The Rest
Ohio State-B, Carnegie Mellon, Ohio, and host Edinboro round out the field. These squads are a cut below the rest of the field, but could play roles none the less in the unforgiving pressure cooker of Regionals.
Players to Watch
Charlotte Koerner (West Virginia)
Cassie Swafford (Ohio State)
Paige Soper (Ohio State)
Regina Wilkinson (Penn State)
Katelyn Loughery (Pittsburgh)
Vaughan Skinner (Pittsburgh)
Sophia Knowles (Case Western)
THE VERDICT
The odds of Ohio State losing any games at this tournament are negligible and the chances of them failing to win it are infinitesimal. How the dogfight that crowns their opponent in the final will shake out is much tougher to pick. West Virginia's hot, Penn State had the best regular season, but Pitt has the pedigree. I'll take Pitt to narrowly earn the rematch.