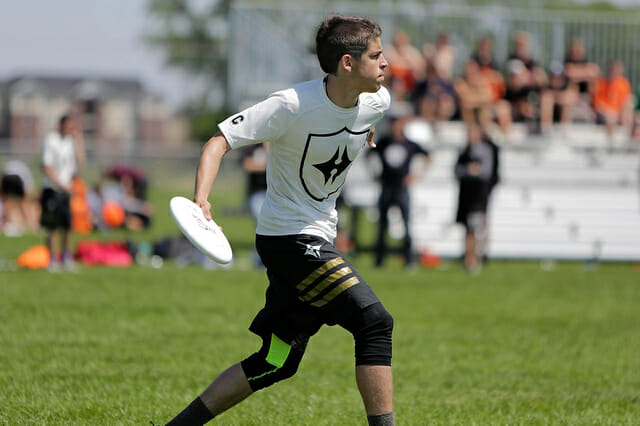 When talking about the historically dominate high school ultimate teams, Hopkins Hurt (27-6) from Minnetonka, Minnesota, is always on the short list. The program is renowned thanks to its passionate leadership and its extensive alumni presence in the sport today. Last weekend, Hopkins added a new page to its book with a stunning 13-4 upset over the previously-undefeated Holy Family Catholic.
During the past two seasons Hopkins and Holy Family Catholic Revolution (35-1), respectively, won the first two High School Central Regional Championships. As ultimate has grown in the surrounding Great Lakes and Midwest area, Hopkins has been increasingly on a level playing field — more schools can give them competition. Last season, Hopkins lost to Neuqua Valley 10-12 in the semifinals, unable to retain their Centrals title.
Hopkins came into the 2014 Central Championship as the second overall seed behind the perennial favorite and undefeated Holy Family Catholic. HFC had won many games against stout competition all over the country, including one 15-5 win over Hopkins at the Chicago Invite.
Despite losing once to the seemingly invulnerable squad from Cincinnati, that did not slow Hopkins down when time came to face off during the Centrals Championship final. With no third place game for the open division and the girl's squad, HERt, done with their games, many players came to watch and root on Hopkins pull out the victory. Those people were not disappointed when Hurt came out firing on all cylinders, taking half 7-1 and eventually the game.
With one month in between Paideia Cup and Centrals, Hopkins had time to evaluate and prepare in order to achieve their goal of winning Centrals. "As any program does we work with these kids all season to peak at Centrals," Coach Erin Mirocha said, describing their journey. "We were lucky to be able to watch the Paideia Cup final between Holy Family Catholic and Carolina Friends, so we were familiar with the major threats from Holy Family going into Centrals."
Outside of having time to become the most improved team in the country, how did Hopkins exactly pull off the upset? "I do not think the factors that contributed to our success are limited to what happened in the final itself," said Mirorcha. "Each of our 19 boys contributed to every win we had over the weekend." Hopkins had impressive wins all weekend long including an 11-9 nail bitter over Neuqua Valley, and a 13-4 win over in-state foe Edina in the semifinals.
With an extensive bench and depth at Hopkins' disposal, rested starters and bench players gaining confidence contributed to the fast 6-0 run at the start of the final. "I know that Holy Family played a tighter rotation all weekend and had to play their stud seven against Neuqua Valley in their semifinal to stave off a last minute run," said Mirocha.
Holy Family won 13-10 against Neuqua, but a second half surge forced them to keep using their starting line consisting of junior world player Dominic Schuster and young AUDL star Nicholas Bissonnette.
Another that contributed in the infamous victory was their force hammer and upwind/downwind strategy. Second Hurt coach Lou Abramowski devised a zone tactic that forced the Revolution into lots of turnovers in the windy conditions. "Zone in wind is one of our strengths; hint Minnesota weather in spring, so Holy Family's zone against us made our boys even more excited." Hurt's offense never gave the Revolution a short field to work with; they always pushed the disc in upwind situations and in downwind possessions always valued possession.
Mirocha described how her boys played "out of their minds", and was truly a spectacle to see with their sideline full of players and parents giving energy to those on the field, as momentum carried Hopkins to their second Central Championship in three years.