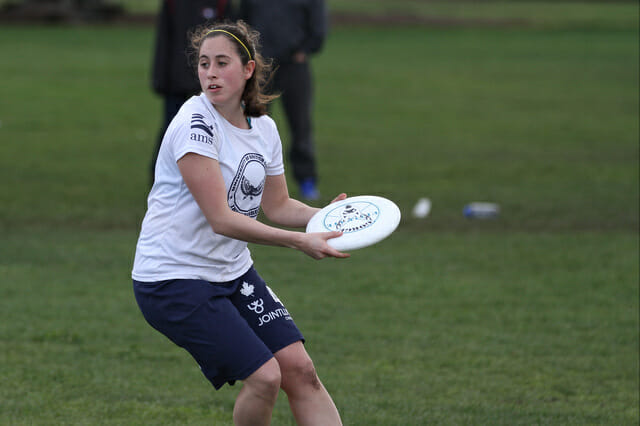 Colorado College started from the bottom of their pool, and broke seed all the way into a prequarter game. UBC came into the same game after fighting to hold their seed during pool play. The lone #evilempire 3-seed faced the previously unknown qualifier from the South Central. But the Cinderella story came to an end, as UBC handled their business with a 15-9 win.
UBC hit an offensive tempo early, and despite brave attempts from Colorado College, they kept a tight grip on the game from the first pull until the last grab. UBC exploited the open lane again and again, and Strata was rarely able to take away their first or second looks downfield.
While the two teams traded points early, British Columbia's points were fast, with flow starting immediately from Terynn Chan and Jessica Chung. Mira Donaldson appeared open in the midfield almost every point, and when she got the disc her fellow cutters knew to cut deep for her buttery flicks.
UBC took an early break 4-2, and another quick break put them up 5-2. UBC played a variety of zone defenses against Strata, including zone on the handlers and close man defense downfield. They switched from zone to man midpoint, and Colorado College got flustered, throwing into questionable spaces and forcing off throws. Lisi sent many big hucks downfield, and when they worked, Strata scored. Virginia Hill continued to be her most reliable receiver, and her sticky hands and smart reads made Strata dangerous deep. But they made more mistakes in their prequarter game than in all of pool play, while UBC executed flawlessly.
British Columbia scored on a flawless point up the open side for half, using Mira Donaldson, Amy Luo, and Terryn Chan to score, 8-4.
Out of half Strata continued to fight, but UBC focused on close handler defense so that Chloё Rowse, Lisi Lohre, and Sarah Freeman had to get creative to make their offensive open up. UBC pulled ahead 10-5, and they held this margin for most of the second half.
For most of the weekend, British Columbia tweaked their offense, finding new angles and new lanes for their fast, young cutters to abuse. In their prequarter game, they perfected their pace, and they found open spaces instead of open players to close out the 15-9 win.