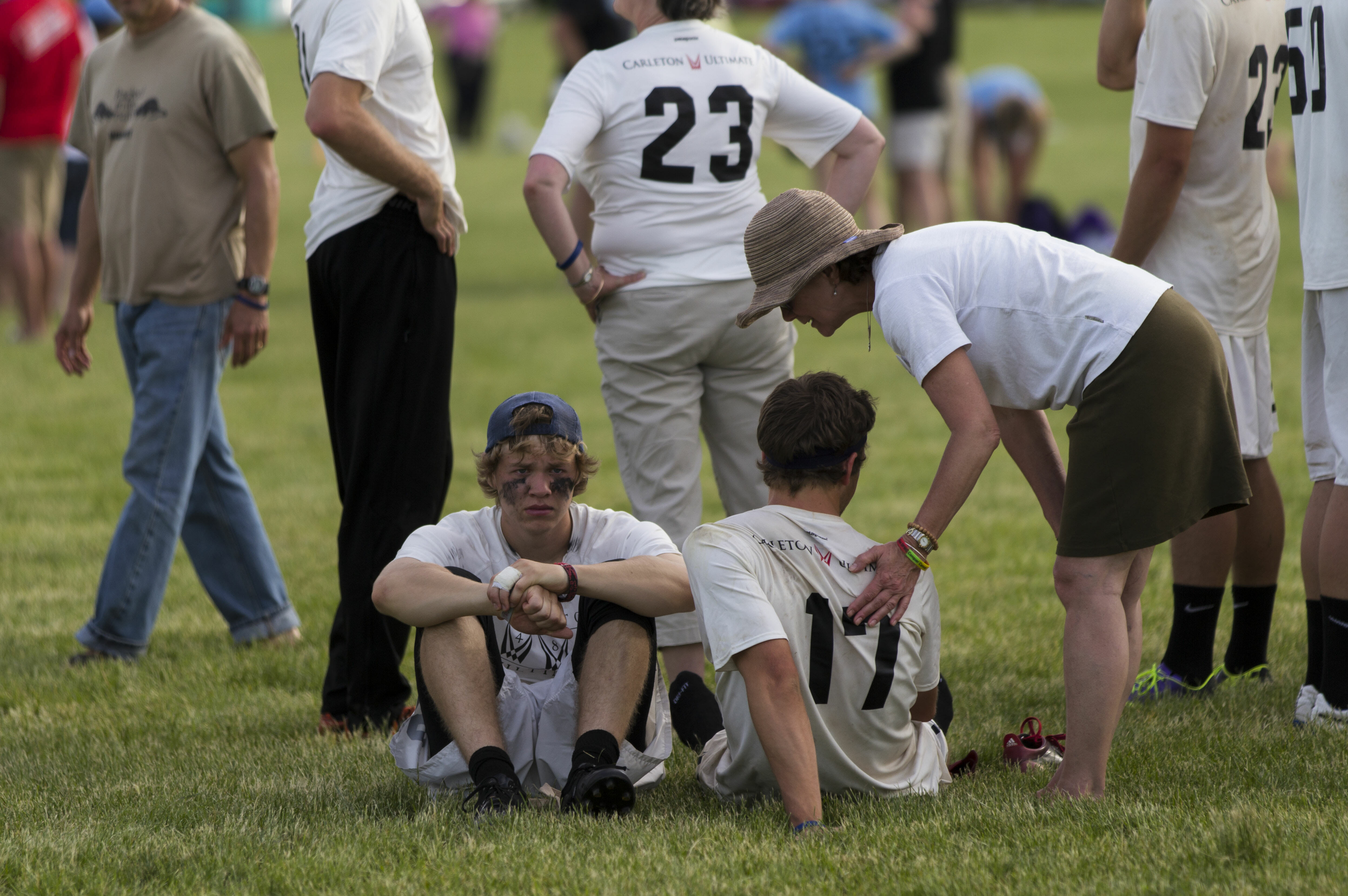 From a fourth seed in the pool and a sixteenth seed overall, Carleton battled their way into a prequarter matchup that would recast the North Central Regional finals with the Wisconsin Hodags. With the sun dropping in the sky here in Mason, Ohio, these historic rivals took the field for yet another emotional game.
Hodags Starters Rest In Preparation For Prequarters Matchup
In a brave coaching decision, Wisconsin sat six of their best players in their last game of Pool Play against Harvard. "The goal was to ride those six players and make sure they contributed in this game," said head coach Hector Valdivia after the win. "It's always a risky situation when you're asking players on your team to not play a game, and I was worried that our mentality after leaving the Harvard game…would be negative."
It was clear from the start that the entire Hodags' trust in their coaching staff paid off. Colin Camp and his fellow veterans appeared to be much, much fresher than the CUT lines that stepped onto the field after an earlier pool play battle with Oregon Ego. Hodag defenders bid early and often on streaking CUT players, making many catches very close plays. "We have some superstars," said Valdivia, "but not enough to ride them for an entire tournament."
The move may have also instilled extra confidence in some younger budding stars on Wisconsin, including sophomores Sterling Knoche and Ross Barker. Barker had a standout game against Red Line, notching two assists and four goals, many of which came from big skies in the endzone. Knoche came out of his shell against CUT as well, with monstrous grabs down field that netted him two easy assists and a goal. "If you haven't watched the Hodags [yet], watch for number 11," said captain and star Colin Camp, referring to Knoche.
Wisconsin's Defensive Intensity Stifles Quick Carleton Resets
Carleton's real success in their impressive run though Pool D has been their patient and extremely disciplined offense. With Justin Lim at the center of their backfield, CUT worked through all the defenses they faced in pool play with incredible trust, and excellent use of both sides of the field. Lim was joined by Ben Caffrey, Galen Ryan, and Nick Petru during those possessions, all of whom displayed formidable trust in each other and their teammates downfield.
The Hodags, familiar with this style of fast-paced reset-focused offense, came prepared with a junk look on the CUT handlers, with generated a number of easy turns early in the game and fueled Wisconsin to an impressive lead at half, 8-2. Fresher Hodags looked for CUT throwers to take second and third option throws and were able to make diving grabs and convert them.
As soon as Wisconsin saw they could generate the turns, the took advantage of them and converted. The second half was more of the same, as Carleton would not find the energy to rally. Missing defensive force Jesse Bolton, and starting to show some fatigue with a smaller roster, CUT was overpowered by the Wisconsin junk and dug themselves into a deep hole.
Wisconsin will look to channel their impressive defensive energy tomorrow against UNC Darkside in the quarterfinals.
Only Respect For CUT After Exit
"You come to the Hodags, and you're taught to hate Carleton," said Camp when asked about his feelings after finding out his team had drawn Carleton in this matchup. "But you grow such a respect for them because they work just as hard as you do…I couldn't be more proud of [CUT] for coming together this year and making it to Nationals."
CUT has a lot to be proud of, with two large pool play upsets against Florida and UNC-Wilmington, all which were truly hard-earned. The team showed remarkable poise in trust in themselves and their system and went an unexpected 3-0 to start the weekend. Their matchup against Oregon Ego today was a battle of fast-paced offenses, but it may have gassed CUT and left them unprepared to face a fresh top six from Wisconsin.
It was an emotional exit from the tournament for Carleton, who finished their season playing with their fallen teammates in their hearts.