University of Washington Element overcame the UBC Thunderbirds 15-13 on a grinding comeback in their quarterfinal game.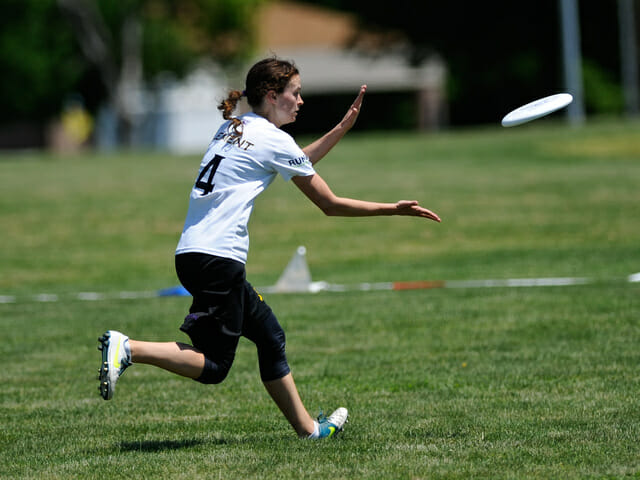 University of Washington Element overcame the UBC Thunderbirds 15-13 on a grinding comeback in their quarterfinal game. Washington has played brutally close games all weekend, from their tight game against UC Santa Barbara to their win from behind over UCLA, and they had to crank through games to earn their place today.
British Columbia's game has improved with every half, and they took three points from Element early on with practiced execution from Mira Donaldson, Laurel Jay, and Terynn Chan. Washington looked a little rushed to begin, finding open spaces but missing the necessary timing to maintain possession. Laurel Jay played close handler defense, pressuring Amanda Kostic and Lucy Williams to boost throws they didn't need.
Washington got a break early to hang with British Columbia, but UBC held their lead for most of the first half with confident play from the Thunderbirds' set of young, fast offensive threats. Freshmen Victoria McCann, Jessica Chung, and Naomi Johnson were all reliable shots for UBC, with Mira Donaldson open whenever she chose. Element put Barbara Hoover and Sarah Edwards on Donaldson to try to minimize her damage, but she nevertheless got her hands on the disc most points.
British Columbia took half 8-5 on a D from Laurel Jay, who found Chan in the endzone. Washington had to take stock: they needed sharper offense and shrewder defense to earn their breaks.
Going into the second half, Element adjusted to go straight-up on the UBC handlers, forcing Mira Donaldson out. The Washington offense found their chemistry, and they persevered to earn breaks and make them count.
"We really grind, and over the course of a game, our conditioning has worn out other teams," said Washington coach Kyle Weisbrod. "We keep going when other teams (don't)."
Barbara Hoover made plays throughout the game, but in the second half she and Alysia Letourneau outran UBC, with run-through D's and deep cuts that earned Element the first point out of half. UBC responded with an easy score, but Hoover outworked their defense, and they battled back from a 6-10 deficit to tie the game, 10-10.
Washington Element grit their teeth and didn't let go of the game in the end. They took their first lead 12-11 on an earned turn from Shira Stern, and Hoover sealed their break. UBC didn't relent: a bookend score from Terynn Chan infused the Thunderbirds with hope at 12-13.
Kostic, Hoover, and Lucy Williams created opportunities for their team, and they punched their ticket to the semifinal game on a long look from Williams to Bailey Kilmer to win, 15-13.