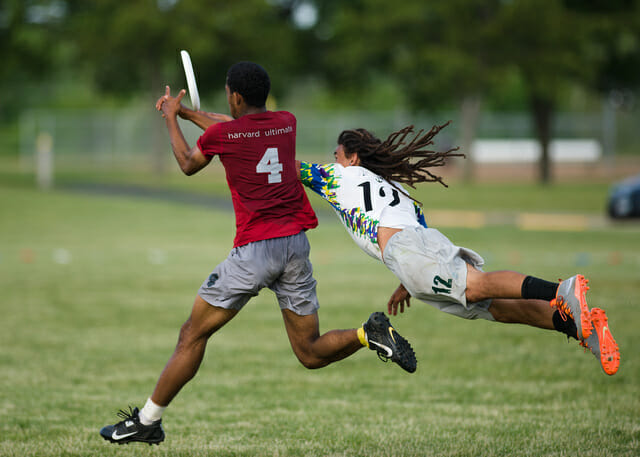 You really couldn't have asked for a better game.
In a grudge match that yielded no lead larger than two points and a heated fight for every throw that went up, North Carolina-Wilmington edged out Harvard with a 14-13 double game point win, their second in a row, to move on to quarters on Sunday.
With Harvard just yards away from a victory, UNCW sophomore Jack Williams made an unbelievable shoulder-high layout D near the endzone. After taking a timeout, Wilmington's Xavier Maxstadt, on the first throw, ripped a massive 70-yard backhand huck to Williams, who came down with a great sky to win the game.
Williams either threw or caught each of the Seamen's final four scores, finishing with two goals and three assists.
"Watch out for that guy," UNCW captain Luke Hancock said after the game.
Teams would do wise to take that advice.
Along with Williams' outstanding performance, UNCW received strong contributions from Trueman Nottingham, who had a goal and four assists, and Nick Jackson, who notched two goals and two assists.
All game long, the handler core of Maxstadt, Notthingham, and Hancock gave Harvard problems with their huge hucks and precision hammers. Rarely did the Seamen take more than ten throws to find the endzone, as they often moved it quickly before hitting a big over-the-top or long away pass.
But that doesn't mean the victory came easy.
Harvard held tight throughout the game, never more than a move or two away from taking control.
UNCW broke at 2-1 and 3-5 to give them a small advantage going into halftime at 8-6, though even that disparity belied how tight the match was.
Breaking out of half, Red Line began to really click offensively. Their junk zone look, which they ran almost every D point after halftime, flustered the Seamen a bit and forced some tough over-the-top looks.
Though UNC-W completed most of them, a nice sky D and a later stall, both at the hands of John Stubbs, would enable Harvard to even it up. A three-point run at 9-11 gave Red Line the single point advantage.
Some trading between teams would force a double game point at 13s, wherein Harvard had two separate chances to punch it in, but would fail to convert both times. The second opportunity featured a seven- or eight-throw attempt on the goal line to score, but UNCW's endzone defense was simply too good.
Harvard coach Michael MacKenzie conceded that his team had their chances to take the game, but just couldn't execute.
"It was a coin flip that could have gone either way," MacKenzie said. "We had enough opportunities to win, but they came up with one at the end."
Red Line's top talent performed superb and kept them close the whole time. Jeremy Nixon appeared in full health, racking up four goals and two assists, and Stubbs tallied four goals and three assists, as well as a ridiculous head-high layout D in the endzone down the stretch.
Senior captain William Dean also exhibited some of his best play all weekend, with three goals, one assist, and a monster sky help D on double game point, all while playing most of the points.
Harvard's offense displayed great discipline all game, but it just wasn't enough to overcome UNCW's aggressive defense and efficient offense.
They'll need an even more intense performance tomorrow morning, however, if they expect to have a shot at upsetting the as-of-yet untested Pitt in quarters.