London Calling has been an important warm-up event for the European ultimate community for the last five years, growing larger and larger over that time. 2012 also saw Germany & Sweden represent (with GB finishing 5th after losing to Clapham). Given that GB went on to finish second at WUGC, it's clear that quality ultimate is on the menu at each London Calling.
This weekend sees one of Europe's premier tournaments, London Calling, kick off. With a huge 96 teams in attendance from at least 8 countries across Europe, this will be the first time that the big European clubs heading to WUCC have a chance to meet each other.
London Calling has been an important warm-up event for the European ultimate community for the last five years, growing larger and larger over that time. 2012 also saw Germany & Sweden represent (with GB finishing 5th after losing to Clapham). Given that GB went on to finish second at WUGC, it's clear that quality ultimate is on the menu at each London Calling. As well as the 3 UK clubs heading to Lecco (Clapham, Chevron & emo), we have Bad Skid (#1 German team and probably the #2 team in Europe), Flying Angels (European champs 2010 & 2011 and consistently one of the top European teams for the last decade), plus the top Danish (Ragnarok), Irish (Ranelagh) and Swedish (Viksjofors) clubs, and national teams from Austria & France in attendance.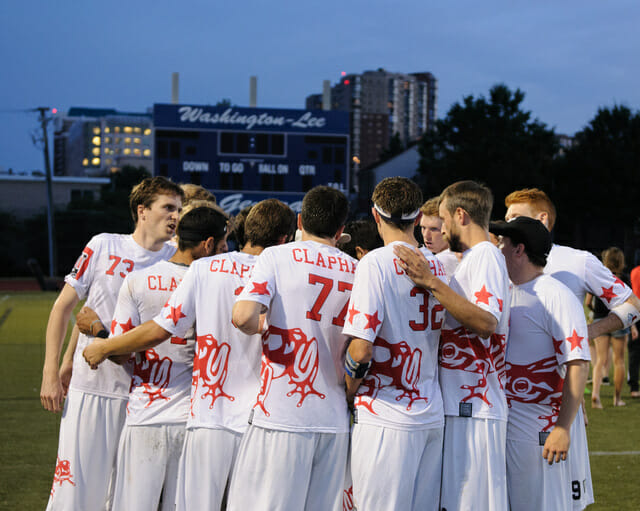 It's unlikely that the standard will be lower than it has been at the last few European championships, so this is a huge opportunity for all of these clubs to test each other prior to taking on the giants from the USA, Canada, Japan and Australia later this summer. Let's take a look at the top contenders (in alphabetical order).
Austria Open
The Austrian government recently gave full recognition to the sport of ultimate. What does this mean? Facilities and funding, that's what. In a world of amateurs, professional support will make a huge difference.
Expect to see more and more from the Austrians over the new few seasons; I expect big things from them at the European Championships next year. Their younger players already got a big scalp by taking down GB at U23 last year. In calm conditions, their offensive line has the throws and speed to make scoring easy. The real question is whether they have the depth yet.
I'm predicting that this will be a breakthrough tournament for Austria, with them taking a big scalp. Two exciting players to watch out for are Thomas Mitterer & Valentin Vogl who both show a fantastic balance of athleticism and superb throwing skill.
Bad Skid
This is a team that has been making waves in Europe over the last few years. German ultimate as a whole has been on a continuous drive for self-improvement since 2010, and now they are reaping the rewards. Easily the #2 team in Europe right now, I think that Bad Skid could be European champions –if Clapham weren't  so strong.
Based on their play last season, their offence is definitely strong enough. They just need to ramp up their defensive intensity and ability to win even when they aren't playing perfectly; sometimes that German precision isn't what you need.
Still, I think this team is be too well drilled to fall to anyone other than Clapham, though the athletes of Chevron could give them a close run. Holger Beuttenmüller is the guy to stop, and with Nico Müller, Christoph Köble and ex-NexGen player Philipp Haas throwing to him, that ain't gonna be easy.
Chevron Action Flash
Always there or thereabouts when discussing European championship contenders, Chevron's main issue seems to be consistency. Their reliance on one or two playmakers has hurt them in the past when those players can't deliver; having played them at Fog Lane a few weeks ago, they now seem to spread the love a lot more evenly across the board.
More equal involvement seems to have raised additional problems for them though, as their weaker throwers are on the disc too often. A turnover-heavy semi-final against Fire at Fog Lane showed that they struggle to get into a rhythm at times. On the flip side, they showed fantastic patience against the best defence emo could throw at them in the final.
Expect to see Matthew Beavan distributing, and strong receivers Mark Davin & Richard Coward will score more than their share of goals. When the going gets tough they will trust their big guys. If there's one thing that Chevron can do well, it's win ugly when it counts;sparks may fly if they play Clapham. Look out for James Jackson & Mark Penny to make the big plays on the D line.>
Clapham
A team already so stacked that they breezed past all European opposition last year has had another season to gel and recruit heavily. Confident of their ability to take down the US clubs after taking some big scalps at Chesapeake (such as Ring & Chain) — and a close loss to Ironside — Clapham should be aiming for a semi-finals berth in Lecco.
Rumour has it that they've retired a few older players, but otherwise lost no-one, and instead managed to add some potency from the GB World Games team in ex-NexGen player Ollie Gordon and the ever-unpredictable minor celebrity that is Matt Parslow. In terms of personnel, this is the strongest club I've seen in the UK so far (although I said the same in 2010 and Clapham could only manage 10th in Prague).
If anything, Clapham's biggest issues are going to be how they gel as a team, and stopping everyone from getting involved, as they are stacked top to bottom with playmakers. It would be far too easy for them to win this tournament, so they are entering with split squads, O and D lines.
Expect their O line to score easily with huge athletic receivers like Justin Foord and Robert Schumacher going deep, behind the patient handling of David Stobbs & Giacomo Maltman (plus some flair from Jaimie Cross when required). Expect to see an even spread of scores though, as this team backs their receivers and loves to put it deep. Besides, it's always tough to play a team that is happy to go back out on O when they get scored on.
On D, the offence will run through fewer players, but the real difficulty is going to be trying to slow them down; expect to see tonnes of quick movement on the turn, with lots of touches from new addition James Baron. Match-ups will see plays from the three big guys: Tom Abrams, Ollie Gordon and Richard Harris. Few other teams at this tournament have players who can match up with these three alone, and you can expect selflessness and a desire to get blocks from the rest of the squad.
While lacking the top-to-bottom superstars of the O line, the D dogs of Clapham bring more than enough athleticism and pressure to force the disc out of the hands of most opponents. They are likely to suffer from miscommunication turns; teams should look to play zone transitions & poaches where possible to neutralise their athleticism. I'm predicting an O vs D semi final matchup, and much like last year, O will take the win.
Flying Angels
More of an institution than a club, the Flying Angels from Bern have been major players in Europe for a decade. As well as winning it all at European Clubs in 2010 & 2011 (the first team to repeat), FAB have one of the world's best throwers in former Condors & Jam player Lorenz Stauffer.
Alongside big-time playmaker Nasser M'Bae Vogel (formerly of GOAT & Ironside ), there are a bunch of veterans like Dominick Odermatt & Jan Tenger, plus a horde of young athletes. Expect Lorenz & Nas to drop bombs all over the pitch and the question is simply whether their opponents can match their firepower. I suspect converting from defence might be their biggest issue, and this lack of consistency might cause them to lose a tight quarterfinal.
Ragnarok
Hailing from Copenhagen, Ragnarok finished a disappointing 11th at XEUCF last year. Their 3rd place finish in 2012 – plus their visit to the US Open – shows a hunger to improve. They've proved they can compete, now it's about consistently performing at a high level. Expect them to sit in the middle ground, easily handling teams below them yet unable to make the jump to semis. Former Doublewide players Faiss & Mads Bakkegaard will lead the charge.
Viksjofors
The Swedish teams are the most difficult to predict. A 15-14 loss to FAB at last year's Europeans put them out of contention, but you can be sure that no team this weekend will feel 100% confident in a game against Viksjofors. Expect calm handling from the Dahlbergs, whose long limbs makes them difficult to stop on the mark and also going away. Squad depth is likely to be a real issue for the traditionally small-rostered Swedes. It becomes a question of how efficiently they can convert their break opportunities, how fresh they are by the elimination rounds, plus how many of their veterans make the flight to London.
***
Expect to see the following teams doing their best to disrupt the status quo:
Brighton: can the Mexican offence propel the quirky Sussex team to success? They've had some time to drill it, now is the time to see if it really holds up
Emo: the 3rd UK club going to WUCC in the Open division, emo had a disappointing finish at Nationals last year and failed to qualify for Euros. They've spent the offseason re-building and rely heavily on former GB captains Daniel 'he can take a hit' Furnell, and Rich Gale, but will need to rely on more than play-makers if they want to make the top 8.
Fire: a disastrous 2013 season meant Fire failed to qualify for WUCC, which in turn hurt their ability to recruit in the off-season. Nevertheless, they have managed to bolster their squad and have successfully integrated the talent from European Mixed Champions Bear Cavalry. Expect this team to struggle initially, but to get stronger with each successive tournament. Watch out for playmaker Dave Tyler.
France:  had a good run in Japan – and an infamous victory over GB in 2011 – but they are sending two teams to London Calling. I suspect that split squads won't have the firepower to upset the top 8, but the experience they take home will be invaluable in their preparations for EUC 2015.
Ranelagh: Ireland's national champions are rumoured to be in a rebuilding phase, so I'm expecting a slow start to the season for them. They probably won't challenge the top 8 this weekend, but expect them to be in full fighting mood by the time they reach Italy.
Here's my predictions for the top 12:
Clapham O
Bad Skid
Clapham D
Chevron
Austria
Flying Angels
Viksjofors
Ragnarok
France
Brighton
Ranelagh
Fire