Ironside retooled for 2014 with a roster that mixes veterans with a number of fresh faces. Though many major contributors return, including Will Neff, George Stubbs, Russell Wallack, and Josh "Cricket" Markette, the team lost a few key players, including Peter Prial and Seth Reinhardt.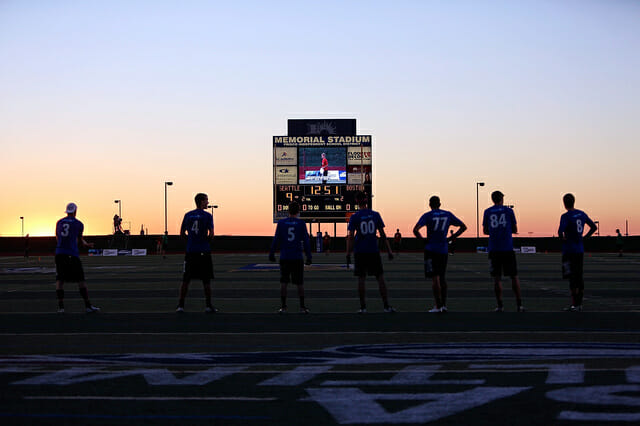 This close.
After six years of progressing to at least the semifinals at the Club Championships, and six years coming home empty, Boston Ironside was a double game point away from reaching their fourth national championship game in club history.
But on the most important point of the year, a marking foul on an incomplete huck, a stall eight reset, and a breakside swing for the score were enough for Seattle Sockeye to send Ironside packing, once more without a title.
By most accounts, finishing Nationals third in the country would be a tremendous accomplishment. But in a way, it was a microcosm of Ironside's 2013 season, which saw the team come so close to victory only to suffer through yet another heartbreaker.
Ironside consistently romped through pool and bracket play only to fall in the championship games at U.S. Open (a double-game point loss to Beau Kittredge and eventual national champs Revolver) and at Chesapeake Invite (a 15-10 drubbing by Minneapolis Sub Zero).
This year, however, Ironside will have plenty of opportunities to fill their uncomfortably bare trophy case.
Ironside retooled for 2014 with a roster that mixes veterans with a bunch of fresh faces. Though many major contributors return, including Will Neff, George Stubbs, Russell Wallack, and Josh "Cricket" Markette, the team lost a few key players — namely Peter Prial and Seth Reinhardt.
Ironside will look to fill their roles with a slate of new additions. Along with club standouts Brian Garcia, Jon Hirschberger, and Thomas Sayre-McCord, the squad also picked up New England college stars Jeff Babbitt (UMass), Jeremy Nixon (Harvard), and George's younger brother John Stubbs (Harvard).
"We are looking forward to integrating our new players in a variety of different ways," said Wallack, a co-captain this year with the elder Stubbs. "We are very excited about the range of experience and raw potential that this new group brings to this team."
Nixon, who led Harvard Redline to a prequarterfinals appearance at College Nationals in Cincinnati, will join Ironside after playing last year for Boston Garuda, alongside college rival and former club teammate Babbitt.
"I think it's great to be able to play with Jeremy again," said Babbitt, one of the major breakout college players of the year with UMass ZooDisc. "I got to play with Jeremy on Garuda, so seeing him at Harvard was great. We got along really well."
The two of them nearly helped Garuda pull the upset of the season in a double game point loss to New York PoNY in the game-to-go at Northeast Regionals.
Now, the rookies will now look not just to make their first trip to Frisco but also to chase the dream of a national championship.
"While this is a pretty young group, there is a lot of elite-level experience," Wallack said. And while Nixon, Stubbs, and Babbitt may have lots of name-recognition coming out of this past college season, Ironside's other additions could be even more important on-field contributors. "Brian, Jon, John and Thomas have all played major roles on quarterfinals-level teams at the Club Championships," Wallack added.
The team will need all hands on deck for a schedule that's arguably one of the most difficult in the country. They'll need help from both the new group and the returning core.
In their first test of the season, Ironside will try to avenge last year's finals defeat at the U.S. Open. Any path to victory, however, will require them to navigate a field of last season's four semifinalists and two top Elite Flight teams, Sub Zero and Vancouver Furious George.
Ironside's domestic travails will then be a bit interrupted by a trans-Atlantic trip to Lecco, Italy, where they will square off against the world's best at the World Ultimate Club Championships. Once again, the competition will include the four semifinalists, including defending Worlds and Nationals champion Revolver.
The team concludes its regular season at Labor Day Championships against the seven other Pro Flight teams.
For Ironside, there's an unspoken sense that their window of opportunity is fleeting. While the core of the team is still present and dangerous, they will need to shake six years of disappointment to get over the hump and bring that elusive national championship back to Boston. To do so, Ironside are focusing on stepping up the offensive performance of their D-line, which struggled at times last year — and arguably for a few years now.
Though Ironside registered two breaks in their loss to Sockeye, it was telling that they failed even to generate a turnover on double game point. In fact, it has become a recurring issue for the Boston squad, which always seems to have top 3 talent but struggles to turn the talent into D-Line consistency after generating turnovers. Even for an elite team, Ironside plays pretty tight offensive and defensive lines, despite crossing over George Stubbs in big games last year.
"Our D-line is continuing to emphasize improving our flow offensively," Wallack said. "We anticipate that we will be forcing more than enough turnovers to win with our breaks this year, but we are focused on increasing our shooting percentage on those opportunities."
Still, Wallack expressed optimism at his team's prospects. "In terms of outcome goals, we always view ourselves as a championship-caliber team," he said.
On talent alone, you would have to agree with the assessment; they definitely sport one of the top 4 rosters heading into the 2014 season. It's always difficult to be in the position of Finals or bust, but, with this level of skill, Ironside will aim to add a championships of their own to Boston's storied Ultimate history.