San Francisco Fury is hungry for a return to the top after falling to DC Scandal in the National Championship finals in 2013.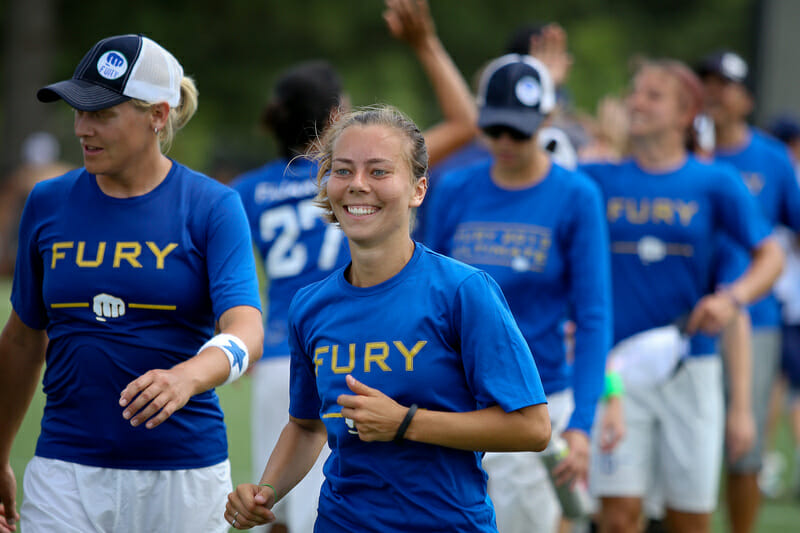 When you've won seven straight national titles and nine overall, you're allowed to have an off year. Especially when that "off year" consists of only three losses during the regular season and one at the National Championships, in the finals, to a team seemingly destined to win.
But now that that's all over, San Francisco Fury is ready to return to being the most feared team in women's ultimate.
"Our goal, just as in years past, is to win," Captain Ness Fajardo said. "Every year our approach to meeting that goal is a little different. But that's what we're looking to do."
It's just the kind of focus you'd expect from what has essentially become the most successful team in ultimate, in any division.
And they're nowhere near done.
Fajardo said that despite the loss to Washington D.C.'s Scandal in the final of Nationals last year, nothing has fundamentally changed about Fury's approach or goals. Every year they're looking to improve, regardless of past results, and the end of their seven-year reign only means they now have the opportunity to start another one.
"It doesn't feel like a release of pressure," Fajardo said. "It just feels like another year and another championship to win."
Though a victory at Eugene Summer Solstice in June, where they bested Seattle Riot 15-12 in the final, surely helped them establish some early momentum, Fury will get their first chance to reassert their dominance this weekend at U.S. Open in Minneapolis.
Pool play will feature a rematch against Scandal and longtime rival Riot, along with bracket play, which will surely include some replaying of those match-ups.
As the tournament is still fairly early in the season though, the San Francisco team will be entering the event with perhaps a slightly different focus than most other squads.
"We're going to go in with making it to finals as our goal. The more games we can play against better opponents the better shape we're gonna be in," Fajardo said.
The reason for this seemingly muted aspiration—at least when one considers Fury's reputation and unfailing competitive spirit—is simple: they're focused on Worlds.
"We only think about Worlds and aren't as focused on the USAU season," Fajardo said. "We're really just going to sell out for Worlds. We'll redirect our attention to nationals when it's time to do that."
Coming off their second place finish in 2012, where they fell to Japan in the final, and looking to earn their third gold medal as a team, Fury are no strangers to competing on the international stage. They were victorious at the last WUCC in 2010, besting Japan's Uno in the championship game.
They're so familiar with it, in fact, that they're willing to use a tournament as large as U.S. Open to essentially prepare for the grueling, eight-day challenge of the spirit that is Worlds.
Such a preparation just might be needed, especially when considering their new roster changes for 2014.
Although much of their core returns, Fury will be losing key components in Julia Sherwood, Claire Sharman, and, perhaps most importantly, Liz Penny.
Fajardo noted the magnitude of the loss, with particular emphasis on Penny.
"That's tough for us to lose," Fajardo said. "(Penny's) defense is difficult to match in the entire women's game. Those are big shoes we have to fill."
She remained optimistic, however, based in part on the strong additions the San Francisco team made in the offseason.
Fury will be picking up the veteran VY Chow from Boston Brute Squad, dominant handler Andrea Romano from San Francisco Nightlock, Sabrina "Kodiak" Fong from Riot and the dangerously versatile Liz Duffy.
Add those players onto an already stellar roster that includes giants of the game like Alex Snyder, Cree Howard, Claire Desmond, and Maggie Ruden, and one has little reason to doubt that the team with the most impressive resume in ultimate won't be right back at the top in 2014.
With coach Matty Tsang also returning for a tenth season leading a team that has more experience at the elite level than perhaps any other squad, and maybe even more motivation after last year's upset, don't be too surprised if Fury walks away with both a Worlds and USA Ultimate crown at the end of the year.
"We've got a lot of new things that we want to add strategically this year," Fajardo said. "I'm really excited for what we're going to do this year and push the boundaries."
When a team already has the past success of Fury, the only boundary left might be believability — the believability, that is, of just how much longer they can continue to win and maintain the reputation of the most feared team in ultimate.