The Pro-Elite Challenge pitted some of the nation's best against potential upstarts from below. Brute Squad and Scandal demonstrated quality on their way to the final, but nationals hopefuls throughout have already started creating this season's landscape.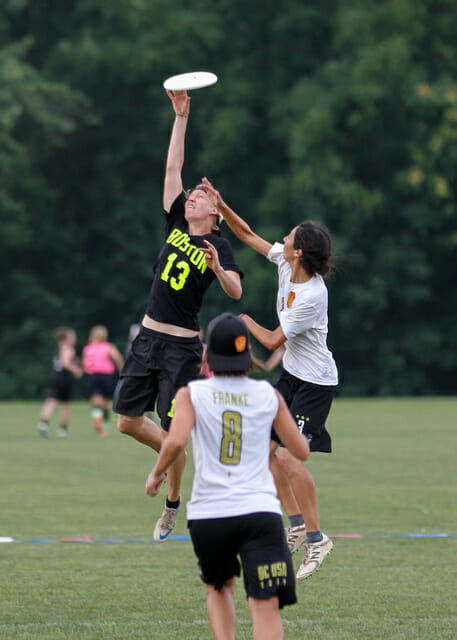 The year's second major tournament of the club women's season didn't bring the same sort of unexpected results that the US Open did, but the Chesapeake Invite did begin to shape the picture of this year's landscape. Boston Brute Squad once again bested Washington DC Scandal, as the two put on mostly unchallenged performances on the way to the tournament final. The results – including semifinals being won by 7 and 8 points – seem to confirm that the gap between the title contenders and the rest of the field is pronounced.
In addition, we learned more about what the pecking order is in the latter group. Pro Flight and Elite teams got their first looks at how they might stack up. We're along way from Nationals, but these games will not go down as meaningless.
Brute Squad A Cut Above
If you were thinking Boston was a one hit wonder, this team's second strong early season performance says you're dead wrong.
A four-point margin of victory in the final was the closest anybody got to Brute Squad. They blew out both Ozone and Molly Brown by scores of 13-5, big time victories over teams that could be in the quarterfinals. It was their second straight final appearance and first tournament win of the season after a splashy offseason.
Brute Squad brought a higher level of offensive efficiency, aided by the return of handlers Leila Tunnell, Dory Ziperstein, and Vicki Chang. Having already played a high level tournament (and at Boston Invite), it is no surprise to see their offense clicking. But it was also a trust that captain Emily Baecher talked about the team needing to build after the US Open.
"We absolutely played with more trust in our teammates and the system we've practiced," said Baecher. "This simply made us have fewer turnovers."
In back to back weekends, Boston faced a unique challenge. There was no practice time for adjustments observed and discovered at the previous weekend's tournaments. Rest was at a premium. Brute was forced to make most of their adjustments during the course of the games themselves.
The end results speak for themselves. A great example is the red zone work in the finals; compare the offense's performance against Riot at the US Open and against Scandal at Chesapeake. Minnesota was especially windy, but wind was an element in play in Virginia, as well. Brute Squad indicated this was a key focus for them during this weekend. It was just one of the impressive elements of the weekend for them.
Scandal Still With Work To Do
While Scandal was pretty much heads above the field, they still found themselves on the losing end of a key game against Boston. It isn't a weekend that sends a team back to the drawing board, but DC knows they'll need to beat teams like Brute Squad if they want to make another appearance in the Club Championship game. Heck, they'll need to play better than this in Lecco, Italy to accomplish their WUCC goals.
Like the US Open, Scandal was without key personnel. No Sandy Jorgensen is a pretty big blow and her absence made an obvious difference in the effectiveness of the team's D-line in the final against Brute Squad. With Sandy in the deep lane and Opi Payne in the middle for the DC zone, two players can cover a huge amount of yardage for Scandal, allowing the other five players to apply a lot more pressure and stifle for upfield motion.
Nemesis No Show
The Nemesis 2014 debut was a disastrous 2-4 showing that defied even tempered expectations. The team's roster obviously suffered some serious losses and the team was open about being in the very early building stages. Their struggles, however, are still somewhat tough to swallow.
It started with a reasonable, if disappointing, 10-8 loss to another still-building squad, Raleigh Phoenix. That was followed up poorly when Chicago was roughed up by Molly Brown, 13-4. Things got drastically worse when a tired Nemesis lost 9-8 to their city's second team, Dish. They closed the day out with their first win, a tight 10-8 W against Hot Metal. Sunday wasn't much better, consisting of a five point loss to Philadelphia Green Means Go and a too-close 9-6 victory against Baltimore Backhanded.
This is a very new team that is very much discovering what they have. Players like Sara Miller, Emilia Garcia, and Katie Dyer give them a solid core to build around. It has to be a bit frightening for that group to see the team so far away from where they want to be.
Molly Brown: Pretender or Contender?
The current club women's landscape appears to have an elite sect of semifinals contenders, the rest of the nationals field, and the dark horse teams trying to break in. Molly Brown is one of the few teams that seems to be able to move between the first and second groups. It is hard to identify one they belong in now.
Chesapeake yielded a 5-1 weekend for the Denver women, with wins over Nightlock, Phoenix, and Bent. Their closest margin of victory was a sizeable four. Claire Chastain, Lindsey Cross, Carolyn Matthews, and Sally Lambert led Molly to a great start.
But in their one shot against an early contender? Dismantled by Brute Squad in the semifinals, 13-5. And because of their Elite Flight status, they won't get to take the line against one of the top squads until the Series.
A Peek at the Rest
Nightlock pushed all the way to the semifinals, edging out Ozone in the quarterfinals, 13-11. That was by far their best win, as their other victories came over Wildfire, Green Means Go, and a shorthanded Capitals team. They didn't fare so well against Scandal or Molly Brown in their final two games, and their performance at Colorado Cup is one of the few that'll merit attention.
The results were mixed for the Southeast. Ozone went 4-3, falling to Bent, Brute, and Nightlock. They did manage to beat Phoenix 13-8 and held off a potentially dangerous Schwa team. Phoenix also went 4-3, but their most impressive game may have been their loss to Scandal; 12-8 is closer than most teams managed against DC. Most of their wins – Schwa, Nemesis, and Heist – were close ones.
Bent took another step forward, going 5-2 and performing fairly consistently over the course of the weekend. They trounced Heist twice and squeezed past Ozone. Clearly, they were outclassed by Scandal and Molly Brown, but it was a solid showing, championed by the handling of Liz Middleton and cutting of Rebekah Souder-Russo.
Ugly start for Heist, who was beaten handily by pretty much every quality team they faced. They're a young team with room to grow by the end of the season, but it was reasonable to expect them to be more competitive with their talent level.