Most of the WJUC pool play games are in the books. See what to watch for on Wednesday.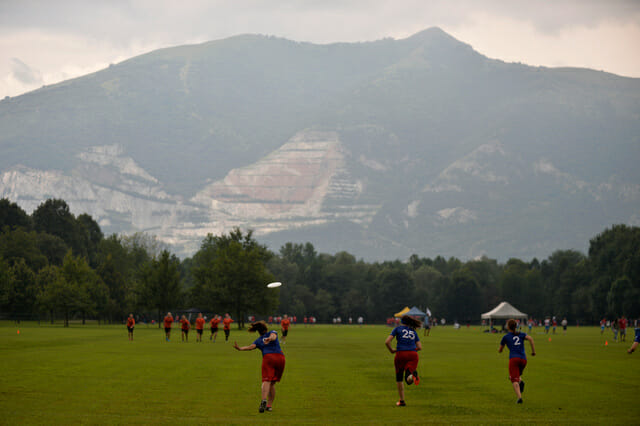 There have been few surprises so far in Lecco, Italy, at the 2014 World Juniors Ultimate Championships. Only two pool one seeds — Colombia (Open) and Germany (Women's) — have lost a game, but the important crossover rounds get underway tomorrow (after two more rounds of important pool play in the Open Division) and the level of games should ramp up sharply.
Big games tomorrow (full Wednesday schedule here; full results and schedule here) include —
OPEN: USA (4-0) v. Austria (4-0); Canada (4-0) v. Great Britain (3-0); Germany (4-0) v. France (4-0); Italy (4-0) v. Australia (3-1); The two 1v1 crossovers
WOMEN'S: Colombia (3-0) v. Italy (3-1); USA (4-0) v. Germany (3-1)
Some games have been postponed by lightning, and teams have been warned about the possibility those games will never be played:
For more information and to follow the tournament day-to-day, see this post.