London's Clapham is clearly Europe's #1 side. But no European team has finished in the semifinals or better of any WUCC since 1999. Can Clapham end the drought?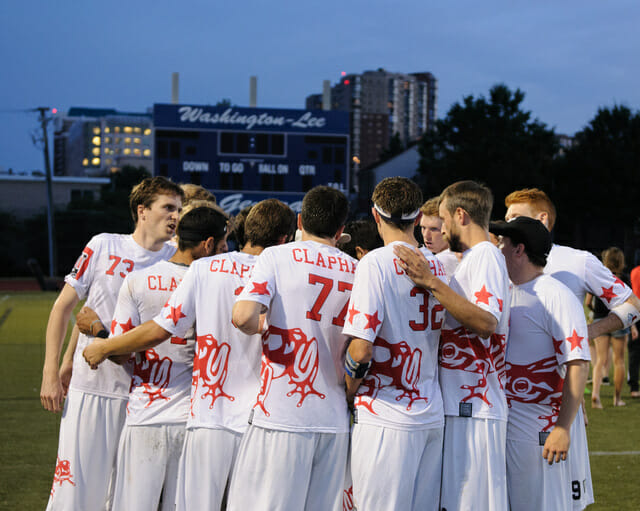 It has been 15 years since a European Open team finished in the semifinals or higher at the World Club Championships. In 1999, Finland's Liquidisc took second. Since then, the tournament has been dominated by North American teams, Japan's Buzz Bullets, and, in Perth 2006, Australian teams.
London's Clapham will look to change that this year.
The now-feared, undisputed #1 European team is fired up for the deepest WUCC lineup in years. Clapham have achieved basically everything else over the past two years — they have back-to-back European titles, they have dominated in the UK for 13 straight seasons, and they have grown their profile internationally with frequent trips to the United States in recent years to face the world's best teams. They will look to add to their medal count in Lecco this week.
"We've worked really hard at our brand and making sure that the name Clapham has been growing over the last decade," said Clapham captain Marc Guilbert, noting that the team's growing stature has helped them get better as they receive invites to US tournaments, like the Chesapeake Invite last year.
Most recently, the team traveled to this year's US Open, where they finished the weekend a disappointing, but justifiable, 2-5.
The team was missing half of its starting offensive line, and their offense was clearly the weak link, giving up too many early breaks and holding Clapham back from any late runs. Guilbert says the team learned a lot from that.
"If we can start a game well, we can finish it well," he said.
Clapham did beat WUCC #7 seed Vancouver Furious George, but fell to all four US teams headed to Italy. "We really felt the difficulty of getting a lead when you don't have a strong offense to start the game," said Guilbert.
The team still showed resilience, scoring at least 10 points in every game and finding ways to play tougher down the stretch. Clapham had to make a lot of adjustments since they hadn't seen most of the teams they played in recent years. ""We would try to slow the team down in the first half, and then have a strategy to get a couple blocks in the second half," said Guilbert.
Regardless of the final score lines, Clapham was very glad to have the chance to face the US sides before Worlds. It gives them an opportunity to taste a bit of their own medicine that they dish out in Europe.
"I think we impose fear to other European teams, and we are exposed to that fear when we go play the US," said Guilbert. "But that's precisely why we go to Chesapeake and to the US Open. To get that exposure, to get away from the fact that these guys have that color shirt and that should make them better than you."
Clapham comes into Lecco seeded 8th and hungry to eclipse their seed. They feel that with a full roster — including Justin Foord on offense and Tom Abrams and Richard Harris on defense — they will be a threat against any team. Guilbert declined to say if the team had any hard and fast goals, explaining that aiming too low leaves you too satisified and aiming too high can limit belief.
"Some of [our team] needs to be told that they can be world champions; some of them need to be told to play every point and focus on the little things," said Guilbert.
The team is deep with talent; Clapham plays host to many members of the UK National team. Guilbert pointed out some of the younger players that have been making big contributions as well, including Ashley Yeo (an O line cutter) and Phil Garner (a blue-collar defender).
Clapham has had little trouble dispatching European opponents — they won London Calling in early June and Windmill Windup later that month with mostly no resistance. But their US Open results — as qualified as you want to make them — still point to the hard truth: this team's Worlds is likely to come down to a game versus a US opponent or the Buzz Bullets in the quarterfinals. Their defense will deliver breaks, but can their offense stand up to the more sophisticated (and athletic) looks those teams will employ?
Clapham struggled at times at the Chesapeake Invite last year with teams that clogged the cutting lanes and forced Clapham out of their typical offensive flow. It didn't get better at the US Open this year. They will hope that a full-strength unit can find the answers against the world's best.